'I'm Coming Home:' Lebron James Says He Is Leaving Miami Heat to Return to Cleveland Because 'This Is What Makes Me Happy'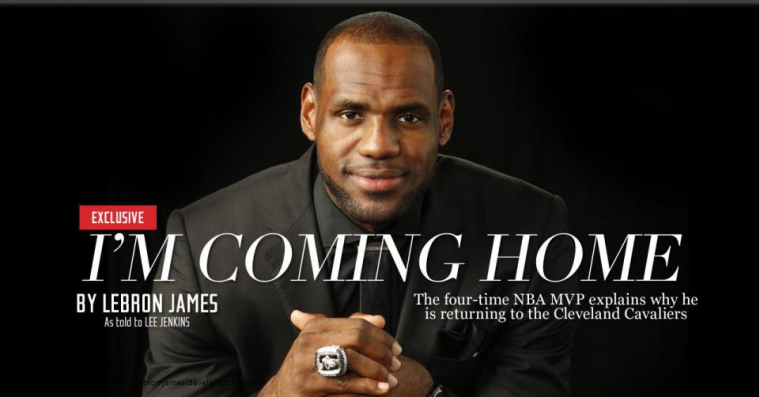 NBA superstar Lebron James announced Friday that he is leaving the Miami Heat to return to the Cleveland Cavaliers in his home state of Ohio where he started his career and it made the Internet happy.
Unlike his flamboyant departure from Cleveland to pursue championships in Miami four years ago in a televised announcement on ESPN in which he told the world that "I'm taking my talents to South Beach," James 29, revealed his most recent decision in a nuanced essay in Sports Illustrated. He highlighted that he is returning to Cleveland older and wiser and will do his very best to bring a championship to the city that burned his jersey in the streets when he left.
"I'm doing this essay because I want an opportunity to explain myself uninterrupted. I don't want anyone thinking: He and Erik Spoelstra didn't get along. … He and Riles didn't get along. … The Heat couldn't put the right team together. That's absolutely not true," wrote James. "I'm not having a press conference or a party. After this, it's time to get to work."
"I always believed that I'd return to Cleveland and finish my career there. I just didn't know when. After the season, free agency wasn't even a thought. But I have two boys and my wife, Savannah, is pregnant with a girl. I started thinking about what it would be like to raise my family in my hometown. I looked at other teams, but I wasn't going to leave Miami for anywhere except Cleveland. The more time passed, the more it felt right. This is what makes me happy," James explained.
He pointed out that before making the move he had to bury the hatchet with Cavaliers owner Dan Gilbert who publicly excoriated him as a "former hero" and dismissed his move to Miami as a "cowardly betrayal."
"The letter from Dan Gilbert, the booing of the Cleveland fans, the jerseys being burned -- seeing all that was hard for them. My emotions were more mixed. It was easy to say, 'OK, I don't want to deal with these people ever again.' But then you think about the other side. What if I were a kid who looked up to an athlete, and that athlete made me want to do better in my own life, and then he left? How would I react? I've met with Dan, face-to-face, man-to-man. We've talked it out. Everybody makes mistakes. I've made mistakes as well. Who am I to hold a grudge?" he noted.
"I feel my calling here goes above basketball," he said of his move to Cleveland. "I have a responsibility to lead, in more ways than one, and I take that very seriously. My presence can make a difference in Miami, but I think it can mean more where I'm from. I want kids in Northeast Ohio, like the hundreds of Akron third-graders I sponsor through my foundation, to realize that there's no better place to grow up.
"Maybe some of them will come home after college and start a family or open a business. That would make me smile. Our community, which has struggled so much, needs all the talent it can get. In Northeast Ohio, nothing is given. Everything is earned. You work for what you have. I'm ready to accept the challenge. I'm coming home," he ended.