'I'm Sorry,' Pastor Begs Diverse Congregation's Forgiveness for 'Only White People' Email on Sunday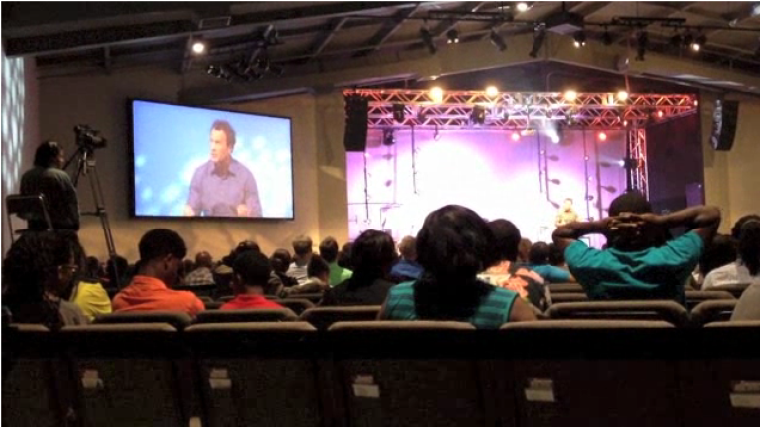 The pastor of a North Carolina church apologized to his congregation on Sunday after the executive pastor of operations made headlines last week for sending out a distasteful email requesting that "only white people" work as greeters for its Sunday morning worship service.
"Today, I just want to stand before you as your pastor as the father of this house and tell you that I'm sorry. I'm deeply sorry for what you had to go through. I would never in a million years want you to ever have to go through something like that. We're taking full responsibility for this," said Troy Maxwell, senior pastor of the Freedom House Church in Charlotte N.C., where the controversial issue first erupted in a Charlotte Observer report.
"For the mistake we made, I'm asking you, I'm repenting to you today and asking for your forgiveness," he said, before calling his wife, Penny, senior co-pastor and Makeda Pennycooke the pastor who sent to offending email to join him on stage for prayer.
In an earlier report, it was noted that Pennycooke, one of only two black faces featured among the 18-member executive team listed on the church's website, informed a group of volunteer greeters for the church via email that the church would like only whites greeting people coming to the church at their 9 a.m. service in order to make the best impression.
"We anticipate having an increase in the number of people visiting and attending Freedom House over the next few weeks," Pennycooke said in the offending email highlighting that "first impressions matter" and the church wants "the best of the best on the front doors."
"We are continuing to work to bring our racial demographic pendulum back to mid-line….So we would like to ask that only white people be on the front doors," she added in the controversial request. "We would rather have less greeters on the front door if it means that the few that we have will represent us the best."
But as word spread about the email it triggered an onslaught of negative criticism.
Commenters like those on The Christian Post's Facebook page had a lot to say.
"That is insulting to the Black members of that Church. I am white and if my Church did that, I would not keep my mouth shut. What a horrible message," wrote Jeanette LeGros Perrin.
"That pastor needs to have faith that God will draw people there without playing games. What a poor example she is setting," added Charlotte Leonard.
In a statement to CP last Tuesday, however, Freedom House noted of Pennycooke: "One of our longtime pastors, in keeping with our church's desire to be inclusive and intentionally reach out to all races, noticed our front door greeting team was no longer reflecting the racial diversity of our entire congregation, and she wanted potential visitors to see people like themselves upon entering our church. However, she made an error in judgment in requesting all white greeters at the front door, going overboard in placing emphasis on any one race over another in trying to highlight diversity within the greeting team."
In her comments on the situation co-pastor Penny Maxwell added on Sunday that: "I'm believing in this situation that the muddiness that has occurred, that God is gonna turn it around and he's gonna use it. And blind people will see and hearts will be open that weren't before because right now we have a worldwide platform and we're gonna use it for God's glory."
The congregation roared with applause.