2 Infants Burned Alive in Caste System Attack in India
India Should Be 'Ashamed' at 'Inhuman Act,' Catholics Say After Dalit Infants Burned Alive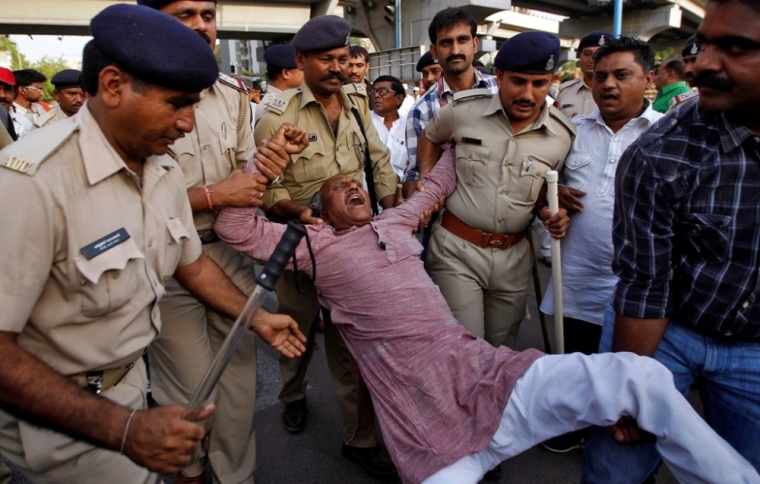 The Catholic Bishops of India have condemned an "inhuman act" in which two Dalit children from Sunped village in Faridabad, India, were burned alive last week in an apparent caste dispute.
"This murder of two Dalit infants was an abominable crime," Father Devasagaya Raj told the Fides News Agency. "Attacks of this kind happen all over India against Dalit, the poorest, weakest and most vulnerable of Indians."
"The Catholic Church in India stands with the weakest people and has raised a voice with the government and in society calling for protection and respect for the dignity of the outcast and the poor," he added.
The two children, 2-year-old Vaibhav, and 9-month-old Divya, died after upper caste people set fire to their family's home, MailOnline reported. The mother, Rekha, and the father, Jitendra Kumar, also sustained burn injuries in the attack.
Police officials have said that the suspects poured petrol from the window and set the house ablaze while the family was sleeping. Three people were arrested for the violent attack.
"It was around 2 a.m. when they (attackers) poured petrol from the window. I could smell petrol and tried to wake up my wife but by then they had set the house on fire. They locked the door from outside. My children died in the fire," the father said.
"They had threatened that they will finish my family, that I should never return to the village," he added.
Kumar claimed that the attack came following a confrontation with people from the Rajput caste system, concerning another murder earlier in October.
The Catholic bishops said in another statement that India should be "ashamed" at such an "inhuman act."
The statement read: "There is no respect for the human life of Dalit communities, in Haryana, in particular, many live in fear for their lives."
The bishops also urged the government to "provide adequate protection for Dalit people, safeguard the human rights of our people and respect our Constitution."
Dalits, also known as the "untouchables," form the lowest caste in India, and have historically been persecuted by members of the upper castes.
As many as 25 million Dalits have also converted to Christianity, which has made them the target of even further persecution, watchdog groups like the International Christian Concern have said.
Certain government programs provide benefits to the Dalits, but only if they identify as Hindus, which is putting pressure on Christian families to reconvert back to Hinduism.