India: Family beaten, forced into home confinement for converting to Christianity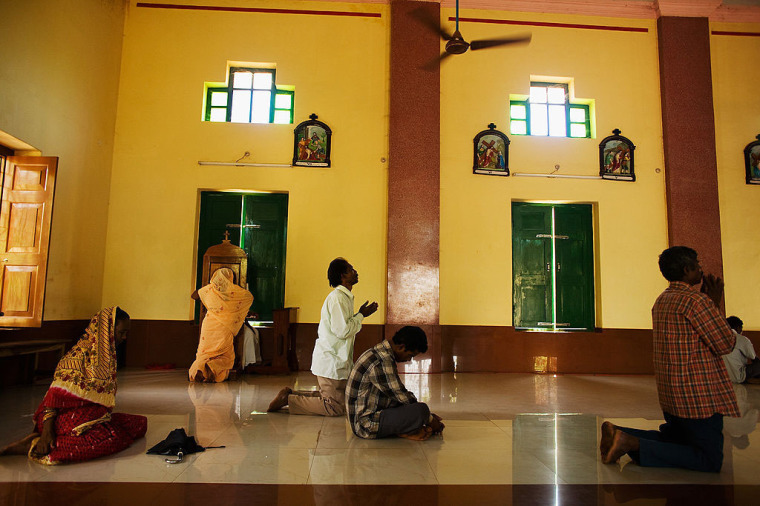 A Christian family in an indigenous community in eastern India was beaten and forced to remain confined in their home for months after converting to Christianity and were subsequently charged by police for "breaching the peace and public tranquility." 
A woman, identified as Asha Korwa, and her family, who live in Khala village of Jharkhand state's Garhwa District, converted to Christianity in early January and the harassment began soon after that, Morning Star News reported, noting that Korwa is a mother of two young children, ages 3 and 6.
Taking about one of the earliest attacks on Jan. 31, she told MSN, "The mob brought with them the village president, media and police officers. As the media clicked our pictures and videotaped the attack, the police watched as mere spectators. They did not stop the assailants or the media."
The Christian woman said the attack took place around midnight and her husband, Sukender Korwa, and two children were also beaten.
"Police officers at Garhwa police station summoned my husband to the police station and told him that he has been held responsible for the breach of peace and public tranquility under Section 107 of the Criminal Procedure Code," Korwa was quoted as saying. "They told him that nobody from my family will step out of the village and that, if necessary, they would take our entire family into custody."
Korwa added, "The first 10 days of February, we could not breathe in our own home. The police officers were stopping by to inquire if we have committed a breach of peace. They would go to our neighbors to take their report as to whether we behaved well."
The family was also physically attacked on Jan. 22.
"Our house is very close to the main road, and they get annoyed by even the slightest of the noises that can be heard when we praise and worship," the woman said. "On the day of the first attack on Jan. 22, a batch of strongmen from the community stormed into our home and started badgering us, 'Why are you shouting hallelujah? How dare you worship a foreign god!'"
The villagers beat her husband and threatened to chase down and kill the family if they ever heard Christian worship from their home again.
About 40 members of the Korwa community have put their faith in Christ, but they could not gather for prayers even during Holy Week. They worshipped secretly in their homes.
Last month, a mob of about 70 people carrying weapons attacked a group of Christians who were praying at a believer's home in Surguda village in neighboring Chhattisgarh state's Bastar District, burning Bibles, destroying furniture and injuring at least six Christians, the U.K.-based group Christian Solidarity Worldwide reported at the time.
The persecution of Christians in tribal or indigenous communities in the two states is taking place amid radical Hindu groups' campaign to stop the country's tribal people from converting to Christianity. These groups have been demanding that the government ban those who convert from receiving education and employment opportunities.
Most tribals do not identify as Hindu; they have diverse religious practices and many worship nature. However, the government's census identifies them as Hindu. Radical nationalist groups, which have been working in tribal-majority areas to compete with Christian workers, have influenced some groups among the tribal population.
In three separate attacks in Chhattisgarh's Kondagaon district last September, tribal villagers vandalized 16 houses belonging to Christians from the same tribe and attacked at least one tribal Christian woman, forcing all-male family members to flee into jungles for safety at the time.
The Christian men were able to return to their homes days later after the Bilaspur High Court passed an order in a Public Interest Litigation filed by 12 Christians to seek security for the displaced Christians.
"Since the current ruling party (Bharatiya Janata Party) took power in 2014, incidents against Christians have increased, and Hindu radicals often attack Christians with little to no consequences," noted Open Doors' World Watch List last year, which ranked India as the 10th worst country for Christians.
"The view of the Hindu nationalists is that to be Indian is to be Hindu, so any other faith — including Christianity — is viewed as non-Indian. Also, converts to Christianity from Hindu backgrounds or tribal religions are often extremely persecuted by their family members and communities," Open Doors said at the time.