Indian Boy With Seven-Inch Tail Worshipped as a God by Locals, Thinking of Having It Removed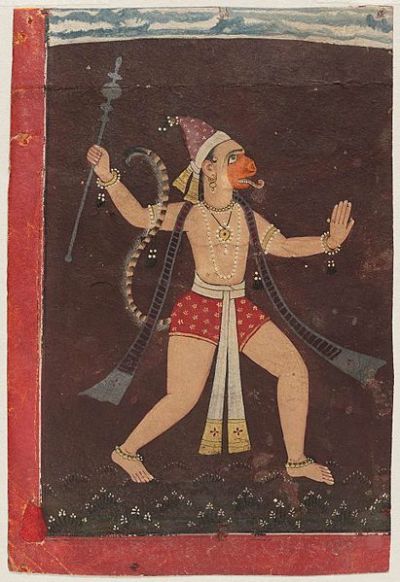 A 13-year-old boy from Punjab, India, who is worshipped by the locals and believed to be an incarnation of the Hindu monkey god Hanuman, is thinking of having his seven-inch tale removed despite the adoration.
Arshid Ali Khan will have to decide on his own whether to have the tail removed, which could be causing some of his health issues, but his grandfather, Iqbal Qureshi, said Khan should keep his tail rather than face a risky operation.
"It is for Balaji to decide. If he wants to get the tail removed, we do not mind," Qureshi said. "He has trouble walking and so we are asking doctors what can be done."
The teenager is bound to a wheelchair, suffering from an undiagnosed disorder, and lives with his grandfather and two uncles. His home has been converted into a temple, and worshippers come to visit him and touch his tail to receive blessings.
"This tail has been given to me by God. I am worshipped because I pray to god and the wishes of people come true," Khan said, according to the Irish Mirror.
"I feel neither good or bad about having a tail."
The grandfather alleged that childless couples sometimes come to Khan for help, and after he blesses them they are able to conceive.
"When he spoke for the first time at the age of one all he spoke was the names of Gods from different religions," Qureshi said. "It was that day I realized that he had something divine and godly about him."
The CIA World Factbook states that over 80 percent of India's 1.2 billion population is Hindu, 13.4 percent is Muslim and only 2.3 percent is Christian.
Metro.co.uk reported on a similar case in February of Hindu villagers worshipping a man with a hairy tail, a section of hair on the small of his back that he grew out.
Thirty-five year-old Chande Oraaon from Alipurduar, West Bengal, is also believed by the locals to be the human form of Hanuman.
"I am Hanuman. People have a lot of respect for me because of my tail. I don't mind the tail at all. It is a gift by god," Oraon said.