Indiana Church Sign Says 'LGBT Is Hate Crime Against God, Repent;' Protest Planned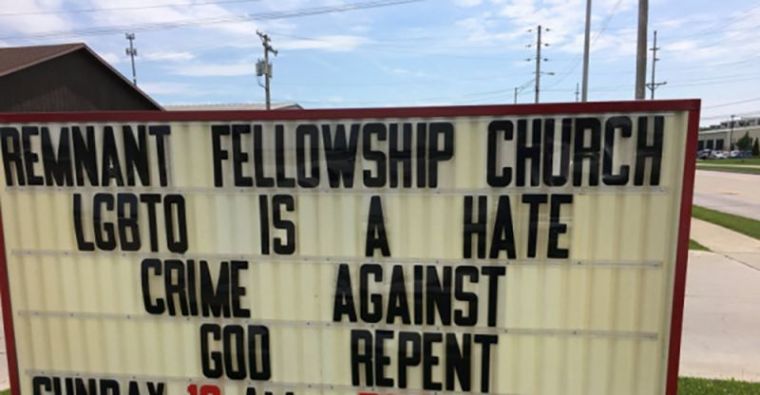 Yet another church sign has caused a stir, this time at a church in Indiana where protesters plan to voice their disagreement this weekend.
A protest is planned for Sunday morning outside Remnant Fellowship Church in Auburn in opposition to a church sign that reads: "LGBTQ is a hate crime against God" and calls on passersby to repent because "God sees your sin."
The small church, which was founded in April, is up front with people about its mission to "stand apart from the last days apostate church and stand for biblical truth and faithfulness to God and His Word."
In a statement posted to Facebook Tuesday, Remnant Fellowship offered no apologies to those who are offended by the display, which some deem as being "anti-LGBT."
"Put this on church sign to reach a wicked and filthy generation. I pray God grant some repentance and life before the great Judgements about to be poured on this nation. Especially the young people who have been sold lies so long and are [fed] a flood of filth every day," the church's Facebook post reads. "Jesus can save the vilest of sinners, many of us were saved out of wicked lives. Nothing is to[o] hard for God."
The church's Facebook post continues by citing 1 Corinthians 6 and stating that "wrongdoers will not inherit the Kingdom of God."
"Do not be deceived: Neither the sexually immoral nor idolaters nor adulterers nor men who have sex with men nor thieves nor the greedy nor drunkards nor slanderers nor swindlers will inherit the Kingdom of God," the post continues. "And that is what some of you were. But you were washed, you were sanctified, you were justified in the name of the Lord Jesus Christ and by the Spirit of our God."
Considering that there is much hostility today surrounding the topic of marriage and sexuality, the sign has rubbed some in the community the wrong way.
Local resident Kristin Russell has planned to stage a protest outside the church on Sunday. According to a Facebook group, 10 people plan to attend as of Wednesday afternoon.
"It is beyond a doubt that some of us have strong feelings about this church/sign and these beliefs. I want everyone who comes to come with open arms and open minds. No hate allowed," Russell wrote in a Facebook post. "Positive, progressive, and loving signs are welcome and encouraged. Bring friends and family. Overall, I would just like the message of loving everyone despite differences to get across. Please please do not bring any negativity with you, and let's just show this church that Auburn stands with the LGBTQ+ community, and that God and churches can as well! I appreciate the support!"
Church elder Robert Sturges defended the sign in an interview with NewsChannel 15, saying that the sign only informs viewers of what it says in the Bible. It states in Leviticus that a man who sleeps with another man is "detestable" to God.
"We're trying to reach a certain group of people," Sturges explained. "They're being told in our culture that homosexuality, transvestites, lesbianism, and sexual immorality is OK. But the Bible clearly says that those who practice these things will not inherit the Kingdom of God. In fact, it warns them that the wrath of God will abide upon them. And in the judgment, they will be lost and they will be sent to Hell forever. We believe that. That's our faith."
The Remnant Fellowship Church sign controversy comes after a Birmingham, Alabama, church posted a racially-charged message on its church sign last month.
The predominantly-black New Era Baptist Church posted on its signboard a message that read: "BLACK FOLKS NEED TO STAY OUT OF WHITE CHURCHES." On the other side, the sign read "WHITE FOLKS REFUSED TO BE OUR NEIGHBORS."
The sign was in response to the Church of the Highlands' plans to launch a new campus in one of the city's most violent neighborhoods. The pastor responsible for the sign, Michael Jordan, claimed that the megachurch wanted to launch the new campus because "they have too many black folks at their main campus and they want them to leave and come to a church in the inner city."
The sign was criticized by black Mayor Randall Woodfin and Steven Hoyt, an African-American city councilman and pastor at Mount Carmel Christian Methodist Episcopal Church in Adamsville.