Robert Jeffress: America a Christian Nation; Secularists, Humanists, Atheists, Infidels Pervert Constitution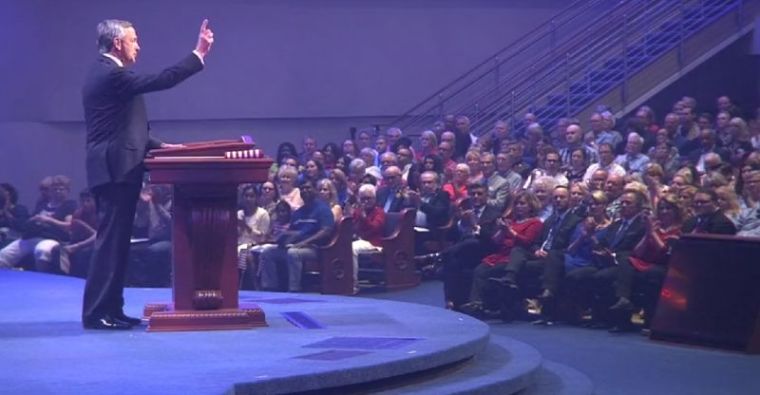 First Baptist Church of Dallas Pastor Robert Jeffress has preached a sermon arguing that the United States of America was founded with the intentions of being a Christian nation.
At a sermon preached Sunday morning at FBC Dallas, Jeffress declared that "America was founded as a Christian nation," with his large congregation cheering and applauding in response.
"America was founded predominantly, not exclusively, but predominantly by Christians, who wanted to build this foundation of Christian nation on the foundation of God's will," said Jeffress.
"Furthermore, these men believed that the future success of our country depended upon our fidelity to the Christian beliefs ... Our future success depends on our country being faithful to those eternal truths."
Jeffress divided up his sermon into three categories. First, he focused on historical evidence arguing that America was founded to be a Christian nation; second, he analyzed when the nation began to digress from this Christian identity; and finally, he focused on the consequences of this departure.
Jeffress believes that the United States began to detour from its Christian principles back in 1947, when the United States Supreme Court first used the phrase "separation of church and state" in a legal decision, specifically Everson v. Board of Education.
Jeffress then cited other Supreme Court decisions following Everson, which gradually removed various religious aspects from public school.
"We have allowed the secularists, the humanists, the atheists, the infidels, to pervert our Constitution into something our Founding Fathers never intended and it is time for Americans to stand up and say 'enough!'" Jeffress said.
"We're not going to allow this in our Christian country anymore. It is time to put an end to this," declared Jeffress, receiving a standing ovation in response.
Jeffress promoted his "Christian nation" sermon weeks in advance of Sunday, garnering controversy over his billboard advertising for the message.
One critic, Dallas Mayor Mike Rawlings, was quoted in an opinion column published earlier this month by the Dallas Morning News denouncing the billboard as "divisive."
"That is not the Christ I follow," stated Mayor Rawlings. "It's not the Dallas I want to be — to say things that do not unite us but divide us. I never heard those words, that voice come out of Christ. Just the opposite. I was brought up to believe: Be proud of yours, but do not diminish mine."
Two of the billboards were removed by billboard company Outfront Media, apparently because the company disagreed with the message. 
Regarding the controversy, best-selling conservative Christian author Rod Dreher argued in a column published June 19 that Jeffress' pending sermon was likely based on "a historically shaky thesis" and saw the overall "Freedom Sunday" event as "a form of idolatry."
"... you couldn't pay me to sit there and listen to Jeffress preach that poke-in-the-eye patriotism on Sunday, and partake in his church's glorification of the war machine, under the guise of a 'salute to the armed forces,'" wrote Dreher. 
The sermon announcement was also mocked by Christian satire site The Babylon Bee under the headline, "Robert Jeffress Announces New Sermon Series On Idolatry To Kick Off Right After 'Freedom Sunday' Patriotic Service." 
In an opinion column for The Christian Post published a few days before Jeffress' sermon, Second Baptist Church of Houston Associate Pastor Wallace Henley wrote that "once upon a time, America was a Christian nation in a stricter sense, but now is less so."
"My childhood was in the 1940s-1950s. Every Monday morning at the public schools I attended, we not only began the day with Bible reading and prayer, but also with what is now a startling, even prosecutable question from our teachers: "How many of you attended Sunday School yesterday, raise your hands?'" wrote Henley.
"Fair or unfair, that illustrates the difference between the 'old America' (which still had many injustices and problems) and the contemporary version (with even more injustices and problems)."