Robert Jeffress Accuses Dallas Mayor of Religious 'Hostility' for Vilifying 'Christian Nation' Event
Atheists Plan Protest to Oppose 'Christian Nation' Sermon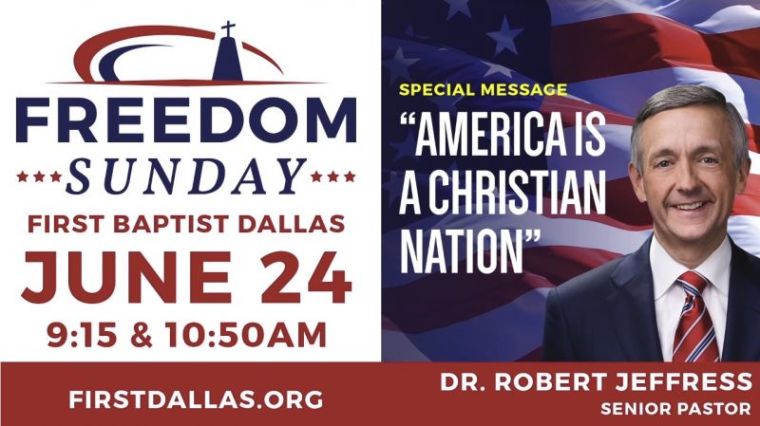 Outspoken Pastor Robert Jeffress has shot back at Dallas Mayor Mike Rawlings, accusing him of being "hostile" toward his megachurch by speaking out against a billboard advertising an upcoming sermon on how "America is a Christian Nation."
Jeffress' First Baptist Dallas has been the center of media attention in the last couple of weeks after the Dallas Morning News published an op-ed that was critical of billboards promoting a June 24 service at First Baptist Dallas that will feature a special message in which Jeffress will outline the historical evidence that America is a Christian nation.
The article, which calls the billboard "divisive," quoted Rawlings as condemning the billboard.
"That is not the Christ I follow," the Christian Democrat mayor said. "It's not the Dallas I want to be — to say things that do not unite us but divide us. I never heard those words, that voice come out of Christ. Just the opposite. I was brought up to believe: Be proud of yours, but do not diminish mine."
The following day, two First Baptist Dallas billboards were removed by billboard company Outfront Media.
In an interview with Fox News Monday night, Jeffress said he doesn't have a problem with the company not wanting to promote a message it disagrees with, pointing out that it is similar to a Christian cake baker not wanting to bake a cake for a same-sex wedding.
However, Jeffress opposed the fact that the mayor and the Dallas Morning News op-ed seemed to have influenced the company's decision.
Jeffress cited the Supreme Court's ruling earlier this month in favor of Christian baker Jack Phillips to state that government is not supposed to be "hostile" toward any religion. Jeffress argued that the mayor "does not have the right to weigh in on this" and "disparage our church."
"What we don't support is the mayor of Dallas and his chief communications officer weighing in on this topic, showing hostility toward our church," Jeffress argued in another interview with Fox News on Tuesday. "The Supreme Court just said two weeks ago in that wedding cake case that the government has to be neutral, not hostile toward religion."
"And, we believe Mayor Mike Rawlings has shown hostility toward our church," Jeffress added.
Jeffress, who is a Fox News contributor and an informal adviser to President Donald Trump, added that there seems to be a double standard when it comes to what Rawlings feels is divisive.
"A couple of years ago when the American Atheists put up a billboard at Christmastime saying, 'Skip Church, Christianity is Fake News,' we didn't hear the mayor criticizing that or calling that divisive or saying that doesn't represent Dallas," Jeffress said. "But for some reason he feels threatened by the message that 'America is a Christian nation.'"
Jeffress added that the pressure to remove the billboards shows the "hypocrisy of liberalism."
"Whether it is the Dallas Morning News or Mayor Rawlings, liberals are the most intolerant people of all when it comes to ideas they disagree with," he said. "That phrase, 'America is a Christian nation' is actually a quote from John Jay, the first chief justice of the Supreme Court and two Supreme Court rulings."
Jeffress assured that the church has put up 20 more billboards through another billboard company to replace that two that were removed.
Atheist groups have said they're planning to stage a protest outside First Baptist Dallas on Sunday to protest Jeffress' "Christian nation" sermon. 
"The idea that America is a Christian nation is a myth and spreads an exclusionary false message that creates division in our country," the protest's Facebook page states.  "The United States is a free nation founded on a secular Constitution that includes freedom of religion. This embodies unity and diversity for both believers and non-believers."