'I am Not a Bigot': Robert Jeffress Responds to Mitt Romney's Twitter Attack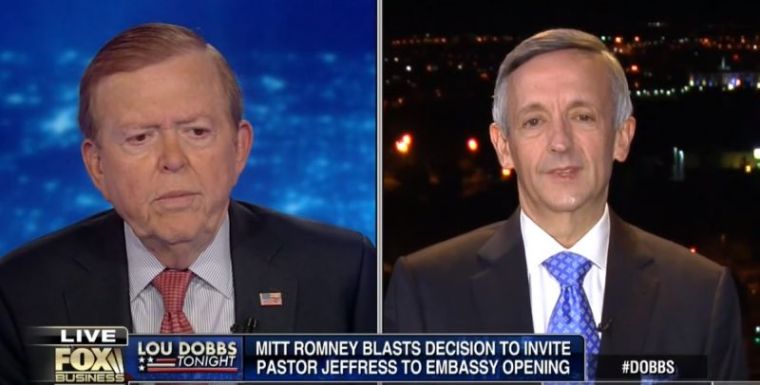 First Baptist Dallas Pastor Robert Jeffress has denounced former Republican presidential hopeful Mitt Romney's accusation that he's a "religious bigot."
"Robert Jeffress says 'you can't be saved by being a Jew,' and 'Mormonism is a heresy from the pit of hell.' He's said the same about Islam. Such a religious bigot should not be giving the prayer that opens the United States Embassy in Jerusalem," Romney tweeted on Sunday.
In an interview with Fox Business host Lou Dobbs Monday night, Jeffress said he took issue with Romney's claims and asserted, "I am not a bigot."
"Many of those comments [in Romney's tweet] are either manufactured or ripped out of context. I hold to historic Christianity that believes that Jesus Christ offers the way to Heaven," explained Jeffress.
"The fact that people don't agree with that is fine, but it's wrong to call tens of millions of evangelical Christians like me bigoted because we follow the words and teachings of Jesus who said: 'I am the Way, the Truth, and the Life. No man comes to the Father but by me.'"
When Dobbs asked if Jeffress expected an apology from Romney for his comments, the megachurch pastor laughed and responded, "I'm not waiting by my Twitter."
In 2012, when Romney became the first Mormon to secure the presidential nomination of the Republican Party, Jeffress garnered controversy for labeling Mormonism a "cult."
That September, Jeffress explained that he was still planning to support Romney, calling him "the lesser of two evils," though he maintained that he did not consider Mormons to be Christian.
"The fear among evangelicals is that this would legitimize a religion that we believe doesn't lead people to God," Jeffress said at the time.
"And so those of us who have said yes (to Romney), we're going to support him as the lesser of two evils. But at the same time, we're making very clear that we're doing so realizing Mormonism is not Christianity."
Romney's comments came in response to Jeffress being one of the clergy selected to give a prayer at the ceremony marking the official opening of the U.S. embassy in Jerusalem, Israel.
Jeffress gave a short prayer at the new embassy site, thanking God for, among other things, President Donald Trump's "tremendous leadership" when deciding to move the embassy from Tel Aviv to Jerusalem.
"Without President Trump's determination, resolve, courage, we would not be here today," said Jeffress, who shared the stage with Rabbi Zalman Wolowik of Long Island, New York.
The back-and-forth over Romney's criticism of Jeffress comes as Romney is running a campaign to fill the Senate seat being vacated by longtime Utah Senator Orrin Hatch.