White House Distances Itself From Robert Jeffress' Comments on the Salvation of Jews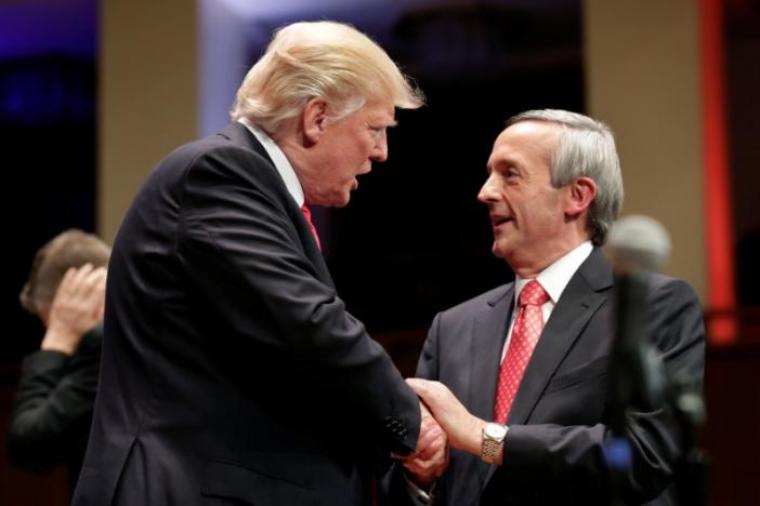 The White House has distanced itself from Donald Trump spiritual adviser Robert Jeffress' past comments on the salvation of Jews after criticism over the fact that Southern Baptist pastor led prayer at the Monday opening ceremony of the United States Embassy in Jerusalem.
During Monday's White House press briefing, White House Principal Deputy Press Secretary Raj Shah was questioned about the Dallas megachurch pastor being invited to lead a prayer at the opening of the embassy.
The reporter asked Shah if he though Jeffress is "one of the right people to speak at the opening of our embassy in Israel" given the fact that Jeffress has in the past voiced his theological belief that Jews, Muslims, Hindus and Mormons will not receive salvation in Jesus Christ.
Shah was also asked to give clarification on how it "came to be" that Jeffress was asked to give a prayer at the ceremony.
"Well, I honestly don't know how that came to be. And I know that Pastor Jeffress has had a strong relationship with many people in the faith community, as well as folks in the administration, and Republicans on the Hill, and others, and I believe Democrats as well," Shah responded. "So I think that he has a longstanding involvement with public officials. You know, beyond that, I don't really have a whole lot to add."
After Shah's response, the reporter prodded Shah by asking if he thought it was "appropriate" for a person who said that "Jews are going to hell to speak at the opening of our embassy in Israel?"
Although Shah said he hasn't seen the remarks in question, he assured that such comments "aren't' remarks that the president agrees with."
This is not the first time that Jeffress has been called on to speak during a big occasion involving Trump or his administration. Jeffress also gave the sermon at the church service that Trump attended during the morning of his inauguration in January 2017.
At the time, many in the media criticized the social conservative pastor for past comments he made about Muslims, Mormons, Jews, the LGBT community, Catholics and others.
Jeffress' inclusion in the embassy ceremony was criticized by former Republican presidential nominee Mitt Romney, a Latter-day Saint. Romney tweeted on Sunday that Jeffress is a "a religious bigot" who "should not be giving the prayer that opens the United States Embassy in Jerusalem."
Jeffress responded to Romney's remark during an interview with Fox Business on Monday night in which he stated that he is "not a bigot." He argued that he holds to historic Christian teachings that "Jesus Christ offers the way to Heaven."
"Many of those comments [in Romney's tweet] are either manufactured or ripped out of context," Jeffress stated.
"The fact that people don't agree with that is fine, but it's wrong to call tens of millions of evangelical Christians like me bigoted because we follow the words and teachings of Jesus who said: 'I am the Way, the Truth, and the Life. No man comes to the Father but by me.'"
A number of prominent evangelical pastors have come to Jeffress' defense in light of Romney's criticism.
"Well... I'm very grateful @robertjeffress boldly stands for Truth and is representing Jesus at the dedication of the Embassy in Jerusalem," former Southern Baptist Convention President Jack Graham wrote in a tweet responding to Romney's comments.
Greg Laurie also responded to Romney's tweet by stating that he is "glad" that Jeffress was able to give a prayer at the opening in Jerusalem.
Late last month, Jeffress contended during a dialogue event with Jewish conservative radio personality Dennis Prager that although Jews and Christians worship the same God, both religions can't be right.
"Because you can't reconcile what Jesus said when He said, and He was a Jew, 'I am the way, the truth, and the life; no man comes to the Father except by me,'" Jeffress said. "The Apostle Paul, who was a Jew, said, 'I desire that my brethren Israel be saved.' ... The Apostle Peter said there was salvation under no other name, 'there's no other name given among men by which we can be saved.'"