Inside the Absolute Brilliance of Chris Pratt's Epic 'God' Talk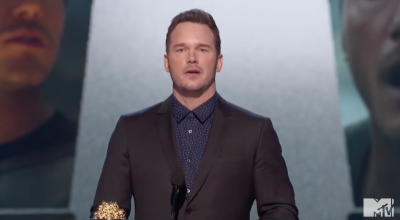 Actor Chris Pratt has repeatedly taken the opportunity not only to thank God, but to also encourage his fans to think deeper about their own relationships with the Almighty. Embracing a unique approach to discussing his Christian faith in public, Pratt has found a way to invoke God in difficult and unlikely venues without alienating critics of faith.
Read Also: Meet Chris Pratt's Brother: An Army Vet, Cop & Incredible Artist
Pratt's older brother, Cully Pratt — an artist, cop and Army vet — recently praised his famous brother on an episode of "The Billy Hallowell Podcast," noting that Chris "stands behind everything he believes and values," and that the actor wants to improve the world he lives in.
"He's genuinely a good person and he genuinely cares about people and he genuinely wants to help and make an impact on the community and the world we live in," Cully Pratt said. "He's the type of person who, when he speaks, he is very well thought out, but he doesn't offend people. And I just respect that about him."
Listen to Cully Pratt reveal some fascinating details about his famous brother's faith talk:
At least two of Chris Pratt's speeches have gone viral this year. During the summer, he wowed the crowd at the 2018 MTV Movie & TV Awards, speaking out about God, faith and prayer during a powerful acceptance speech.
"Nobody is perfect. People will tell you that you are perfect just the way that you are, you're not! You're imperfect. You always will be, but there is a powerful force that designed you that way, and if you are willing to accept that, you will have grace," Pratt said. "And grace is a gift. Like the freedom that we enjoy in this country, that grace was paid for with somebody else's blood. Do not forget it. Don't take it for granted."
Then he took another bold stand for God in August at the Teen Choice Awards, thanking God and encouraging young people to also turn to the Almighty.
"I want to thank God. I always do that when I'm up on a platform in front of a bunch of young faces," Pratt said. "I love God, that's my thing I love him! And you should too!"
Listen: Subscribe to "The Billy Hallowell Podcast"
It's the approach to these proclamations, though, that is perhaps most intriguing. His brother, Cully, explained the brilliance of his brother's moving addresses.
"He has a way about him to where he can speak in a way to where it doesn't look like it was very well-versed or rehearsed," Cully said, noting that his brother is talented at driving home a pertinent message.
Rather than being too preachy, the actor takes the time to think through how he approaches these subjects. Cully said that "you can't tell people things that they don't want to hear if they're not willing to ... slow down and listen to it a little bit."
So, Chris Pratt takes the time to "stay funny and stay relatable," while peppering in the truth he holds dear without shoving it "down people's throats."
It's an approach that Cully has seen resonate, as he spoke specifically about the results of his brother's MTV speech earlier this summer.
"I've had so many positive conversations with people who ... are atheists or ... maybe they don't believe or they're not Christian or ... they have their own beliefs and that's totally fine, but I've had people who say, 'You know, I really really enjoyed it because it came from a place it was genuine. It was authentic,'" Cully said.
Amid the chaos of the current culture, few people have as large a platform as Chris Pratt, so seeing his messages play out serves as an inspiration to many.
Read Also: Candace Cameron Bure Responds to Those Who Mock Prayer
Check out some of Cully Pratt's phenomenal, faith-based art pieces here and take a moment to watch his brother's passionate MTV speech about faith.
This article was originally published on Pure Flix Insider. Visit Pure Flix for access to thousands of faith and family friendly movies and TV shows. You can get a free, one-month trial here.
Billy Hallowell, author of "The Armageddon Code," has contributed to TheBlaze, the Washington Post, Human Events, the Daily Caller, Mediaite, and the Huffington Post, among other news sites. Through journalism, media, public speaking appearances, and the blogosphere, Hallowell has worked as a journalist and commentator for more than a decade.