Instagram removes Babylon Bee founder's cartoon comparing abortion and slavery, calling it 'hate speech'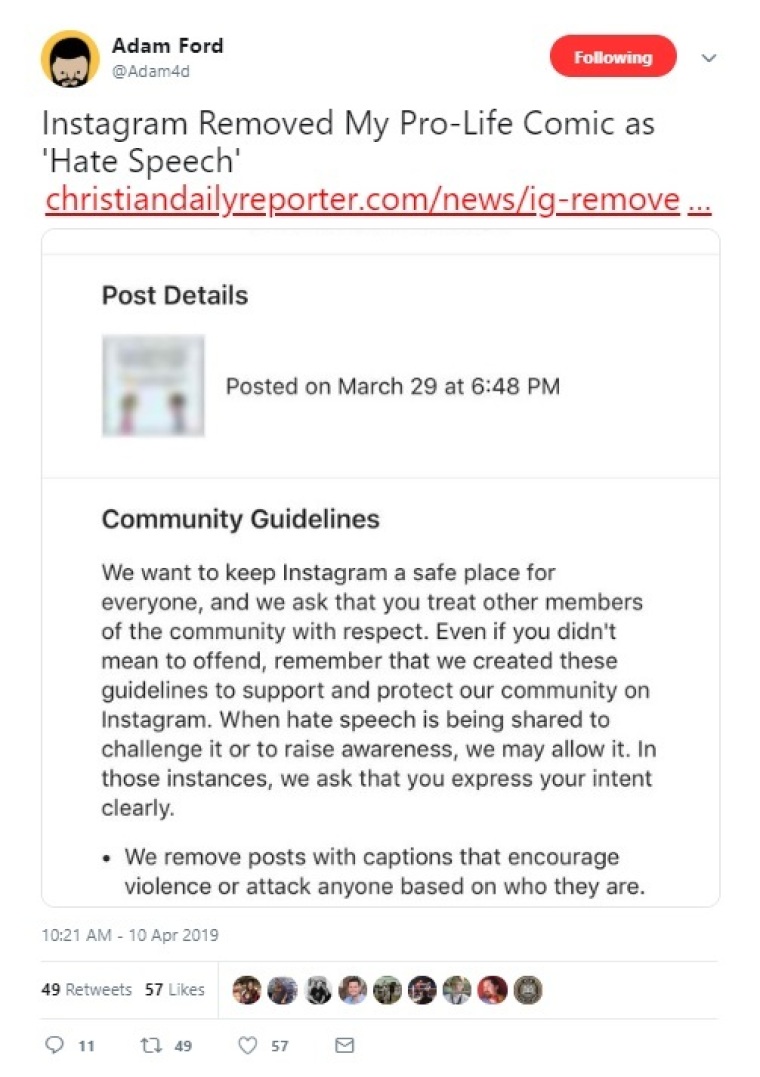 The founder of the popular Christian satire site Babylon Bee recently had a post to Instagram comparing abortion to slavery removed by the social media website over claims that it was "hate speech."
Adam Ford, who sold the Babylon Bee website last year, posted an entry on his Christian Daily Reporter site on Wednesday, explaining that he recently learned that a comic he posted to Instagram last month was taken down.
"Instagram yanked it as 'hate speech,'" wrote Ford, who included a screengrab of the message he received regarding the post.
According to Instagram, the removed post violated the website's "community guidelines" on "hate speech and symbols."
"We want to keep Instagram a safe place for everyone, and we ask that you treat other members of the community with respect," stated Instagram.
Instagram went on to explain that they remove any posts that have "captions that encourage violence or attack anyone based on who they are" or posts that have "specific threats of physical harm, theft or vandalism."
"Please, read the entire comic and try to ponder how in the world it could be considered 'hate speech,'" added Ford, who included the whole comic, which is also available to read here, in its entirety on the Daily Reporter post.
The removed webcomic featured a dialogue between two women living in the Antebellum debating the morality of slavery, using arguments similar to the debate over abortion and starting with the question "Does slavery ever bother you?"
The last picture in the comic is captioned "200 years later" and features two women beginning a dialogue about the morality of abortion, with one asking the question "Does abortion ever bother you?"
"I am hardly the first person to espouse the belief (and hope) that one day society will look back on abortion with the same mortified disbelief we now have when we consider our country's history of institutionalized chattel slavery," stated Ford.
"If I had published the exact same comic, but instead used it to promote abortion (i.e. 'without abortion rights, women cannot attain full equal personhood' — an argument used on the left), would it have been removed as 'hate speech'? I think we all know the answer to that."
Ford also took to his Instagram account to post a new photo on Wednesday, explaining that the comic was censored, with this post getting nearly 600 likes within a couple of hours.
Last year, Facebook threatened Ford's Babylon Bee page with reduced distribution and demonetization in response to a Snopes piece fact-checking one of their satirical stories.
Ford posted about the threat on social media, with Facebook releasing an apology in March of last year, claiming that the initial threat of demonetization was a "mistake."
"There's a difference between false news and satire," said Facebook in a statement to the Daily Caller News Foundation at the time.
"This was a mistake and should not have been rated false in our system. It's since been corrected and won't count against the domain in any way."