InterVarsity Answers Why #BlackLivesMatter Was Included, but Pro-Life Group Was Not, at Urbana '15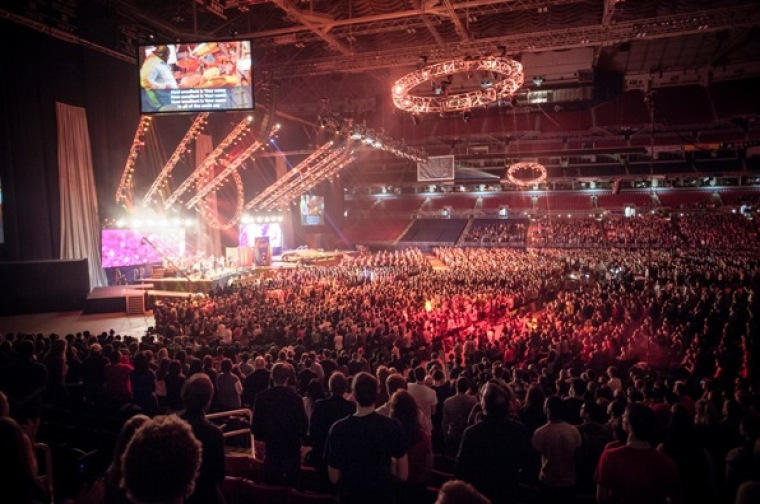 In an interview with The Christian Post, InterVarsity explained why a Black Lives Matter representative was included at its Urbana 15 student missions conference but a pro-life group was denied an exhibitor application.
InterVarsity's denial of Students for Life had nothing to do with the worthiness of the organization's mission but was based upon an application requirement that the pro-life group failed to meet, InterVarsity vice president Greg Jao told The Christian Post during a phone interview Monday.
"My understanding is that Students for Life is a non-religious organization," Jao said.
Black Lives Matter activist Michelle Higgins criticized pro-life activism during her keynote address at the triennial conference that denied Students for Life an exhibitor application.
CP confirmed the "non-religous" status of Students for Life of America with the organization's Director of Communications, Kristina Hernandez.
"We are not affiliated with any particular religion nor are we a religious organization. That said, many of our staff are Christians, but again, SFLA is not a religious group," she wrote Monday via email.
Jao went on to say, "We require all of our exhibitors, speakers and others to be able to affirm our doctrinal basis."
He explained that while there are many organizations that champion worthy causes, Urbana specifically features Christian ones.
Black Lives Matter, like the pro-life movement, is not specifically Christian but Christians are involved in the movement. Higgins, however, met InterVarsity's requirements due to her involvement with a Presbyterian (PCA) church, Jao claimed.
Among her other qualifications, the social activist affirms InterVarsity's doctrinal statement as a graduate of Covenant Theological Seminary and through her involvement with the PCA church, he explained, before reiterating InterVarsity's position on the Black Lives Matter movement.
"We believe all people are created in God's image ... ," said Jao. "We believe that black lives do matter, and our students, our staff, our ministry partners who are black consistently tell us that black lives are endangered, black dignity is under constant threat in a variety of situations. ... On college campuses this has become a huge issue and we felt it was important to address it. We think it's an important global missions issue ... "
In a previous statement published Dec. 31, 2015, InterVarsity interim president Jim Lundgren also defended his organization's decision to include the Black Lives Matter movement at Urbana 15 student missions conference last week while also affirming its stance on the pro-life movement.
"Scripture is clear about the sanctity of life. That is why I'm both pro-life and committed to the dignity of my black brothers and sisters," wrote Lundgren. "We see racial reconciliation as an expression of the Gospel (e.g., Ephesians 2:14-18), and as an important practice in preparation for global missions. The need for reconciliation is obvious in the Middle East and other global mission fields. It is just as obvious in the United States InterVarsity has been involved in this conversation for decades. We believe it is important to stand alongside our black brothers and sisters."
Higgins' incendiary comments slamming the efforts of pro-lifers outraged Students for Life of America, whose President Kristan Hawkins questioned InterVarsity's decision to enable the activist to disparage pro-lifers while InterVarsity denied the exhibitor application of Hawkins' own pro-life organization — a group that was seemingly aligned with the objectives of the conference.
After voicing her disagreement on social media, Hawkins penned an op-ed published in The Christian Post Monday where she expounded upon her concerns.
Primary among those concerns was that "Students for Life and Rock for Life were denied the chance to exhibit at the conference because, according to an email from the exhibits manager, '… Students for Life does not align with Urbana's exhibitor criteria. One of our key criteria for exhibitors is to have advancing God's global mission as the vision and purpose of their organization.'"
Hawkins went on to write, "So helping young women to choose life doesn't align with God's global mission? Or what about educating students and training them to talk about abortion, our world's greatest human rights injustice, on their campuses in a loving way?"