Francis Chan Calls on Christians to Live Under the Authority of Jesus on 2nd Day of Urbana '15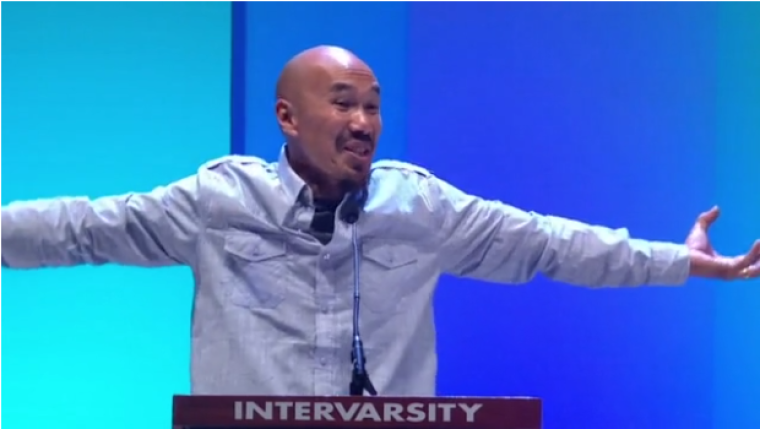 The Urbana '15 triennial student missions conference, the largest of its kind in the world, held its second evening session Monday night at the Edward Jones Dome in St. Louis, Missouri, where keynote speaker Pastor Francis Chan urged a crowd of more than 16,000 attendees to live under the authority of Jesus Christ, and to go beyond just talking about winning souls for the Kingdom.
Chan, a best-selling author and founder of the church-planting organization Radius International, said people often resist authority, and used Adam and Eve as primary examples. He stressed, however, that "authority can be a great thing," saying that following Christ and being under His authority — the One who has power over the wind, waves, demons, sickness and death — is "good news."
The pastor went on to say that, when it comes to the Bible, believers sometimes "talk it to death" instead of taking action.
"People will make so many excuses for why they don't physically do anything, and they make no effort toward reaching people who've never heard of Jesus Christ."
Chan also warned attendees that, as followers of Christ, they will suffer. "If you follow Jesus, you're going to suffer. … We're not going to get to the nations if we're not willing to suffer. Expect difficulty."
The conference, which continues through New Year's Eve, boasts more than 180 speakers who will discuss an array of topics over the course of five days with the objective of helping people connect with God and understand His will for their lives.
God's will is something with which Chan admits he has not always been comfortable.
In fact, at one point during his walk as a pastor, Chan came to a realization that caused him to go on hiatus from the ministry. " ... I realized, man, I'm scared of the will of God," he said.
Chan explained that the Lord reminded him of who He was and that a walk with Him would be worth it. With that reassurance, the pastor was able to move forward with his ministry.
Chan said he continually submits to God's authority, and tells the Lord: "I want to be under Your authority for all eternity."
That's exactly what Urbana '15 conference hosts hope for its participants — that they will hear God's call on their lives and submit to His authority through missions-oriented service.
To learn more about how you can become involved in global missions, visit Urbana's website.