Urbana '15 Kicks Off With 16,000 Students Urged to Let God Write Their Life Agenda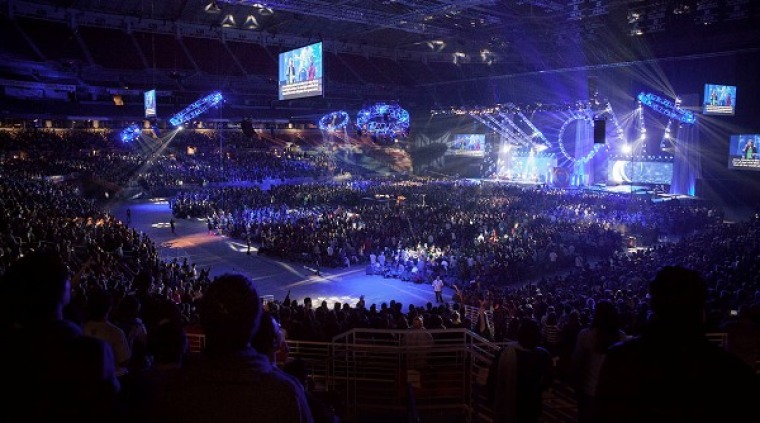 The Urbana triennial student missions conference began at Edward Jones Dome in St. Louis, Missouri, Sunday evening with a speaker challenging the 16,000 attendees to let God write their life agenda.
As the evening's main speaker, Dr. Patrick Fung, director of OMF International, formerly the China Inland Mission, gave the challenge to the students, asking, "Will you let God write your life agenda?"
Fung also said obedience demands immediacy, and that God's story is always bigger than ours. He encouraged students to depend on God's guidance in times of confusion. "It's not limited by time and space," he said.
Fung will continue to teach, focusing on the Gospel of Matthew, at the conference, which will go on until Thursday.
"Could it be true? 16,000 men and women coming together to seek God's heart and be empowered for mission?" wrote the organizers in a tweet Sunday night, and also said that about 7,000 people watched the livestream of the opening session of the conference.
Tom Lin, director of the Urbana Student Missions Conference, told the students they need to listen to brothers and sisters around the world, to missions experts, but most of all to God's voice, and obey. "We are seeing unprecedented needs in the world. A Christian is martyred every 5 minutes," said Lin, vice president of Missions for InterVarsity Christian Fellowship.
The conference has more than 200 staff to pray for the participants, a diverse mix of college and graduate students, faculty, recent graduates, pastors, church and ministry leaders.
"My own Urbana experience in 2006 was a game changer for me!" says Shaylen Jackson, a former participant and now in full-time ministry, on the conference's blog. "It gave me a bigger picture of God and of what it means to be part of the global family of believers. It challenged me to name the places in my life where I was content with doing things my way and to lay down my own personal dreams for the sake of God's greater mission. In fact, it was at Urbana 06 that I decided to join staff with InterVarsity — a job that I love and am still doing today. I pray that your Urbana experience will be just as life-changing."
InterVarsity's Urbana conference has been held every three years since 2006 at the Edward Jones Dome and the America's Center in St. Louis. Before that it was held on the campus of the University of Illinois at Urbana-Champaign. Urbana attendance since 1946 — when InterVarsity's first missions conference was held in Toronto — totals more than 300,000.
Urbana is co-hosted by InterVarsity/USA, Inter-Varsity Canada, and Groupes Bibliques Universitaires et Collégiaux du Canada, and has remained focused on compelling this generation to give their whole lives for God's global mission.