Michelle Higgins Challenges Evangelical Church on #BlackLivesMatter at Urbana 15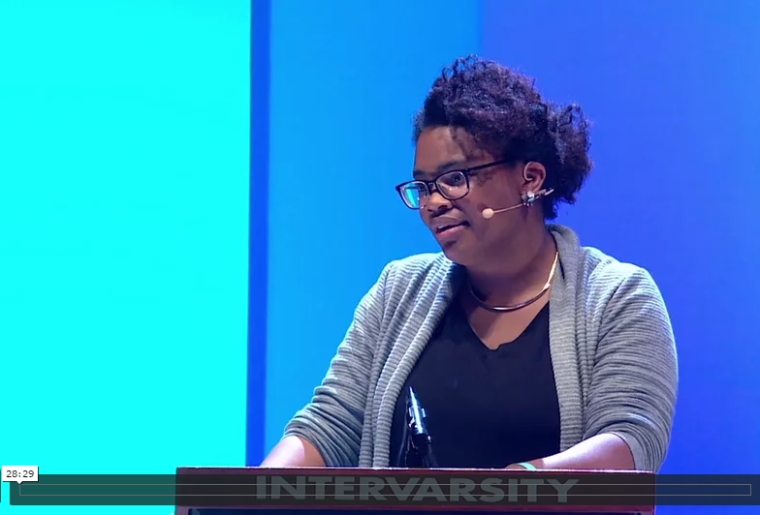 Social activist Michelle Higgins used the Urbana student missions platform to tackle key issues of the Black Lives Matter movement, calling out the Evangelical Church in the process.
In her 30-minute address, Higgins, the director of Christian activist coalition Faith for Justice, dispelled misconceptions about Black Lives Matter and got to the core of the objectives of the movement.
"We do not want all people of color to go 'scott-free' from wrongdoing," she said. "I don't want to see people of color never arrested for anything. 'Oh, Black Lives Matter' means black folks can kill everybody and steal stuff and we're going to all go home and say, 'Well, let 'em — because of slavery.' That's not what we want. That's not what I want. What do we want? Justice. And what is justice? Justice means my baby boy, my baby girl will not be tried, condemed, sentenced and executed on the street. That is justice."
While proponents and opponents of the Black Lives Matter movement could easily be seen as enemies, Higgins reminded conference attendees about who the real enemy is.
"The goal of activism is not to defeat the person who is your enemy, but to defeat the force that is making you hate each other," she said during a video shared with the audience.
For conference participants a message about the issues surrounding Black Lives Matter does not come as a shock as worship team singers clad in Black Lives Matter T-shirts warmed-up the audience ahead of the main speaker.
Higgins shared how, after the death of Michael Brown, she began searching for churches to host conversations on race and justice, but was unsuccessful. " … All of our Evangelical partners said, 'We're not ready … '"
Higgins would have likely found an ally in Christian minister D.A. Horton who spoke with The Christian Post earlier this year about the Black Lives Matter movement and how the Church can intervene.
" ... It would be foolish to say there has not been a systemic attack against blacks," Horton told CP. "But when we're contributing as the Church to the conversation about Black Lives Matter, we also need to be speaking up holistically how the Gospel speaks to systemic racism, the "New Jim Crow," the mass incarceration."
Higgins is aware that the Black Lives Matter movement is only a symptom of the larger issues that Horton mentioned. "If you are a member of the subdominant culture," said Higgins, "you spend your life under the awareness that racist people want to kill you … "
And that's exactly what Higgins once faced. Because of her activism, she and her father were once pursued and targeted for eight months by white supremacists who had been "dead set" on killing them.
Higgins opened up to the audience about the inherency of human dignity and stressed that such dignity stems from God's love. Nevertheless, she said that while God alone defines dignity, human history has often "betrayed" that inherent right.
The activist explained that, when it comes to social issues, society is unwilling to admit that minorities live with harsh realities like police brutality, mass incarceration and portions of society whose actions suggest that "black bodies are grotesque ... " Instead, society has fallen in love with " ... being comfortable and being correct."
Higgins issued strong medicine when she challenged the conduct of the Evangelical Church. "We have committed adultery with white supremacy. The Evangelical Church has taken the dominance and power of Eurocentrism and made it its side piece, or part-time lover. ... The Evangelical Church in North America is convinced that African worship is weird. The Evangelical Church is perpetuating 'white is right,' and that is a burden that none of us can bear, especially my white brothers and sisters. ... God wants to relieve you of the burden of being in control."
"Do we see it?" Higgins implored. "Do you see that racism is the age-old idol in our closet that we can't manage to tear down?"
The wife and mother of two told attendees that God is challenging humanity to "tell the truth, the whole truth" about the stories of human history. A truth that many, she says, have been trying to avoid.
Higgins said that some want to avoid issuing an apology for slavery in America because it would cause a domino effect of apologies for past wrongs like the removal of indigenous people in the U.S., the placement of 100,000 Japanese into internment camps, and the Chinese Exclusion Act. She praised the Evangelical Church, saying that some organizations are considering "repentance statements" regarding those events.
The activist offered a somewhat humorous and political bit of advice, warning Urbana '15 participants to know their history.
"If you don't know your history, you're going to end up repeating it with a crazy-'a' president who don't know what he's doing."