Interview: Hobby Lobby President on Birth Control Mandate Lawsuit, Religious Freedom, and New Bible Museum
WASHINGTON – Steve Green, president of Hobby Lobby, an arts and crafts retail chain, was honored Saturday at the Faith and Freedom coalition's "Road to Majority 2013" conference with a "Courage in Business Leadership" award. The Christian Post interviewed him about the company's current lawsuit over the birth control mandate and the "Green Collection," the world's largest private collection of biblical antiquities and artifacts.
The Green Collection has a traveling exhibit, called "Passages," which is now in Colorado Springs, Colo. It will eventually be housed in a permanent museum in Washington, D.C. There is also a separate exhibit in Vatican City. Additionally, the initiative includes the "Green Scholars Initiative," to advance scholarly research on the Bible.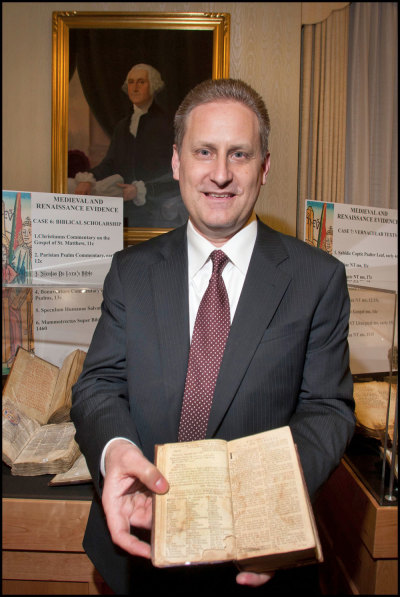 Hobby Lobby was founded by Green's father, David Green. The company's statement of purpose reads, in part, that it is committed to "honoring the Lord in all we do by operating the company in a manner consistent with biblical principles."
The company sued over the Department of Health and Human Services birth control mandate, first announced in January 2012. The mandate requires almost all employers to provide coverage for contraception, sterilization and some abortifacient drugs. Hobby Lobby argues that paying for the abortifacient drugs is in opposition to their religious beliefs. Therefore, forcing the company to pay for them would violate their religious freedom.
In the interview, Green answers some questions about the lawsuit and the Green Collection. The following is an edited transcript of that interview.
CP: First, tell our readers about the "Green Collection" and why this project was important to you.
Green: We started a little under three years ago putting together a Bible collection that has now become one of the largest in private hands. We put the collection together because we knew and loved the story that the Bible tells. Our interest is to put it in a museum to tell the story that has impacted the world in ways that no other book has.
CP: What is at stake in the lawsuits over the birth control mandate?
Green: The bottom line, the question is religious freedoms. We believe that our Founders gave us the religious freedoms that we have today and as a business we have the right to live according to those freedoms.
The question is, does a for-profit company have the right to operate according to biblical principles? That is what we have tried to do as our "statement of purpose." The government is saying we have to provide prescriptions that are abortive and that violate our conscience, because we believe that life begins at conception and it's something that we have no desire to fully fund, which is what the mandate requires.
CP: How does your company operate according to biblical principles?
Green: My father came from a family of ministers. When he went into the retail business, he felt like that was his calling, his skill set, and believed that it was his responsibility to operate his business according to the principles laid out in scripture.
Part of that, obviously, is operating with honesty and integrity, treating our employees right. We close our stores on Sundays. During Christmas and Easter we will put in a newspaper ad that shares what we believe these holidays are all about. We believe those are freedoms that this country affords us. That is all we are wanting to do, continue to operate our business according to principles that we believe have given us the success we've seen.
CP: The Obama administration argues that the religious freedom clauses of the First Amendment do not apply because you are a for-profit company. What is your response?
Green: We know that some of the freedoms in the First Amendment are available to for-profit companies. For example, freedom of speech – newspapers have gone to court over that and it has been determined that they do have freedom of speech rights. But, for some reason, the government says that in the religious freedoms that a for-profit company does not have those rights. I don't know where they see that. That's what the government is arguing in the courts. We'll just have to wait and see what the judges say.
CP: If the case is not resolved by July 1, you will have to start paying fines?
Green: Our plan renews July 1. Whenever your plan renews, that's when the mandate goes into effect for your company. We have had the oral arguments, May 23, at the 10th Circuit [Court of Appeals] and we are waiting for that ruling. We are hopeful we will have that before July 1 because they know that's when, if fines are assessed, they will start assessing fines on the company.
CP: Will you be able to stay in business?
Green: There's a question as to what the fine will be. It's been stated that it's up to $1.3 million per day. That is based upon the number of lives that are on our health plan. The fine is $100 per day, per life. If you were to apply that to everybody, that is where the $1.3 million per day comes from. That is not sustainable. But, we also feel that there is discussion about what the real fine will be, and that is to be determined.
CP: This case is now in the courts, which is less open to lobbying, of course, than something like Congress. So, what can people who support your company, and the religious freedom issues in this case, do?
Green: As you say, it's now in the court's hands. We presented our oral arguments, as well as the government. We asked the full panel to hear our case. It's not often granted, but it was granted in our case. We are waiting for that ruling, so, other than just prayer, that's the only thing I know to ask. When things are not in our hands we know they are in God's hands and we know, ultimately, we're in good hands. But, prayer is the only thing I know to ask for.