Interview: Up-And-Coming LA Worship Leader John Coggins on Being Virtually Unknown, His Break at ChristmasLand Hillsong Concert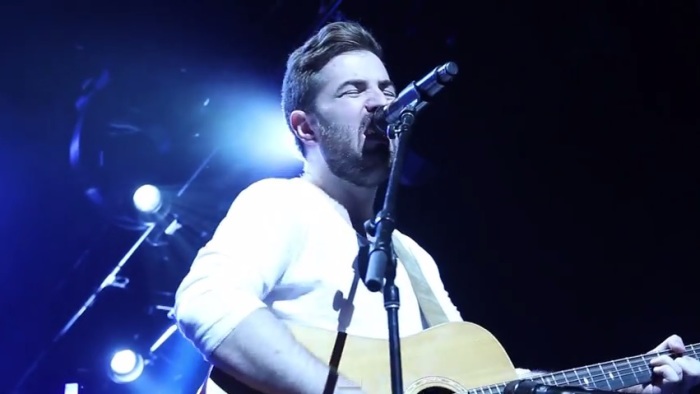 HOLLYWOOD, Calif. – Saddleback Church Los Angeles worship leader John Coggins came to Hollywood via Tulsa, Oklahoma, just four months ago to simply grow his songwriting career and music production business, however, it appears God has more in store for him as doors are blowing wide open toward a career performing on stage as well, he said.
Earlier this month, Coggins played a solo acoustic set before more than 5,000 people at the first major ChristmasLand event, a Hillsong concert at the Nokia Theater in Los Angeles (SEE VIDEO BELOW).
As a virtual unknown artist at the Hillsong concert, Coggins impressed many, including some of the more well-known worship artists at the event. Born in San Diego and raised in Oklahoma, Coggins, 25, said he likes to say, "I've been waking up two hours late my entire life."
The Christian Post had a chance to talk with Coggins over a late lunch at Tender Greens across the street from the Hollywood Palladium where Saddleback Church Los Angeles holds its Sunday services and he leads the worship team.
Coggins said he is extremely happy with the recent opportunities, including being approached for a possible album project featuring Christian artists from Los Angeles.
"I'm doing my best to seek God first in anything that I do and let His will be done. I know it's better than my own plan," he told CP.
Coggins' interview with The Christian Post is below.
CP: You recently played during the ChristmasLand Hillsong concert in Los Angeles, what was that like?
Coggins: It was incredible. I just moved to L.A. about four months ago. Just to be asked to play at that big of an event and share the stage with the top-of-the-line talent in the Christian music industry, it was absolutely incredible. Very humbling to step in front of 5,000 people or whatever it was, just me and acoustic guitar and just sing my heart out, playing at the speed of light – I was a little nervous, I played a little fast. So many great names on the stage – Kari Jobe, Tasha Cobbs, Hillsong, Mosaic…
CP: Now, you played two songs, what were they?
Coggins: I played my own arrangement of "Go Tell it On the Mountain" and I played a cover of a song called "How Many Kings" by the band Down Here – it's just a great song, really powerful. It's kind of like the unsung hero of Christmas music in my mind. It's very strong lyrically. It hits the nail on the head.
CP: How would you categorize your rendition of "Go Tell it On the Mountain?"
Coggins: I would just say it's kind of a getting down and dirty, folky, you know, kind of bluesy style. [laughs]. But, yes, it's my own arrangement, I guess you would say kind of a Southern rock vibe to it.
CP: And the other song?
Coggins: It still hits pretty hard, even on acoustic, but I try to keep it a little more laid back for the most part. I only had so much time on that stage so I just went for it.
CP: Were you given much time to prepare for the Hillsong event?
Coggins: I was asked the week before and so really I just took the day of (the concert) to prepare, but also it took me a few days to figure out what I wanted to play. I didn't know if I wanted to do an original song or use that opportunity to do something that I've written that comes from my heart. But I just figured it's a Christmas event, so let's do something everyone else knows, hopefully.
CP: Were you getting any feedback from fellow artists at the event?
Coggins: Yes. Some from backstage. You know it was funny that before the event no one knew who I was. Even in the dressing rooms, I 'shacked up' with the KOST 103.5 (radio) guys, so my name wasn't really anywhere that people could see.
CP: You weren't even allowed in the red carpet press area, right?
Coggins: Yep, I didn't go to the red carpet. I didn't know if I was supposed to be there or not. I got kicked out of the press room. So, no one really knew who I was and I was kind of meandering around backstage and I was just making random eye contact with people.
CP: Had you met any of them before?
Coggins: No, I had not met any of those guys before. I have mutual friends with like Kari Jobe and her husband. They attended her wedding, so that was kind of an ice breaker. But then, right after I got done I got a lot of "Hey, good job." I was talking to Kari Jobe and she just kind of gave me the "Yeah, you have a really cool voice."
CP: Tell us about your EP, Hold the Ones You Love, that you put out about two years ago.
Coggins: It's something I'm really proud of, (including the) song writing. It's definitely more on the folkier side, very acoustic. I put it out and I wasn't really seeking a career at that point, I just really wanted to have something out there. I wanted to make sure the songs that I put on there actually meant something to me. Like songs about my wife. There's a song on there about when I asked her to marry me and I put that on the EP and that was played at a lot of weddings. It's called, "My Life with You." To this day I hear about someone using it at their wedding, during the first dance or even to walk down the aisle, too.
CP: What genre would your EP come under?
Coggins: It's Pop/Folk. I'm a Christian and so the songs are definitely influenced from that, spiritually speaking.
CP: Tell us a little bit about your company.
Coggins: I started a studio a few years ago in Oklahoma called Sound Wall Studio and I work with a lot of up and coming artists, especially a lot of Christian artists. For the past few years I have been producing and songwriting with a lot of people from Oklahoma, some people from Nashville, and L.A. and I've been able to do that pretty successfully for the last couple years. My latest thing that I produced was for an artist named Suzy Land. She just put out her album called "Oh What Love" and that's album that I produced and arranged, mixed, and mastered.
CP: What is your focus right now?
Coggins: My focus right now is, honestly, songwriting, really in all genres. Not one specific genre. I feel like God is opening doors right now for leading worship or being in the Christian music industry a little more. I've always thought that I know there is a call on my life to lead worship in some way. I'm doing that now again the first time in a few years. That's going well, but I feel like since I've been out here I've been doing a lot of different things in music, but I'm being drawn towards doing Christian music more – performing more at events and possibly putting out an album, more of like a worship music album. I just feel like the doors that keep opening without me doing anything at all are that direction. Things are just being handed to me right now just out of nowhere. I came out here to definitely pursue producing and songwriting, then I became a worship leader again at Saddleback L.A. The ChristmasLand event was a huge opportunity and an open door to a lot of exposure really fast.