'Intimidation' Overtaking Church on Sexuality Issues, Says Pastor Who Challenged Vicky Beeching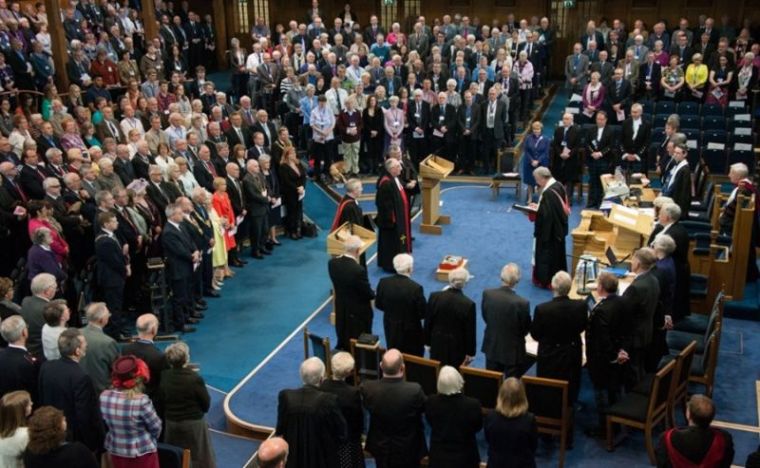 A Scottish pastor who wrote an open letter to Christian music artist Vicky Beeching about her new book promoting LGBT theology is warning the church about the kinds of hostile intimidation at work in the culture over sexuality issues.
In a lengthy article last week on his blog, TheWeeFlea, David Robertson, who is the pastor at St. Peters Free Church in Dundee, Scotland, described what happened when Beeching — who came out as a lesbian in 2014 — commented on his and another pastor's review of her book, Undivided, in which they addressed her arguments and commented on the experiences she had that informed her conclusions.
Robertson wrote to Beeching privately after reviewing her book last month to say that he wished her no harm and had no ill feelings toward her personally, but said he never heard from her.
"I have nothing against her personally and would love to meet her. My concern is to defend the teaching of the Bible and to protect the church from the harmful teaching that she is now espousing. It doesn't matter whether the poison is administered by a lovely or a hateful person – it's still poison," he stressed.
Yet in mid-July Beeching shared on social media how upset she was when she saw the book reviews, particularly Robertson's, saying that he had misleadingly spun her book's message and that he had accused her of being a liar, among other things.
Robertson responded that Beeching's comments "were at best disingenuous" and that his words had been distorted. He noted that as a result of what she said he received a torrent of social media abuse, much of it unrepeatable.
"In her FB comments Vicky claimed that I called her a liar (I didn't), that I said she wasn't a decent human being (I didn't – what I actually said was "you come across as a lovely person who has had a horrible time"); that I said the only heros were those who submitted to forced celibacy (I didn't) and that this was aimed at the whole LGBT community (it wasn't)," he said.
He went on to explain how hard it can be to know how to respond, lamenting that the only options seem to be to push back aggressively, be "nice," or give in, none of which are adequate. Robertson said he decided not to respond yet urged Christians to stand fast and hold to God's Word.
"And we must not give into hate and despair. Instead we pray and love," he said.
Yet the comments on social media revealed a particularly troubling animus, Robertson observed: "hard and soft" intimidation.
He wrote he was stunned to see a commenter insinuating publicly that some of the words in his article about Beeching's book was evidence that Robertson "would be unlikely to treat child sexual abuse and exploitation seriously" and said he had reported him to the Free Church of Scotland.
But that was a misrepresentation, the Scottish pastor said, explaining that his actual quote was where he pointed out that pedophilia is wrong because a child is not capable of consenting to sex while highlighting the inconsistency of a society that agrees with that even as that same society now believes children can consent to changing their gender.
"I have no idea how that can be construed as not treating child sexual abuse and exploitation seriously – so much so that the person concerns reports me to my employer!" he said, incredulous. "I think the problem is that I take child abuse far too seriously and regard the current vogue for pushing Queer theory ideology upon young children as child abuse."
"But the damage is done," he continued, adding that "[n]o matter what happens someone somewhere in the future just needs to point out that I was reported for not taking child sexual abuse seriously. (Despite the fact that I could offer plenty evidence otherwise – it won't matter). Its just pure hatred and evil."
"This is how we are and will be intimidated," Robertson said. "The social media mob, backed up by mainstream media, will demonise and blame Christians who uphold the Bibles teaching as being responsible for 'causing harm'; through the newfound and indefinable crime of 'spiritual abuse.'"
Beeching is known for her anthems like "The Wonder of the Cross" and other popular songs sung in evangelical churches across the world. In recent years, she has allied with prominent gay rights organizations in their political goals, including the recent push in the U.K. to outlaw what is often called "conversion therapy."
Robertson recounted that he went to a recent meeting in the Scottish parliament with government officials to discuss the proposed "gender self-recognition" bill. In the course of the discussion, he requested that he not be sent to jail for speaking against the queer theory perspective regarding gender.
"I'm sure they agreed with me, but the fact that the discussion was even taken seriously shows how far down the rabbit hole we have gone and where we are heading," he recounted.
"That's why — no matter how many times I am abused, no matter how many times I am threatened, no matter how many times I get it wrong (as I often do), I am not going to keep quiet — because I see where this is going."