Iowa becomes 10th state to ban gender transition surgeries for minors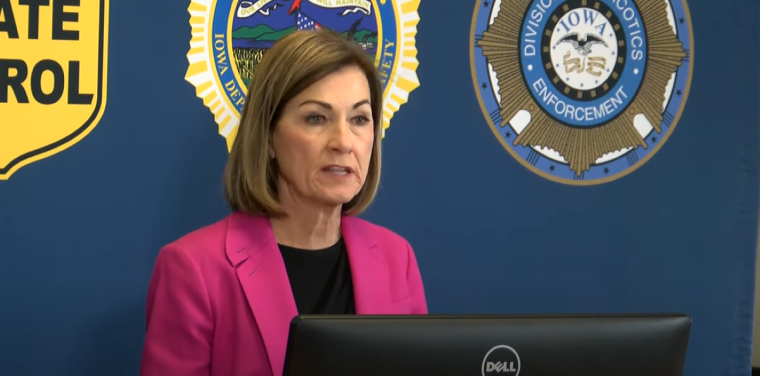 Iowa has become the latest state to ban chemical and surgical gender transitions for minors as concerns about the long-term impact of such interventions persist.
The office of Iowa's Republican Gov. Kim Reynolds announced that she signed several bills into law Wednesday, including SF 538, summarized as "a bill for an act relating to prohibiting activities regarding gender transition procedures relative to minors."
The bill prohibits administering puberty blockers and cross-sex hormones to minors and the performance of gender reassignment surgeries on children.
Reynolds' approval of the measure followed its passage in the Republican-controlled House of Representatives in a 58-39 vote and the Republican-controlled Senate's approval of the legislation in a 33-16 vote.
The vote fell along party lines in the Senate, with Republicans supporting the legislation and Democrats opposing it, while five House Republicans joined all Democrats in voting against the bill. 
"I'm a parent. I'm a grandmother. I know how difficult this is. This is an extremely uncomfortable position for me to be in. You know? I don't like it, but I have to do what I believe right now is in the best interest of the kids," Reynolds said in a statement.
Additionally, Reynolds described gender transition surgeries for minors as "uncertain science" and "irreversible therapies and procedures." Referring to cross-sex hormones, she warned that "these are hormones that have not been approved by the [Food and Drug Administration]."
ACLU of Iowa Executive Director Mark Stringer contends the legislation will have "devastating consequences for many children and their families across our state." 
"This is not the first time that a government has abused its power at the expense of a small group of people. But in this case the target is children. That is shameful and cruel," Stringer said in a statement. 
"With gender-affirming care, it should be parents, doctors, and mental health professionals who make these decisions — not politicians trying to score political points by throwing transgender kids under the bus." 
Reynolds' signature of SF 538 makes Iowa the 10th state to prohibit the performance of some or all gender transition procedures on minors. The others are Alabama, Arizona, Arkansas, Florida, Georgia, Mississippi, South Dakota, Tennessee and Utah.
The American College of Pediatricians has identified potential side effects of puberty blockers as "osteoporosis, mood disorders, seizures, cognitive impairment, and when combined with cross-sex hormones, sterility."
Possible long-term consequences of cross-sex hormones, according to the American College of Pediatricians, include "an increased risk of heart attacks, stroke, diabetes, blood clots and cancers across their lifespan."
Gender reassignment surgeries can involve the removal of healthy breasts and uteruses from biological females and the use of forearm tissue to create synthetic penises in biological females who identify as males.
Chloe Cole, a prominent detransitioner who identified as a member of the opposite sex as a minor but saw her discomfort with her biological sex subside as she got older, has described how the life-altering procedures have left her with emotional scars in a lawsuit against the medical professionals who treated her gender dysphoria.
Cole experienced suicidal thoughts and a deteriorating state of mental health after undergoing a double mastectomy. While doctors advising Cole assured her that "the distress she experienced because of her gender dysphoria would resolve as she transitioned," the teenager found that her "distress always came back worse" following the "initial relief" that occurred after "each phase of transition."
Other detransitioners have also spoken out about how they feel they were rushed into pursuing chemical or surgical transitions. 
A poll conducted and released by Rasmussen Reports last month found that 58% of Americans at least somewhat approve of "legislation making it illegal to perform sex-change surgery on minors."
A survey conducted and released last spring by Summit Ministries in conjunction with McLaughlin & Associates revealed that 78% of Americans think minors should "be required to wait until they are legal adults" to undergo life-altering procedures. According to a more recent survey by the same pollster, released in October, 75% of Americans believe the "transgender movement has gone too far by encouraging underage minors to use drugs and surgery to transition to the opposite sex."
SF 538 was not the only LGBT-related bill Reynolds signed into law this week. She also approved SF 482, summarized as "a bill for an act prohibiting persons from entering single and multiple occupancy restrooms or changing areas and other facilities in elementary and secondary schools that do not correspond with the person's biological sex."
Like SF 538, the votes for SF 482 came down largely along party lines. It passed the House in a 57-39 vote, with five Republicans joining Democrats in opposing the legislation and the Senate approved the measure in a 33-16 vote.  
Supporters of measures like SF 482 contend that they are necessary to protect the safety and privacy of female students. A policy implemented in Loudoun County, Virginia, in 2021 allowing trans-identified males to use girls' bathrooms drew particular outrage after it was discovered that a boy allegedly wearing a skirt sexually assaulted a girl in a high school bathroom. The public did not learn of the incident until after the school board approved the policy, prompting allegations of a cover-up. A grand jury indicted former Loudoun County Superintendent Scott Zeigler last year after it found the school district mishandled the sexual assaults. 
Additional states that require students to use bathrooms, locker rooms and other shared spaces that correspond to their biological sex as opposed to their stated gender identity are Alabama, Arkansas, Oklahoma and Tennessee.