Iran Is Witnessing 'One of Fastest Growing Church Movements,' but Christians Face Intense Persecution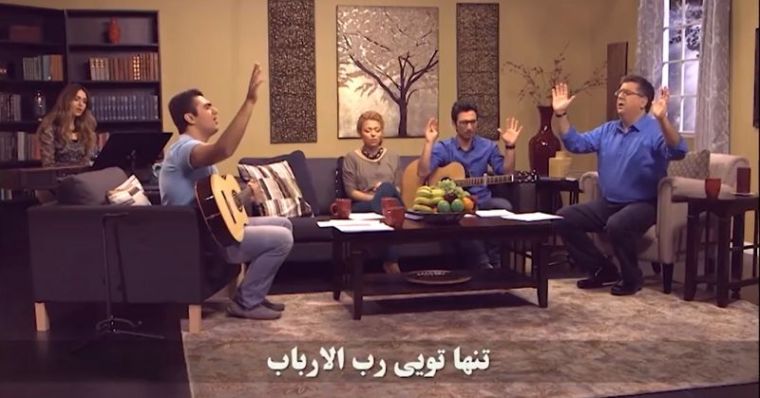 Iranian Christians are witnessing one of the "fastest growing underground church movements" in the world, a ministry has said, but are also under intense persecution.
"The persecution of minorities has been a constant under the current Islamic regime in Iran. The Iranian converts to Christianity have been systematically arrested and persecuted as heretics," Mike Ansari, president of Heart4Iran Ministries, told The Christian Post in an email last week.
Major watchdog groups have highlighted the multiple arrests and extended prison sentences being handed down to Christians in recent months, including the 10-year jail term for Pastor Youcef Nadarkhani in May.
At the end of September, Iranian Christians Saheb Fadaie and Fatemeh Bakhteri were also sentenced to 18 and 12 months in prison, respectively.
The two believers were found guilty of "spreading propaganda against the regime," apparently for preaching about the ascendancy of Jesus Christ and the ultimate authority of the Bible, Christian Solidarity Worldwide noted.
A charge a number of believers have been sentenced for has been promoting "Zionist Christianity."
Ansari said that as historians have observed, the persecution is stemming from a "historic and organic growth of Christianity inside Iran, evidenced by one of the fastest growing underground church movements in the world."
"However, with church growth comes persecution. Iranian Muslims who become Christian face arbitrary arrest and detention. Most of the arrested individuals are coerced to divulge information about their house-church activities and those of their friends, under the threat of criminal persecution, or arrest of family members," he added.
"Extended detentions without formal charge, trial or sentencing are common. The government actively screens digital communications, monitors phone conversations and conducts raids on persons of interest."
The president of Heart4Iran Ministries, a group that helps connect and supports underground believers, said that it's extremely difficult to provide statistics about how many Muslim background believers are deciding to become Christians.
"There are many other groups and ministries reaching Iranians and to this date there has not been an academic assessment of conversion rate from Islam to Christianity inside Iran," Ansari explained.
"However, Heart4Iran processes around 700 daily contacts with Iranians asking about Jesus."
Mervyn Thomas, CSW's chief executive, separately asserted that arresting believers for discussing Christian doctrine "is not only a grave violation of their right to espouse a religious belief of their choosing, but also criminalizes the Christian faith, which the Iranian Constitution purports to recognize."
"We call on the Iranian government to cease all forms of harassment and intimidation of peaceful religious communities, and to release all those detained in connection with their religion or belief," Thomas added.
Open Doors USA, which says that Christians in Iran suffer extreme levels of persecution due to Islamic oppression, estimates that there are nearly 800,000 Christians in the country, still a small minority of the 80 million-strong population.
The watchdog group said that during its 2018 reporting period for its World Watch List, at least 52 Christians were arrested.
"Many of them (especially converts), became Christian prisoners and have been prosecuted and sentenced to long prison sentences. Others are still awaiting trial. Their families are publicly humiliated," it reported.
"In the same reporting period, several house churches were raided, most of which are no longer functioning."
The Gatestone Institute warned on Sunday that violence and persecution against believers is only increasing.
"One recent case documents the traumatic experiences of Pastor Victor Bet-Tamraz and his wife, Shamiram Issavi, ethnic Assyrian Christians, along with Amin Afshar Naderi and Hadi Asgari, who converted to Christianity from Islam," the policy institute highlighted.
"Each were sentenced by the Revolutionary Court in Tehran to a combined total of 45 years in prison. Despite Iran's claims that they have equal rights and protections, they may never see freedom again."
A number of the Christian convicts, including Fadaie, have found themselves sent to Evin Prison in Tehran, which is infamous for the stories of beatings, torture, and forced conversions that minorities have said they've been subjected to.
As for the political tensions between Iran and the United States, with Secretary of State Mike Pompeo announcing in May that the "strongest sanctions in history" will be opposed on the Iranian regime, Ansari told CP that it's usually the ordinary people who suffer most.
"Heart4Iran is nonpolitical, therefore the recent political tensions have not really affected us," he explained.
"However, in political tug-of-wars it's usually the people who suffer. Living under economic sanction means hardship for individuals, families and the entire community — both Muslim and Christian."
A worker identified as David, also with Heart4Iran, previously told Mission Network News that the sanctions could hurt ministries as well.
"The biggest issue with the sanctions that are coming down on Iran right now are financial transactions," he said at the time.
"So ministries are trying to get work done or do something that would impact Iran, they have to be aware of how the money is getting into the country or how it's influencing activities that are going on in the country and the regulations that are in place."