Iran Furious, Threatens Saudi Arabia for Executing Shia Cleric, 46 Others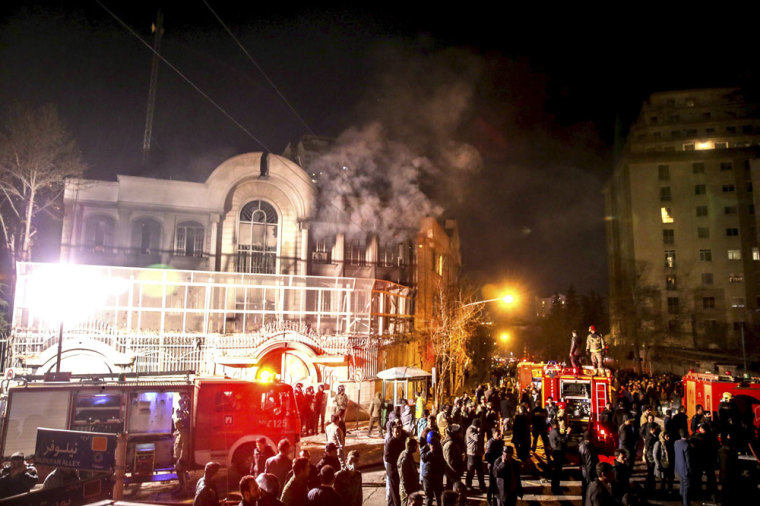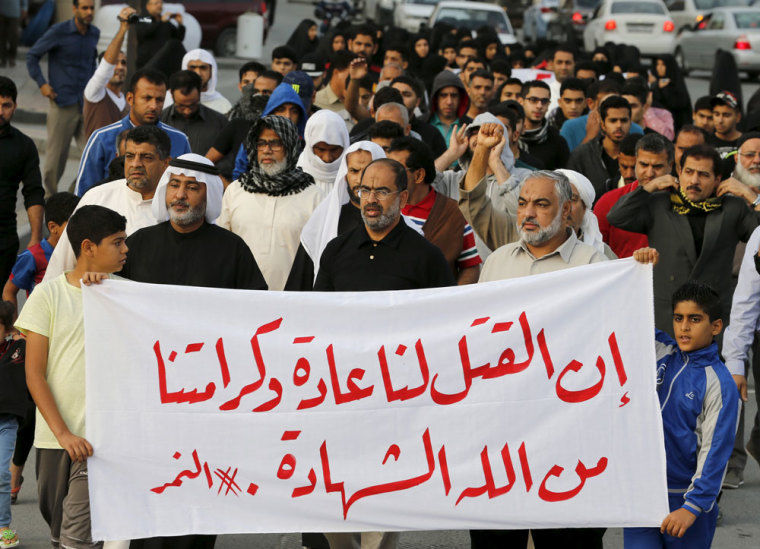 View Photos
Protesters ransacked and set fire to the Saudi Arabian Embassy in Tehran Saturday after Saudi Arabia executed a prominent Shiite cleric, Sheik Nimr Baqr al-Nimr, and 46 other people in a single day, which is likely to heighten sectarian tensions in the conflict-ridden Middle East.
The Sunni-ruled kingdom had convicted the 47, who were killed either by firing squad or beheading, of adopting "radical" ideologies, being part of "terrorist organizations" and plotting other "crimes." The 56-year-old cleric was a vocal critic of the Saudi kingdom and was among the leaders of the 2011 protests in eastern parts of Saudi Arabia.
After the Saudi announcement of the executions, protesters in Tehran, some of whom were chanting "Death to the Al-Saud family," which rules Saudi Arabia, vandalized an annex to the embassy and then set fire to it, according to The New York Times.
Officials of the Shia nation of Iran also expressed outrage.
"The Saudi Government supports terrorist movements and extremists, but confronts domestic critics with oppression and execution ... the Saudi Government will pay a high price for following these policies," Foreign Ministry spokesman Hossein Jaber Ansari was quoted as saying. "The execution of a personality such as Sheikh Nimr who had no means other than speech to pursue his political and religious objectives only shows the depth of imprudence and irresponsibility."
Saudi Foreign Ministry reacted to the statement by summoning the Iranian ambassador to Riyadh, calling it "blatant interference in the kingdom's affairs."
Bahrain, a Saudi ally which is a majority-Shia nation led by a Sunni King, backed the Saudi kingdom.
"Saudi Arabia's efforts to confront whoever seeks to undermine the Nation's security and stability and wreak havoc on Earth through misguided ideology and actions that are rejected by Religion and the Islamic Shari'a are widely appreciated," Prime Minister Sheikh Khalifa Bin Salman Al-Khalifa was quoted as saying.
 The U.S. government expressed concern.
"We reaffirm our calls on the Government of Saudi Arabia to respect and protect human rights, and to ensure fair and transparent judicial proceedings in all cases," John Kirby, a spokesman for the U.S. State Department, said in a statement.
"We are particularly concerned that the execution of prominent Shia cleric and political activist Nimr al-Nimr risks exacerbating sectarian tensions at a time when they urgently need to be reduced," Kirby added. "In this context, we reiterate the need for leaders throughout the region to redouble efforts aimed at de-escalating regional tensions."
White House deputy national security adviser Ben Rhodes was quoted as saying: "We broadly … have concerns about human rights issues in Saudi Arabia, and again we also would like to see steps taken by Saudi Arabia and other countries to reduce sectarian tensions in the region."