Iranian President Blasts ISIS But Says US No-Troops Strategy Is 'Ridiculous,' Questions American Bravery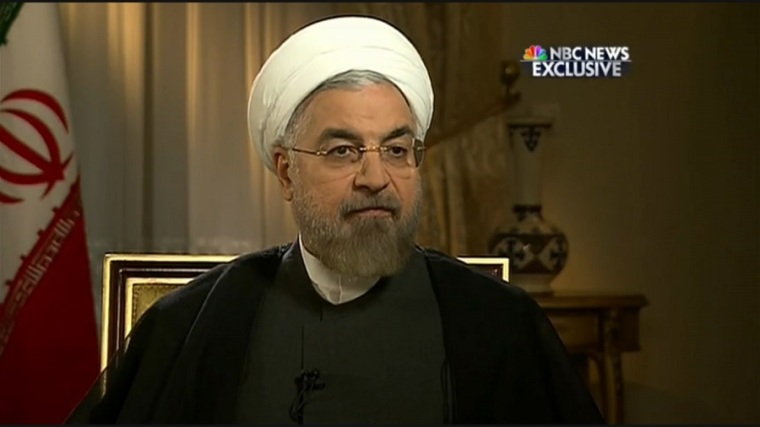 Iranian President Hassan Rouhani spoke out against terror group ISIS in a recent interview, saying that the militants "want to kill humanity." He also harshly criticized American President Barack Obama's plan to fight ISIS with airstrikes but without any ground troops, calling it "ridiculous" and wondering whether Americans are not afraid to suffer casualties in the war.
"They want to kill humanity," Rouhani told NBC News about ISIS, which has declared the creation of an 'Islamic State' in the territory of Iraq and Syria, but has been denounced by a number of Islamic countries.
"And from the viewpoint of the Islamic tenets and culture, killing an innocent people equals the killing of the whole humanity. And therefore, the killing and beheading of innocent people, in fact, is a matter of shame for them and it's the matter of concern and sorrow for all the human and all the mankind."
The Iranian leader was also very critical of Obama's plan on the terror group, particularly the directive to not send ground troops into the region.
"Are Americans afraid of giving casualties on the ground in Iraq? Are they afraid of their soldiers being killed in the fight they claim is against terrorism?" Rouhani said.
"If they want to use planes and if they want to use unmanned planes so that nobody is injured from the Americans, is it really possible to fight terrorism without any hardship, without any sacrifice? Is it possible to reach a big goal without that? In all regional and international issues, the victorious one is the one who is ready to do sacrifice."
He said that using airstrikes may be necessary under some conditions, but insisted that they should only take place with the permission of the people and the government of the country.
Obama has clarified on a number of occasions that sending combat troops into Iraq or Syria is not an option the U.S. will take. Speaking at Central Command in Florida on Wednesday, Obama said that troops "do not and will not have a combat mission," CNN reported.
"After a decade of massive ground deployments, it is more effective to use our unique capabilities in support of partners on the ground so they can secure their own countries' futures. And that's the only solution that will succeed over the long term," Obama said.
"As your commander in chief, I will not commit you and the rest of our armed forces to fighting another ground war in Iraq."
Rouhani said that Iran will get involved to support Iraq if the latter requests it, and insisted that religious sites must be protected.
"When we say the red line we mean the red line," Rouhani said. "It means we will not allow Baghdad to be occupied by the terrorists or the religious sites such as Karbala or Najaf be occupied by the terrorists."
Iran's foreign minister clarified on Wednesday that there will be no cooperation between the U.S. and Iran in the fight against ISIS. Mohammad Javad Zarif said that Iran has doubts whether the U.S. can effectively tackle the "menace" of the terror group, and said that much better organization is needed.
"This is a very mobile organization," Zarif told the Council on Foreign Relations in New York, The Associated Press reported. "This is not a threat against a single community nor a threat against a single region. It was not confined to Syria, nor will it be confined to Iraq. It is a global threat."
Rouhani assumed office in August 2013, but despite initial hopes that he could be a more moderate president, he has been criticized by persecution watchdog groups for the treatment of religious minorities in Iran, particularly the imprisonment of a number of Christian pastors.
He has been asked by hundreds of thousands of people in international letter writing campaigns to release U.S. citizen pastor Saeed Abedini, who has been imprisoned for his faith and is serving an eight-year sentence, but has not responded to the request.
Obama has also asked Rouhani for Abedini's release in a phone call earlier this year, while a number of American politicians, including Sen. Rand Paul, R-Ky., have written the Iranian leader letters asking for the same.
Despite his criticism of Obama's plan, Rouhani said in his recent interview that "the close relationship" between the U.S. and Iran "can resolve many problems."
He added: "A closer contact and relationship would also be beneficial for the American state person, and they can open new ways for the American politicians. We have to look at future more than the past."