11-Y-O Iraqi Christian Girl Who Fled ISIS Wows 'The Voice' Judges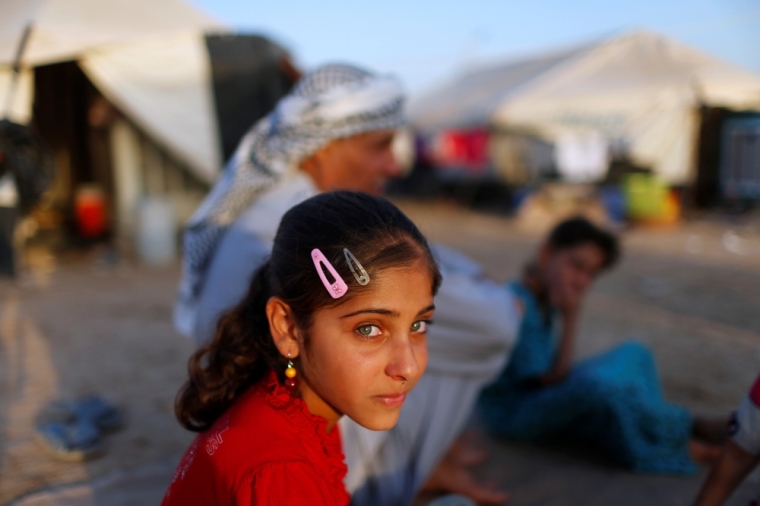 An 11-year-old Christian girl from Iraq has become an Internet sensation after fleeing the Islamic State terror group and performing on "The Voice Kids" singing competition TV show.
Mirna Hana wowed judges during her auditions in Beirut, Lebanon, when she performed the Iraqi tune "Yesterday in a Dream" and "Let It Go" from the popular Disney movie "Frozen."
Along with impressing judges with her voice, Hana gained international media attention after she revealed the struggles she and her family faced in Iraq before they fled the country eight months ago.
Hana's emotional story of perseverance and her family's escape from IS militants who threatened to kidnap her was frist revealed on the the children's competition program, according to The Daily Mail.
"After we got to Lebanon, my dad told me that Daesh [IS] wanted to kidnap and kill me. From then I felt very scared at night, and I couldn't sleep alone, or be by myself," Hana explains in the video.
The 11-year-old went on to say that she hopes to use her performance on "The Voice Kids" to educate the world about Iraqi culture.
"'Voice' is a chance to sing for the world and to show that Iraq isn't just about war and things like that — there are beautiful sounds too," she adds.
Hana's father also speaks in the video, expressing his desire to see his daughter succeed after their struggle in Iraq.
"Everybody knows the difficulties of Iraq, from ISIS and how they slaughter the people and how they take their houses,' he says, adding, "They threatened us with the kidnapping our little girl, so we came here. We left everything behind us, even my job with the government."
While all three judges on the show attempted to recruit Hana to their team, judge Kazem Saher was ultimately successful. Like Hana, he is of Iraqi descent. 
A video of Hana performing the hit Disney classic from "Frozen" and the Iraqi love song has already received 11.8 million views on YouTube.
There have been numerous inspirational stories about children escaping IS-controlled areas in Iraq and Syria.
Del Shad, a teenage member of the Yazidi minority population, previously fled IS, hiding with his family members and hundreds of Yazidis in the mountains of Sinjar, Iraq, in August 2014. 
"When ISIS came, we fled to the mountains near Sinjar," Del Shad, a Yazidi refugee, previously told RT of his family's plight. "They tried to follow, but a group of Kurds from the PKK pushed them back. They gave us food and water."
Del Shad went on to tell the Russian-government media outlet that while he began his massive exodus from the Rambusi Village to the SInjar mountains with 25 relatives, he is now alone, living as a refugee in Nowrooz.
Along with losing his family, the teen witnessed massive destruction and death, with the IS killing at least 5,000 of the 50,000 Yazidi refugees who sought shelter in the Yazidi mountains after their villages were attacked.