Iraqi Christians Fear 'Shiafication' of Their Villages After Liberation From ISIS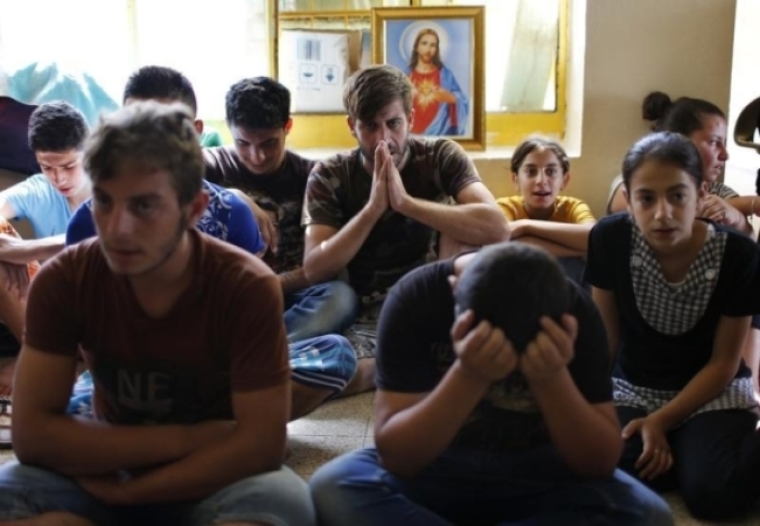 An Iraqi Christian man who fled his hometown due to the rise of the Islamic State in 2014 says circumstances have gotten "even worse" for him and his Christian brothers and sisters following the liberation of Mosul and the surrounding Nineveh Plains.
Amir Yaqu, a Christian man from the once predominantly Christian town of Bartella who has yet to return to his home village even though it's been more than a year after its liberation from IS (also known as ISIS, ISIL or Daesh), told the pro-Kurdish news outlet Rudaw that he has not returned home because the situation in his hometown of Bartella has not improved due to the presence of Shia militias and Iranian influences.
"Bartella and Hamdania are our [Christians'] historic places. ISIS came and destroyed our churches in the name of Islam. We waited for three years until ISIS militants were gone. We thought life would go back to normal after ISIS. Now our situation is even worse," Yaqu was quoted as saying.
Bartella, which was once home to about 40,000 Christians, was liberated from IS in October 2016. However, human rights advocates have warned that Iran has funded the opening of a school, mosque and library in the once predominantly Christian town. The new school in Bartella was named after Iran's Ayatollah Khomeini.
In addition, Iranian-backed Shia militias aligned with the Iraqi forces (known as Popular Mobilization Forces or the Hashd al-Shaabi) have reportedly manned checkpoints in other Christian towns in the Nineveh Plains, which has intimidated many Christians from returning to their home towns.
"The situation of these areas is getting worse day by day. The Hashd al-Shaabi forces are systematically trying to change the Christian demography of these places," Yaqu said. "They have started to operate sectarian schools in churches and religious centers."
"This work by the Hashd al-Shaabi and opening Imam Khomeini School has upset Christians very much," Yaqu added. "We informed our representatives in Kurdistan and Iraq immediately."
One security source who spoke with Rudaw claimed that the opening of the school was "an attempt at Shiafication of the region."
"In addition to the opening of this school, the Hashd al-Shaabi are building two other sectarian schools," the source, who wished to be left unidentified, claimed. "All this is being done under direct supervision of the Iranian consul and Hashd al-Shaabi commanders."
The anonymous security source also claimed that Shia militias have decorated the streets and public buildings with sectarian banners and graffiti.
"We've reported the subject of the Shiafication of the Nineveh Plains to the Vatican and international human rights organizations," Wahida Yaqu Hormuz, a Christian member of the Kurdish parliament, told Rudaw. "This is a flagrant injustice done to Christians. Baghdad shouldn't be silent toward these activities by the Hashd al-Shaabi."
In October, United States Secretary of State Rex Tillerson called on the Iranian-backed militias, who helped Iraqi forces defeat the Islamic State, and "all foreign fights" to go home now that the fight with IS in the region has come to a close.
"Iranian militias that are in Iraq, now that the fight against Daesh and ISIS is coming to a close, those militias need to go home," Tillerson said during a joint news conference during his trip to Saudi Arabia last month. "The foreign fighters in Iraq need to go home and allow the Iraqi people to regain control."