Iraqi Christians Join Muslim Forces in Last Stand Against ISIS to Liberate Iraq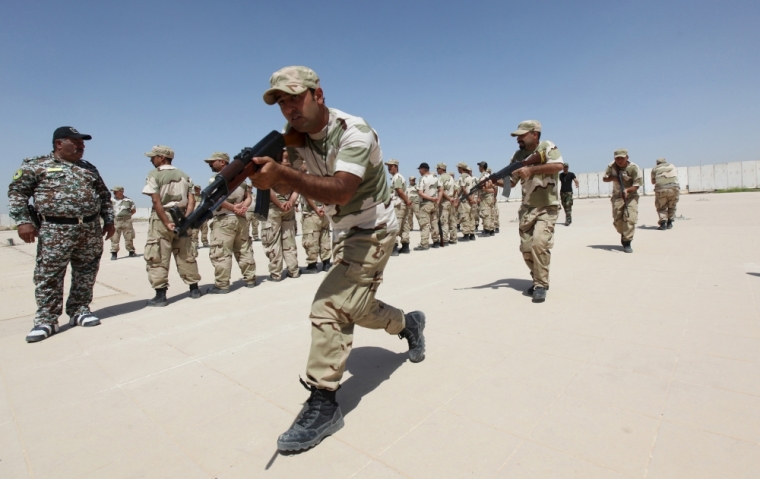 Close to a thousand Iraqi Christians who say they have been abandoned by their government have formed a militia to avenge ISIS taking their land and slaughtering their families. The Christians have said they will fight alongside their "Muslim brothers" who have also suffered at the hands of the terror group.
Rayan Al-Kildani of the Babylonian Brigades, the Christian militia group part of the Shiite-dominated militias organization known as the Popular Mobilization Forces, told NBC News that ISIS "displaced us from our houses, they took our money, killed our young men and women and they took our properties."
"By the will of God we will avenge what happened to our community," Al-Kildani vowed, and said that the Christian fighters will help Muslims who are also standing up to ISIS.
"ISIS terrorists do not differentiate among Christians, Muslims, Sunnis and Shiites — they kill everyone," he added. "We have to help our Muslim brothers liberate Iraq."
ISIS has driven out hundreds of thousands of Christians from their ancient homes across Iraq and Syria, including almost 200,000 Assyrian Christians from the Nineveh plans, the NGO Reach Initiative said.
Iraqi Christians have said they feel abandoned by the central government, and argued that the treatment they are suffering now is a culmination of over a decade of violent persecution of Christians in Iraq.
"We don't want to leave the country that we lived in all our lives, where we enjoyed life and our religion. But we need a secure place to live," explained Batool Airyagoos, a refugee who fled Qaraqosh, the largest Christian town in Nineveh.
Government forces have clashed with ISIS fighters on a number of occasions, but entire cities with formerly large Christian communities, such as Mosul, have been captured. There, ISIS has been forcing Christians to choose between converting to their version of Islam, paying a tax, or being killed.
Athra Kado, an Assyrian Christian fighting in the militia, noted that the volunteer fighters have received little help from the government, with military training coming to a halt after the first 500 volunteers. The fighters haven't received weapons or financial assistance from Baghdad, instead all of their funding comes from within the community or Christian groups abroad.
Back in September 2014, a Catholic priest said that Iraqi Christians were left helpless and angry at government soldiers who fled when ISIS took Mosul.
"The people are angry because the government just gave up on them. They told us that, in Mosul, where there had normally been a presence of 60,000 soldiers, after the onslaught of ISIS, in only a matter of hours, these soldiers abandoned them, laying down their weapons," said Fr. Rami Wakim, the secretary to Melkite Catholic Patriarch Gregoire III Laham.
Abu Yasser, a 53-year-old former Iraqi Army officer now fighting in the militias, said that it is not unusual for Christians and Muslims to fight side by side, noting that they did so in the army of former leader Saddam Hussein.
Christians have "lived for years side-by-side with our Muslim brothers," Yasser said. "We drink from the same river and eat the same food; this goes back hundreds and thousands of years."
He added: "In battlefield you forget who you are, to which religion you belong. ... The only thing that you think of is how to defeat your enemy."