US Drone Strike Kills Top ISIS Leader in Afghanistan; Islamic State Bombs Italian Consulate in Cairo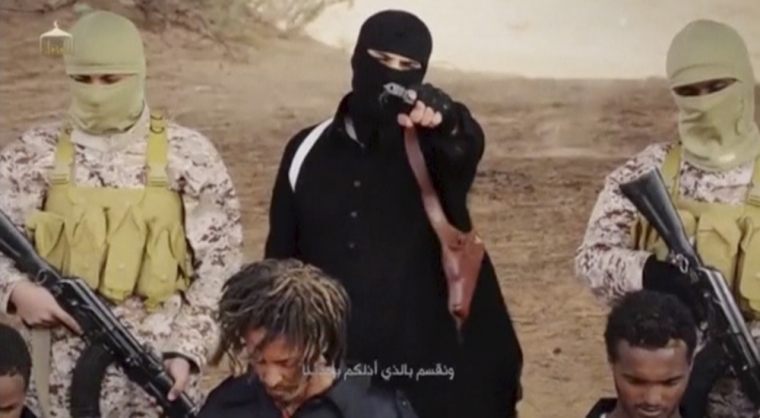 While the Islamic State terror group claimed Saturday it was behind a powerful blast outside the Italian Consulate's compound in downtown Cairo earlier during the day, Afghanistan's intelligence agency said a top regional leader of ISIS was killed in a U.S. drone strike.
At least one person was dead and several others were wounded after a bomb exploded in front of the Italian consulate in Cairo Saturday morning, Reuters reported.
The bomb had been placed underneath a car and was detonated remotely, according to local media. Due to the ongoing Muslim holy fasting month of Ramadan, there was little traffic in the area.
A few hours later, Islamic State, also known as ISIS or ISIL, circulated a statement on jihadist Twitter accounts, claiming responsibility for the explosion, according to The New York Times.
ISIS claimed "soldiers" of its Egyptian branch attacked the consulate, using with a 450-kilogram car bomb, and warned Muslims to stay away from "legitimate targets," including "security dens."
The explosion occurred as the Egyptian government of President Abdel Fattah el-Sisi struggles to deal with a growing insurgency. An Egyptian terror group based in the Sinai Peninsula, which has allegedly carried out many deadly attacks in the country, announced its affiliation with ISIS last year.
Meanwhile, Afghan intelligence officials said a U.S. drone strike killed a top leader of a local ISIS affiliate, Hafeez Sayeed, along with more than 30 other terrorists in Nangarhar province near the country's eastern border with Pakistan, according to The Associated Press.
U.S. Army Col. Brian Tribus, a spokesman for U.S. Forces-Afghanistan, confirmed an airstrike was carried out in the area, but refused to confirm the death of the ISIS leader.
Earlier during the week, Afghan officials said another U.S. airstrike in the same province killed the second-highest leader of the local ISIS affiliate, identified as Gul Zaman, and six others, including a former Pakistani Taliban spokesman.
ISIS is an offshoot of al-Qaeda and wants to establish a caliphate in the Levant region and beyond. It has gained control over large swathes of territories in Syria and Iraq, and is now seeking to expand its territory.
Christians are among the top civilian targets of ISIS, which has beheaded several Christians.
In January, ISIS spokesman Abu Muhammad al-Adnani officially recognized the wilayah (territory) of Khurasan, which is a region that includes Afghanistan, most of Pakistan and parts of neighboring countries.
In April, ISIS claimed its suicide bomber blew himself up in front of the Kabul Bank in the city of Jalalabad in eastern Afghanistan, killing at least 35 people and wounding more than 100.
However, the terror group controls little terrain in the region, and its territory is more notional than physical.