Iraqi TV Host Cries On Air Over Persecuted Christians; Urges Govt to Stop ISIS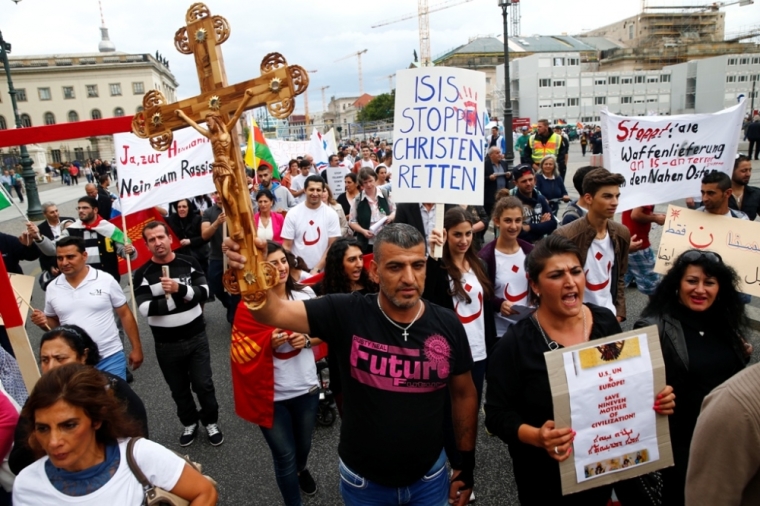 An Iraqi TV host lost his composure on air and broke down into tears when talking about displaced Iraqi Christians, forced out by the terror group ISIS by the tens of thousands.
Nahi Mahdi, host of the Asia TV show, described his encounters with Iraqi Christians, saying, "Yes…the Christians…I cried today at home," as translated by the Middle East Media Research Institute.
He paused and used his kufiya (Arab head scarf) to dry his tears. "I went to the Al-Marbad Market, near the city of Al-Zubier. There is an area there which is predominantly Christian. I swear, they never made thank us feel…they are our own flesh and blood."
Mahdi explained that some of the Iraqi Christians were making their way towards Sweden and Germany. He also charged the audacity of ISIS to even carry out such attacks. "Who does ISIS think they are to drive out our fellow countrymen?" Mahdi said passionately. "I want to take the people of Mosul and the government to task. They must take immediate measure to help these people."
US military forces have provided air strikes on ISIS militants to help Iraqi and Kurdish forces retake the Mosul dam, and provided humanitarian and rescue missions to the Yazidis who were driven to Mt. Sinjar by displacement.
During the July broadcast, Mahdi shared a metaphor of how each Iraqi, regardless of their religious beliefs, matter to the country. "Our country is like a rose," Mahdi said tearfully. "And it's petals are the Christians, the Arabs, the Kurds, the Sabians, the Shabak people. These are all our countrymen. I don't know what to say about this (ISIS)."
Another host, identified at Abu Al-Hassanein Al Rub'I, added that the Iraqi Christians were peaceful. "The Christians have done nothing wrong," Al Rub'l said. "They haven't hurt a soul. On the contrary, they are a peaceful people who love all sects. They are honorable people with high moral values. We stand one hundred percent in solidarity with them."
 ISIS militants have violently forced Christians out of the city of Mosul to Qaraquosh. They painted the letter N on the houses of Christians, which stand for Nasare (Iraqi word for Christians which derives from Nazareth, Jesus' hometown). The brutal Islamic militants have also bombed churches and crucified Christians. ISIS is made up of Sunni Muslim extremists, who along with the extinction of Christians, want to eradicate the Shia Muslim population. They demand that all people they encounter convert to Islam, pay a fine, or die.