IRS Director Lois Lerner Invokes Fifth Amendment, Refuses to Testify Over Conservative Group Targeting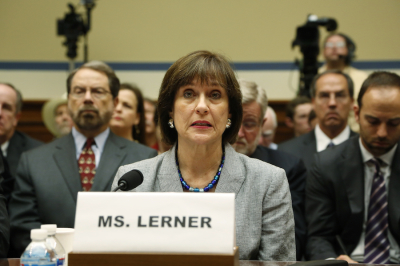 Top Internal Revenue Service (IRS) official, Lois Lerner, has invoked the Fifth Amendment before the House Committee on Oversight and Government Reform on Wednesday, refusing to testify but simply saying that she had "not done anything wrong."
Lerner, who leads the I.R.S.'s division on tax-exempt organizations, is the IRS official who first disclosed that the agency had targeted conservative groups.
On Wednesday morning she refused to answer hard-hitting questions related to the recent controversy saying, ''I have done nothing wrong. I have not broken any laws. I have not violated any IRS rules or regulations and I have not provided false information to this or any other committee.''
Jenny Beth Martin, Co-Founder and National Coordinator of Tea Party Patriots, the nation's largest tea party organization, responded with a statement: "While we respect Ms. Lerner's use of the Constitution's Fifth Amendment, we are disturbed she saw fit to trample over our First Amendment rights by harassing us and many other groups for our views."
President Barack Obama has described the targeting of conservative groups as "outrageous," and promised that those involved will have to be held accountable. The Department of Justice has also launched a criminal investigation into the scandal, which is backed by a number of Republican and Democrat members of Congress.
Lerner's Fifth Amendment plea protected her from having to answer how long she knew about the targeting of conservative groups before it became public information.
Initially, the IRS director had claimed that the targeting was not political, and apologized for "mistakes" and lack of "good judgment" by low-level employees.
"Sometimes people do things because they don't understand the rules or don't think about it," Lerner said.
While a number of former or outgoing IRS officials have already testified, Lerner had hoped that she would not even have to attend the hearing; Fox News noted that her attorney, William Taylor III, had asked committee Chairman Darrell Issa, R-Calif not to force the IRS director to appear, as it would have no other purpose "other than to embarrass or burden her."
Martin, meanwhile, has slammed those comments saying that it is "shameful and offensive" to hear that the IRS director wanted to be excused from the hearing for those reasons.
"For the last few years she didn't seem to care that the discriminatory actions of her office caused hundreds of tea party groups immeasurable embarrassments and burdens. Worse than embarrassment or unfair burdens, their actions silenced innocent American citizens across this country," the TPP Co-Founder and National Coordinator continued.
The House oversight committee had said on Tuesday that Lerner is still under subpoena and must attend the hearing.
"Chairman Issa remains hopeful that she will ultimately decide to testify tomorrow (Wednesday) about her knowledge of outrageous IRS targeting of Americans for their political beliefs," read a statement from committee spokesman Ali Ahmad.
It is nearly two weeks ago now since Lerner first apologized for the targeting; on May 10 she told reporters that she had learned of the targeting from media reports in early 2012. However, since then it has been revealed through a Treasury inspector general's audit that she knew far earlier than that. The audit suggested that rather than heading off the targeting directly, she instead attempted to broaden the scope of the targeting to include some liberal groups as well.
Meanwhile, outgoing IRS Commissioner Steven Miller testified for the second time in two weeks at Capitol Hill on Tuesday, and expressed his regret that a planted question was used for the IRS's public admission that it had singled out conservative groups, which included tea party, patriotic and pro-life organizations.
Fox noted that the decision has not only marred the reputation of the IRS, but has also put pressure on the White House to reveal how much it knew about the scandal before it was revealed.
"The IRS scandal has reached a new phase. The Obama Administration unlawfully targeted conservative groups and has been caught," said American Center for Law and Justice (ACLJ) Chief Counsel Jay Sekulow, who revealed that his law group is days away from filing one of the largest lawsuits it has ever produced.
The ACLJ said that it is ready to take this next step, as for the past 18 months it has represented 27 of the IRS-targeted groups from 17 different states.