ISIS Affiliate Calls Christians 'Favorite Prey,' Warns Believers More Attacks Are Underway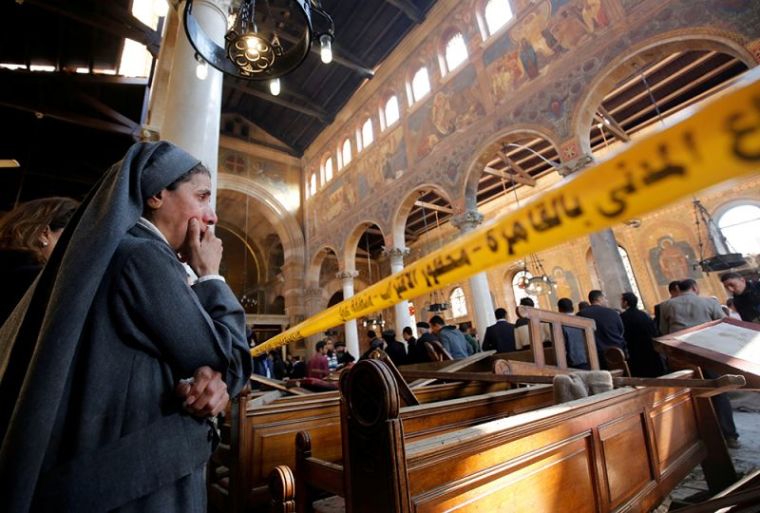 Wilayat Sinai, a terror group in Egypt affiliated with the Islamic State, has called Christians its "favorite prey" and warned believers to prepare for more attacks, such as the suicide bombing of a Coptic church in Cairo in December that killed nearly 30 people.
The Associated Press reported that the radical group released a 20-minute long video with footage of Egypt's Coptic Christian Pope, Christian businessmen, judges and priests in which the radicals call Egyptian Christians, a minority in the country, their favorite prey.
"God gave orders to kill every infidel," one of the militants in the video says, referring to Christians and all who do not follow IS' extremist teachings.
Another militant says: "Oh worshipers of the cross ... the soldiers of the state are watching you."
What is more, the group warned that the bombing of St. Mark's Cathedral in Cairo's Abbassyia district on Dec. 11, 2016, that specifically targeting Christians, was "only the beginning."
IS has been carrying out a genocide against Christians, Yazidis, and other religious minorities in its captured territory in Iraq and Syria, but its affiliates have spread such terror attacks throughout the region.
There has been an increase in deadly violence against Christians in Egypt especially, with AP noting that extremists continue to blame and punish Copts for their part in the overthrow of former Islamist President Mohamed Morsi in 2013.
The current president, Abdel Fattah el-Sisi, has vowed to protect Christians from terror attacks, and following the December church bombing said: "Vicious terrorism is being waged against the country's Copts and Muslims. Egypt will emerge stronger and more united from this situation."
Persecution watchdog groups, such as International Christian Concern, have warned that the government is not doing enough to fulfill its promise, however.
"Entire Christian communities have been assaulted by mobs of Muslim radicals on four separate occasions in 2016 because there was a rumor that a church was being constructed. Now, we have witnessed one of the worst assaults on Egypt's Christian community in years. More must be done to protect Christians and their places of worship in Egypt," William Stark, ICC's regional manager, said last week.
Stark was speaking out after a 50-year-old Coptic Christian teacher was shot in the head by two Islamic militants on his way home from school, which was the second murder of a Christian in less than a week in the northern Sinai region.
Last week also marked the two-year anniversary of the slaughter of 21 Coptic Christians kidnapped and beheaded by IS, in the infamous "A Message Signed With Blood to the Nation of the Cross" video.
The men have been declared martyrs by Coptic Orthodox Patriarch Tawadros II for refusing to deny Jesus Christ even in the face of death.