Is Planned Parenthood, Not Facebook, to Blame for Blocking Al Mohler, Russell Moore Reactions to Sell of Aborted Babies' Body Parts?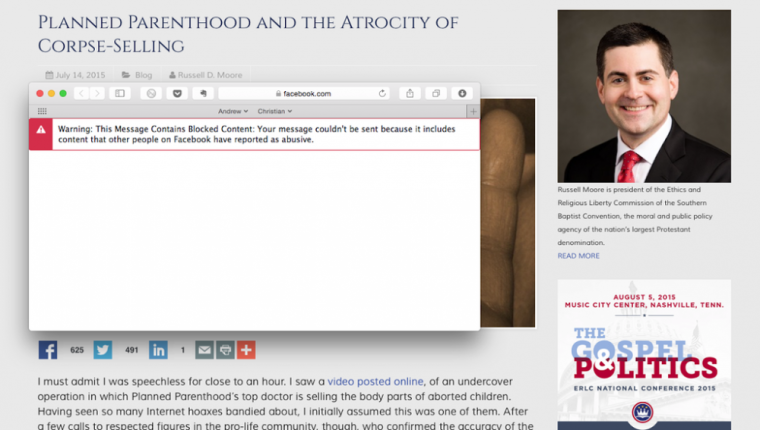 A pastor who has written a book on the church and social media said he believes that Planned Parenthood, not Facebook, is to blame for the blocking of posts with links to two op-eds by Christian leaders expressing outrage this week over Planned Parenthood's reported selling of aborted baby body parts.
Although Facebook later unblocked Southern Baptist Convention's Ethics and Religious Liberty Commission President Russell Moore's posts with links to his piece on Tuesday, posts that included a link to an op-ed by Southern Baptist Theological Seminary President Albert Mohler were blocked on Wednesday.
"I tried to share Al Mohler's post, which according to Feedly was 10 minutes old, and the attempt was blocked because the url had been flagged by other users as offensive," said Brandon Cox, who wrote the book, Rewired, and is editor of the online resource site Pastors.com. "With that kind of reaction, I can't help but come to the conclusion there's a concerted effort on the part of Planned Parenthood and their volunteer PR army to squash criticism."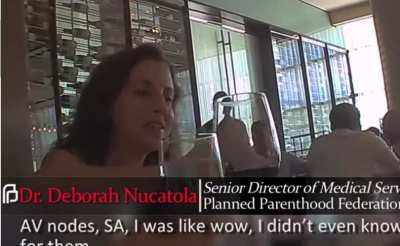 Facebook allows for its users to report posts to its administration they deem inappropriate or offensive. Cox said Facebook admins may have not been aware of the content of the op-eds.
"When I tried to share Al Mohler's great, must-read article on this subject, which contained NO profanity, NO graphic images, just a message to the nation about the horrible atrocity that Planned Parenthood has committed, I got THIS from Facebook ...
"'Warning: This Message Contains Blocked Content: Your message couldn't be sent because it includes content that other people on Facebook have reported as abusive,'" Cox posted on his Facebook page earlier on Wednesday.
On his post, he added, "Abusive? Really? Google Al Mohler. Read his article and tell me if it's 'abusive.' And then tell me, in good conscience, that abortion isn't."
An undercover video released on Tuesday shows a Planned Parenthood official discussing how Planned Parenthood affiliates harvest and sell the intact body parts of aborted babies to fetal tissue wholesalers.
The video is part of a three-year investigation into what the Center for Medical Progress is calling "illegal" practices by Planned Parenthood. Once in the hands of fetal tissue wholesalers, the body parts are shipped to universities, pharmaceutical companies, and government agencies, The Christian Post reported.
Cox told this reporter that he doesn't see the blockage of the posts including links to opinion pieces against the Planned Parenthood practice as a free speech issue "since Facebook is a business that provides this platform for free."
"I just see it as bad business to allow this kind of user-based censorship to take place when it comes to a respected source writing on a trending topic," he explained. "It would seem to me that it would be easy to whitelist url's as they are flagged. But now, an hour later, it's still being blocked and the sharer count is at '0'."
Cox shared that he normally doesn't get in the middle of cultural battles, especially over political issues, because he's "always careful never to see people as the enemy," even people with whom he "severely" disagrees.
"Satan is the enemy. A wrong and destructive principle can be the enemy, but people are never the enemy," he said. "What makes this issue different for me is that we're talking about an institution whose primary mission has been destructive to people's lives for decades now, and who receives public funding. While I may disagree with people about a variety of issues, this is a case in which Planned Parenthood can possibly be held to account for their actions."
Alex Murashko is currently working with One Ten Pictures as an associate producer, developing and working on projects that include stories about people and organizations making a difference in this world as ambassadors for Christ. He previously was a Church & Ministry Editor/Reporter for The Christian Post. He also worked at the Los Angeles Times Orange County Edition and at the Press Enterprise in its Southwest Riverside County bureau. Website: AlexMurashko.com.