ISIS Brags of Raping Girls, Releasing Pregnant Sex Slaves to 'Jihadi Husbands' After Forcing Their Conversion to Islam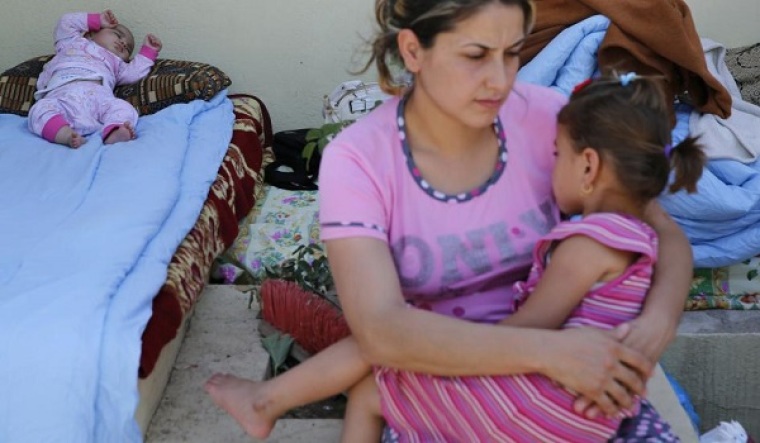 The Islamic State terror group recently released a propaganda article justifying the raping of girls, while boasting that they released some Yazidi women to their "ISIS husbands" after they converted to Islam.
In an ISIS propaganda article titled, "Slave-Girls or Prostitutes?, a woman who goes by the name Umm Sumayyah Al-Muhajirah was quoted as saying, "I swear by Allah, O you who feign to be knowledgeable and shout with falsehoods in every gathering, surely the slave markets will be established against the will of the politically correct.
"Some slave girls in our State are now pregnant," she added, "and some of them have even been set free for Allah's sake and got married in the courts of the Islamic State after becoming Muslims and practicing Islam well."
In the propaganda piece, Al-Muhajirah continued to defend ISIS' subjugation of women as sex slaves and argued that ISIS' aim "is sublimity for the religion and humiliation of whoever desires a religion other than Islam."
The woman also attempted to disparage First Lady Michelle Obama by declaring that she would not fetch more than $40 on the slave market.
Elise Hilton, a communications specialist at the Acton Institute and author of A Vulnerable World: The High Price of Human Trafficking, told The Christian Post: "Islamic extremism places no value on non-Islamic women. Islamic women are used as suicide bombers, recruiters and for child-bearing. Non-Islamic women have value only in that the can be sold, either as slaves or for sex trafficking.
"The places where this is most prevalent are also the places where Christians are most persecuted. It's very difficult for Christian organizations to have 'boots on the ground;' it's just too dangerous," she added.
Hilton also told CP that "in December 2014, the Vatican hosted a multi-faith meeting that resulted in the signing of an agreement to work to end human trafficking by 2020," and further mentioned the important work being done by International Justice Mission, a global organization that protects the poor from violence throughout the developing world.
Zainab Bangura, the U.N. special envoy on sexual violence, is calling for a global response to the sexual atrocities being committed against women and girls by ISIS. In an interview with the Toronto Star she explained that the terror group is known to include "40,000 men from more than 100 different countries [who are committing] brutal sexual violence as a strategic tactic to terrorize. We need all 100 countries involved, helping to deal with the aftermath."
"We heard about one girl who was traded 22 times, and another, who had escaped, told us that the sheikh who had captured her wrote his name on the back of her hand to show that she was his 'property.'"
In an interview with the Middle East Eye after touring refugee camps, Bangura added, "It was painful for me. The countries I have worked on include Bosnia, Congo, South Sudan, Somalia and Central African Republic; I never saw anything like this. I cannot understand such inhumanity. I was sick, I couldn't understand."
"After attacking a village, IS splits women from men and executes boys and men aged 14 and over. The women and mothers are separated; girls are stripped naked, tested for virginity and examined for breast size and prettiness. The youngest, and those considered the prettiest virgins fetch higher prices and are sent to Raqqa, the IS stronghold," she continued, as reported by MEE.
"There is a hierarchy: sheikhs get first choice, then emirs, then fighters. They often take three or four girls each and keep them for a month or so, until they grow tired of a girl, when she goes back to market. At slave auctions, buyers haggle fiercely, driving down prices by disparaging girls as flat-chested or unattractive."
According to the U.N., over 3,000 women and girls are enslaved by the Islamic State, many of them Yazidi. More than 5,000 Yazidis have been murdered by ISIS. Yazidis, are a Kurdish monotheistic religious community prevalent in Northern Iraq, and have long been persecuted by Muslims.