ISIS Hacks Church Website to Post Beheading Videos, Threaten Christians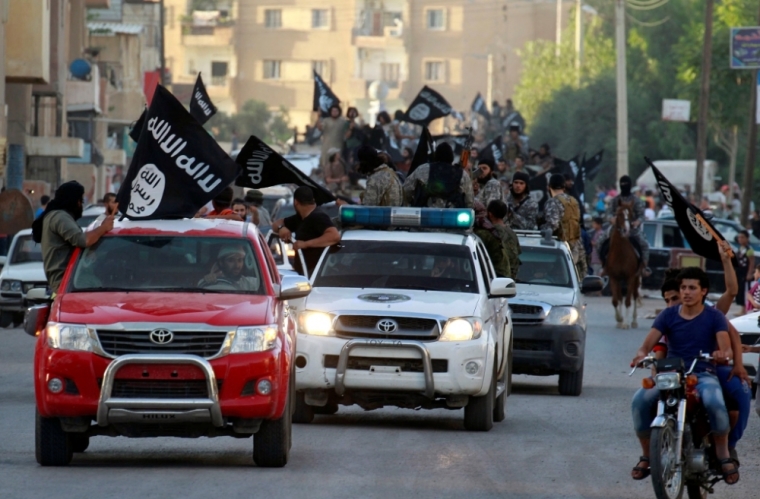 Militants from the Islamic State terrorist organization have hacked the website of an Australian-Syriac Catholic Church, posting sickening execution videos and threatening to wage war against non-believers until Rome is conquered.
The website for Our Lady of Mercy Syriac Catholic Church in Sydney was hacked last week by IS jihadists who posted footage of IS fighters beheading, shooting and burning victims alive.
The congregation took to its Facebook page last Thursday to announce that the website was hacked by the infamous terror group. Additionally, the church believes that it was targeted by the militant group because it consists of mostly people from Iraq and Syria and has been actively involved in helping to provide shelter for Iraqi and Syrian refugees who have fled because of the heinous violence being perpetrated by IS.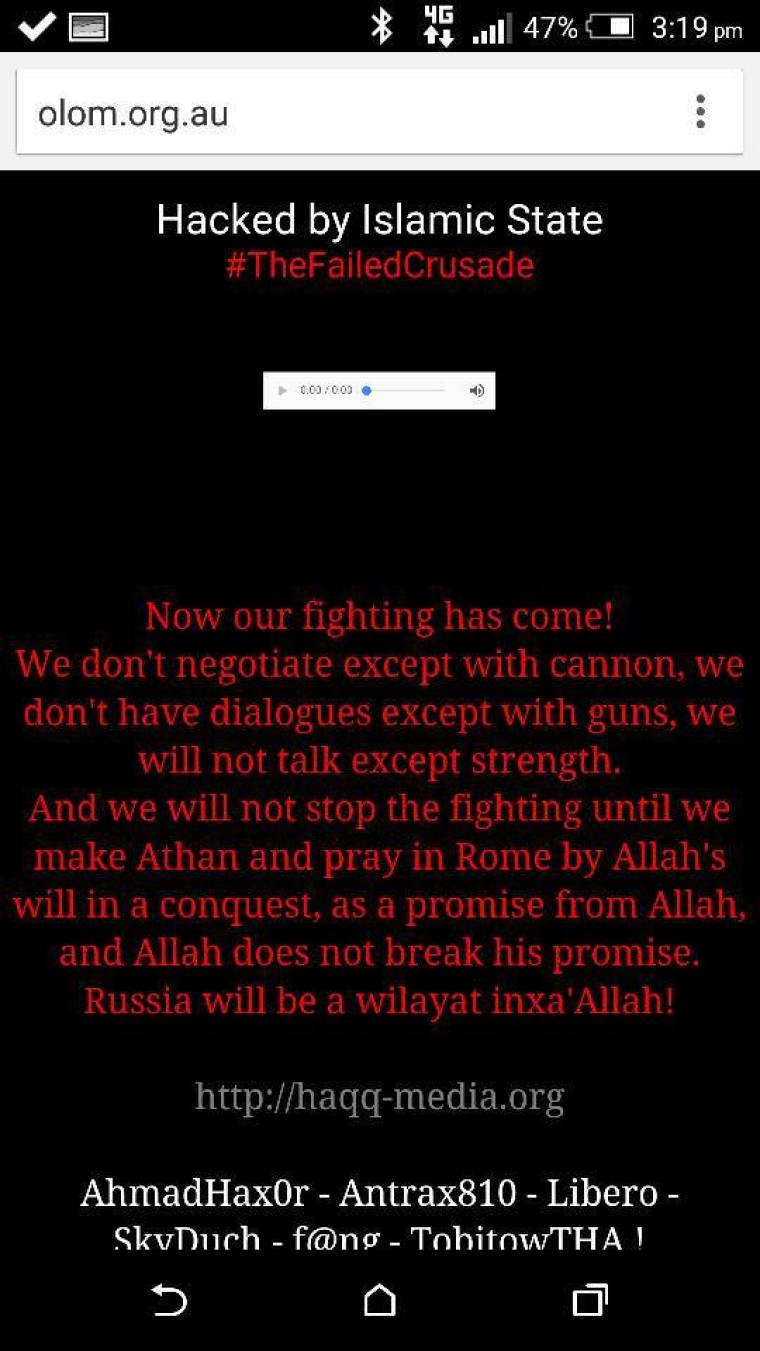 "Hacked by the Islamic State," the hackers posted on olom.org.au in red lettering with a black background. "Now our fighting has come! We don't negotiate except with cannon, we don't have dialogues except with gun, we will not talk except strength. And we will not stop the fighting until we make Athan and pray in Rome by Allah's will in a conquest, as a promise from Allah, and Allah does not break his promise."
"Russia will be wilayat [province] inxa'Allah," the post concluded.
Priest Rahal Dergham said during an interview with Daily Mail Australia that as the intense persecution and pain is experienced by members of the congregation and their beloved family members, the parish no longer has any fear left to give.
"We have our families still under the threat of ISIS and the majority has been hurt, displaced or raped. I don't think at this stage we have any fear, we have lost everything," Dergham declared. "They [the church members] feel a big loss has happened. We're always hoping that at one stage ISIS would be defeated and we would be back to our towns and churches and monasteries and villages and properties, and business as usual. [But] people have lost hope."
On Facebook, the church has asked for prayers to help keep the persecuted community strong.
"The Islamic State is not happy enough to kill and send the Christians out of their countries but now they want to deny them the help needed to survive once they arrive to this beautiful place we all call home," the Facebook post reads. "This attack seems to carry with a threat to the Church here in Sydney."
"We do not retaliate with guns or unkind words, but through the power of Christ in prayer, faith, hope, love and knowledge," a Facebook post added on Thursday states. "We ask everyone to keep vigilant and pray for our persecuted brothers and sisters."
As the Islamic State has become notorious for publicizing gruesome execution videos, much like the ones posted on the church's website, IS has released another series of videos showing more unique and twisted methods of execution.
The Daily Mail reports that IS' affiliate in Yemen recently released four videos purporting to show various executions of Houthi rebels.
IS killed six of the men by blowing them up with a rocket launcher, while killing another six rebels by putting them on a boat that was blown up after it was sent out to sea. While IS decapitated nine other rebels with daggers, the group executed four rebels by putting necklaces with mortar shells around their necks and blowing them to pieces.
Although much of the focus around IS is on its strongholds in Iraq, Syria, Libya and Egypt, IS in Yemen is seemingly gaining more strength and notoriety.
On Sunday, IS claimed responsibility for a bombing that killed the governor of Yemen's southern Abden province, Gov. Gaafar Mohamed Saad, and six of his body guards. Also, IS has claimed a number of bombings in Yemen this year that have killed 159 people and wounded over 345.
Contact: <ahref="mailto:samuel.smith@christianpost.com">samuel.smith@christianpost.com,
@IamSamSmith
(Twitter)