ISIS Claims Responsibility for First Terror Attack in Israel; Authorities Refute ISIS Role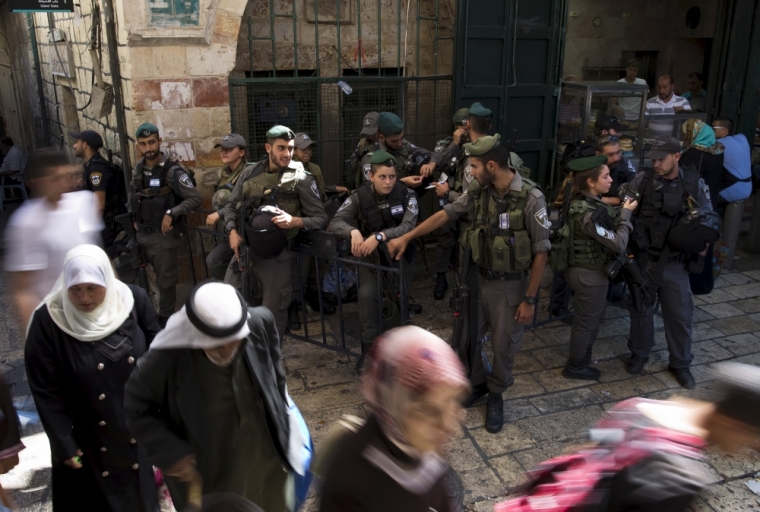 The Islamic State has for the first time claimed responsibility for an attack inside Israeli-controlled territory after Palestinian men stabbed and killed an Israeli police officer and wounded two other officers in Jerusalem. Israeli authorities, however, denied the role of the terror group.
"With God's help, we succeeded in carrying out an attack in the heart of Jerusalem, near the Temple Mount," the Islamic State, also known as IS, ISIS, ISIL or Daesh, said in a statement through its Amaq news agency, and warned that the attack "will not be the last."
The attacks occurred simultaneously in two areas near the Damascus gate of Jerusalem's walled old city on Friday, according to The Jerusalem Post.
Two Palestinians opened fire at and tried to stab a group of Israeli police officers, and simultaneously another Palestinian stabbed to death a border policewoman. The three attackers were shot dead by police.
Police spokesman Micky Rosenfeld was quoted as saying that there was no evidence of the involvement of IS.
The three attackers were identified as as Bara Ibrahim Muhammad Saleh, 19, Adel Hassan Ahmad Anakush, 18, and Osama Ahmad Mustafa Atta, 19.
"Three terrorists coordinated an attack, armed with one Carl Gustav automatic weapon and knives," Rosenfeld said Saturday. "Shots were first fired outside Zedekiah's Cave, and nearby Border Police officers immediately responded and opened fire, killing two of the terrorists at the scene who were armed. One officer and one civilian were moderately and lightly wounded."
Seconds later, a second attack took place when a third Palestinian repeatedly stabbed policewoman Hadas Malka with a knife. "The female officer was stabbed multiple times and in critical condition before being rushed to the hospital, where unfortunately, she died of her wounds a short while afterwards."
Moments before being attacked, Malka, 23, sent a smiling selfie to her close friends to wish them a good Shabbat.
Hamas also claimed responsibility for the two attacks.
"The three hero martyrs who executed the Jerusalem operation have no connection to Daesh, they are affiliated with the PFLP (Popular Front for the Liberation of Palestine) and Hamas," Hamas' Izzat El-Reshiq wrote on Twitter.
During his visit to Israel last month, U.S. President Donald Trump said he prayed for God's wisdom as he touched the Western Wall in the Old City of Jerusalem. He is the first American president to visit Judaism's holiest site while in office.
Trump flew to the Jewish state directly from Riyadh, Saudi Arabia, where he gave a speech to leaders of over 50 Muslim-majority countries, challenging them to drive terrorists out of their lands. "If you choose the path of terror, your life will be empty, your life will be brief, and your soul will be condemned," he said.