ISIS Claims Responsibility for Steve Harvey's Miss Universe Goof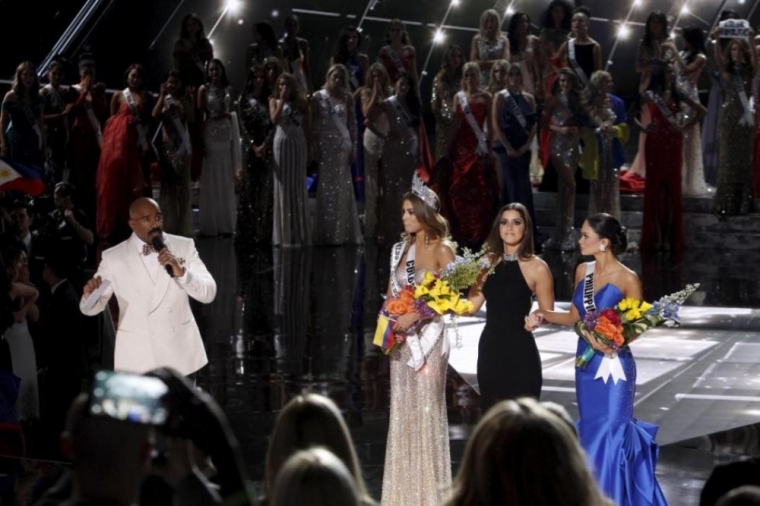 In a shocking new development, the Middle Eastern terror group known as ISIS has claimed responsibility for Steve Harvey's horrific goof at the Miss Universe beauty pageant.
The Islamic terror organization, that oddly enough named themselves after a pagan goddess, recently took credit for messing up the final announcement.
"The Islamic State will not be stopped in its quest to spread Islam to all the world and to ruin everything westerners hold dear," proclaimed a masked man via livestreamed video.
"We were the ones who gave infidel Steve Harvey the wrong name, knowing it would make the Internet explode with mean-spirited photo memes and outrageous Twitter comments. Buahahaha!"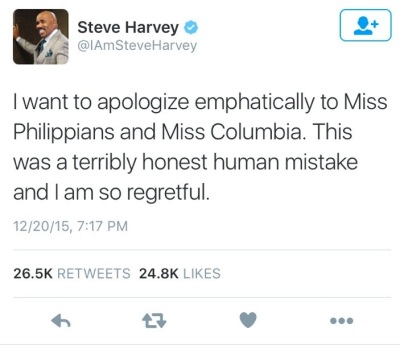 Earlier this month, veteran comedian and gameshow host Steve Harvey accidentally named Miss Colombia as the winner of the 2015 Miss Universe competition.
A mere couple minutes after the celebration, Harvey returned to stage and apologized, naming the actual winner, who was Miss Philippines.
Although Harvey took to Twitter to misspell Colombia and Philippines to accept full responsibility, the Internet has never let facts get in the way of claiming something.
According to the ISIS video, terrorists with the organization took control of the teleprompter and wrote the wrong result on the wording while constantly snickering.
These terrorists were then executed by their superiors after watching what the ISIS video described as a "perverse, sinful, immodest, idolatrous piece of western propaganda."
Despite the lack of tangible evidence that ISIS actually did what they said they did, millions of Americans have taken up arms to avenge the despicable attack.
"This is unbelievable," shouted one pageant watcher. "Killing thousands of civilians and destroying historical sites is one thing. But Miss Universe? That's crossing the line!"
In addition to messing up Miss Universe, in the video ISIS also claimed responsibility for the Cowboys' losing season, the low ratings for WWE Raw, and the death of Jon Snow.
WARNING: THE ARTICLE ABOVE IS A WORK OF SATIRE. PLEASE SHARE RESPONSIBLY.