ISIS 'Dogs of Hell' Hunting Down Filipinos, President Warns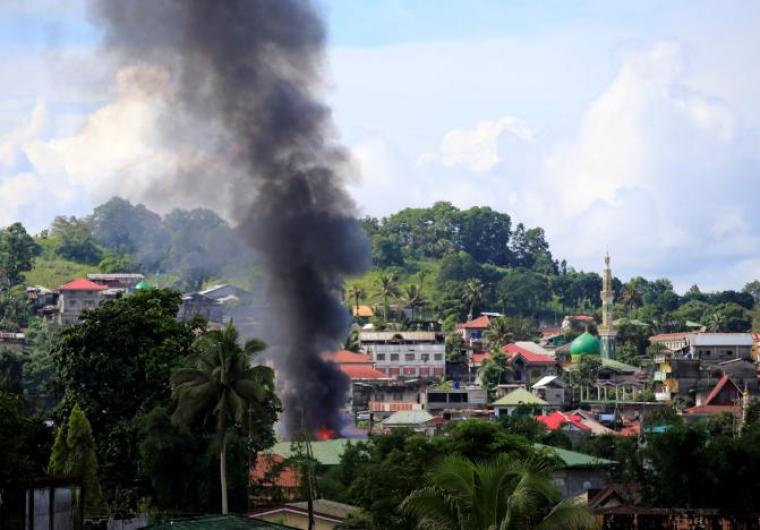 Philippines President Rodrigo Duterte has warned citizens to be wary of the Islamic State's "dogs of hell," as fighting continues to liberate the city of Marawi in the Mindanao region. 
"They will come to you with beautiful language, they will even read the Koran to you ... but don't touch them because they are the dogs of hell," Duterte said of IS' hold of Marawi, as The Associated Press reported on Sunday.
Duterte declared martial law across Mindanao last month, seeking to limit terrorist group's spread in the country.
"I had no choice. They are destroying Marawi. I have to drive them out. But I am very sorry," he explained in a speech at an evacuation center.
Much of the city has been left in ruins, with hundreds of casualties in the battle. The president vowed that he will rebuild Marawi after IS is driven out.
The Filipino military has claimed that IS militants in the city are cornered and are running out of firepower following the five-week battle, and has hopes that it will soon be over.
A military official said on Saturday that more than 100 Christians could be hostages, however, based on information shared by eight residents who have managed to escape their captors in an air strike on Friday, according to Reuters.
Late in May, it was reported that a Roman Catholic priest and 240 Catholics were believed to be held hostage. The priest, Father Chito Suganob, appeared in a five-minute video begging Duterte for help.
Suganob, who is vicar general of Marawi, asked Duterte "to stop the airstrikes, and to stop the cannons," and pleaded for consideration for the hostages.
It is not yet known what happened to the priest, but there have been numerous reports of citizens, many of them Muslims, escaping the city and helping Christians flee with them.
Norodin Alonto Lucman, the former vice governor of a Muslim self-ruled area within the city, reportedly hid 71 Christians in his home and led 144 people "through downtown streets held by self-styled ISIL fighters and strewn with rotting corpses."
Describing the daring escape through the streets, Lucman stated: "[The city] is strewn with debris, dead bodies of chickens, rats, dogs, even the smell of rotting flesh."
"As we walked many people saw us on the street and they joined us."
So far, 258 militants, 65 soldiers and police and 26 civilians have been killed in the battle, while over 300,000 villagers have fled from Marawi and nearby towns, according to AP.
The leader of the IS group in Southeast Asia may have escaped Marawi  as the fighting rages on.
Lt. Gen. Carlito Galvez, head of the military's Western Mindanao Command, said that Isnilon Hapilon, a veteran Filipino militant who is one of the world's most wanted terrorists, has not been seen in the battle zone and may have fled.
It was the attempted government arrest of Hapilon on May 23 that triggered IS' surge and capture of Marawi.
"He (Hapilon) has not been seen in the area. We have some reports that he was already able to slip somewhere, but as of now we are still confirming the reports," Galvez said.
When asked if the militant leader is on the run, Galvez said: "Yes, yes because reportedly he suffered a lot of casualties. Majority of his group, more than half, were casualties."