ISIS Fed Remains of Chopped Up Kurdish Prisoner to His Mother When She Arrived to Demand His Release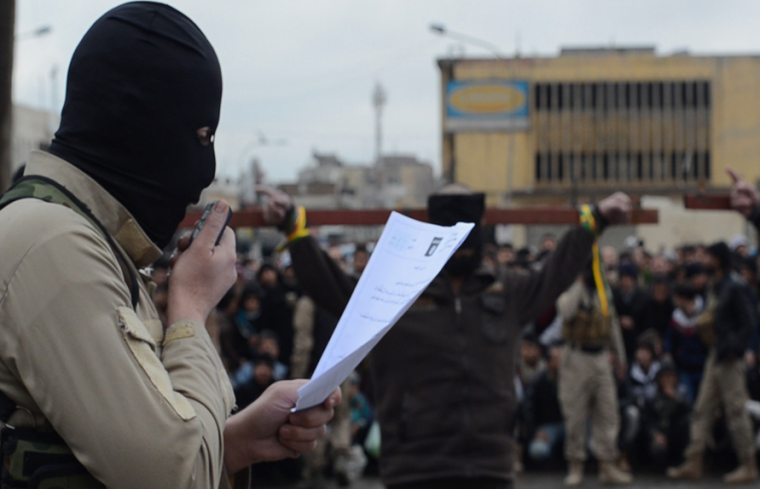 Just when it seemed the minds of Islamic State militants couldn't get any more twisted and barbaric, ISIS fighters in Mosul allegedly chopped up the body of a Kurdish prisoner and fed his remains to his mother in a rice dish when she arrived at the group's headquarters to demand his release.
Yasir Abdulla, a British security guard who traveled to Iraq to help defeat ISIS when he learned that the militant group was within 6 miles of his home village in Kurdistan, told of the elderly Kurdish woman's horrific experience in an interview with The Sun upon his return to the U.K. last week.
"I hate ISIS because of what happened to an old Kuridsh woman from a nearby tribe," Abdulla asserted.
Abdulla explained that the son, whose age was not identified, was first kidnapped by ISIS and taken to the group's Iraqi stronghold in the city of Mosul. The mother then traveled to Mosul to plead for her son's release.
"She was determined to find her son and went to ISIS' headquarters and asked to see him," Abdulla said.
Abdulla, who originally left Kurdistan in 2000, said that when the mother arrived at the headquarters she was treated very kindly by the militants, who seemingly provided the woman with great hospitality by offering her food and beverage.
"The ISIS men told her to sit down because she had traveled a long way and said she could have some food before they took her to meet her son," he added. "They brought her cups of tea and fed her a meal of cooked meat, rice and soup. She thought they were kind."
After the woman was done with her meal, she again demanded to see her son. But to her dismay, the militants informed her that she was digesting her son.
"They had killed him and chopped him up, and after she finished the meal and asked to see her son, they laughed and said 'You've just eaten him,'" Abudalla elaborated.
Abdulla then provided further details about other atrocious acts committed by ISIS that he witnessed. He said that the group is calling local villagers and getting them to surrender by threatening to not only kidnap them but also bury them alive if they don't surrender.
Abdulla, who said his own cousin was killed by ISIS, also disclosed that the terrorist organization kills some of its captured prisoners by throwing them into a "human bonfire."
"They dig a trench, put tree branches and leaves in there, set it alight and then throw prisoners on so they burn alive," Abdulla said. "IS are very good at making people scared. If they make one person scared then that person will make another person scared and soon everyone is scared of IS."
Although ISIS claims to promote a strict brand of Islam, Abdulla asserted that ISIS militants are "not Muslims" and that they have "hijacked Islam."
"ISIS are wrong," he proclaimed. "They behead, burn and get those they are against to dig their own graves before they execute them. Nobody wants to get captured by ISIS; that would be the worst thing. If I was defending, I would fight to my last bullet and use that on myself."
Although fear has become one of ISIS' key tactics and the group is closing in on Kurdish-protected areas, Abdulla emphasized that the Kurds are not afraid of ISIS' brutality and know that they can't afford to simply back down to the terrorist organization.
"But the Kurds are not scared of them. Someone has to stand and fight," Abdulla said. "We've got thousands of people in many villages and towns behind us. If we fall then all of those places fall, and that can't happen."