ISIS, Iraqi Forces Engage in Fierce Fighting Near Gov't Complex in Ramadi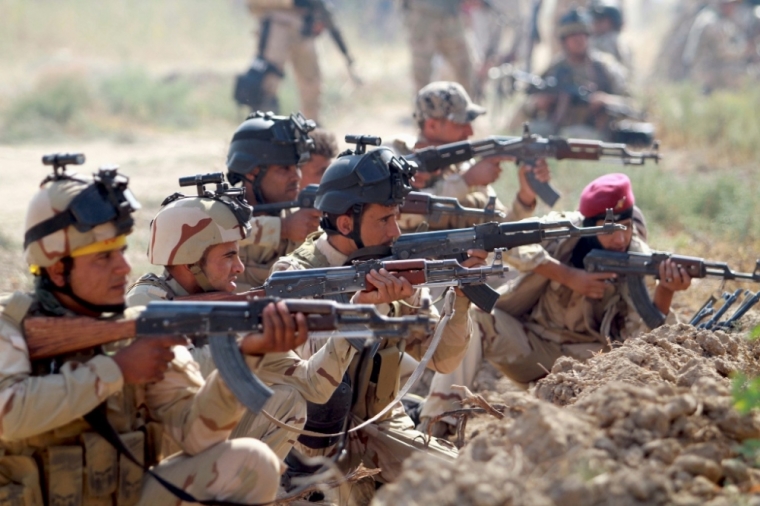 At least 37 people have died as Islamic State militants and Iraqi and tribal forces have been involved in an intense battle near the main government complex in Anbar province's capital city of Ramadi since ISIS launched a massive offensive Friday.
The fighting is taking place close to the regional government and security headquarters in Ramadi, about 70 miles from Baghdad, according to CNN.
ISIS, also known as ISIL, controls most of Anbar, and therefore the city of Ramadi is highly strategic for the Sunni terror group, which last month executed hundreds of members of the Albu Nimr clan in an attempt to weaken local resistance to their advances in the Sunni province.
About Friday's attack, a law enforcement official in Ramadi told Agence France-Presse that "IS launched a surprise attack from four directions – north, west, east and south of Ramadi." He added, "The security forces need support because we have not received any back-up from the army's air force or the coalition."
Iraqi Prime Minister Haider al-Abadi has ordered more aerial support and weapons for the fight.
"Mosques are asking anyone who can carry weapons to confront the attackers," Anbar council member Hathal al-Fahdawi told Reuters Friday. Al-Fahdawi also said that ISIS fighters had also seized the nearby village of Al Shujairiya and fighting there had not ceased.
Iraqi military and tribal forces in Ramadi are fighting to retake the city's eastern Sijariya neighbourhood that was reportedly captured by ISIS Friday.
However, Iraqi forces say they've made progress elsewhere in the country, such as in Diyala province, due to airstrikes by a U.S.-led coalition.
Jalawla and Saadiya towns have been retaken by Kurdish Peshmerga forces, Iraqi military and police and Shiite militias, according to Iraqiya state TV.
Iraq's largest refinery, called Baiji, has also been retaken from ISIS.
The U.S.-led coalition has conducted airstrikes on ISIS positions in Iraq and Syria since August.
The Pentagon plans to buy arms for Iraq's tribal forces, including 5,000 AK-47s, 50 rocket-propelled grenade launchers, 12,000 grenades and 50 82 mm mortars, according to The Associated Press. The estimated cost to equip an initial Anbar-based force of tribal fighters is $18.5 million, part of a $1.6 billion request to Congress that includes arming and training Iraqi and Kurdish forces, according to a document that will be sent to Congress for approval.
"Failure to equip these forces mean a less effective armed opposition to counter the Islamic State and its ability to gain the local support necessary to effectively control the areas it holds," the document said.
The ISIS, an al-Qaeda offshoot, controls large parts of territories in Iraq and Syria, and seeks to form an Islamic emirate in the Levant region through "jihad."
Elsewhere in Iraq, ISIS men have killed hundreds of civilians. Numerous members of the Christian and Yazidi minorities have also been killed, and tens of thousands of them have fled their homes.