Husband's Letter to ISIS: 'I Will Find My Wife in Heaven, but You Are Dead Souls'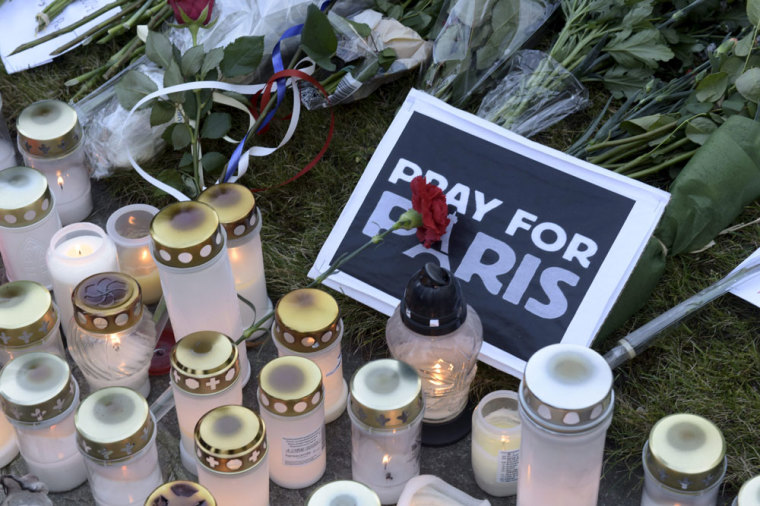 The husband of one of the French women killed in the Paris terror attacks last week has posted a letter to the militants that has gone viral online, telling them that they will "not have my hatred."
Antoine Leiris posted the letter in French earlier this week on Facebook, in which he talks about the death of his wife, 35-year-old Hélène Muyal, who died during the mass shooting at the Bataclan concert hall.
"On Friday evening you stole the life of an exceptional person, the love of my life, the mother of my son, but you will not have my hatred," Leiris' letter reads, The Guardian translated.
"I don't know who you are and I don't want to know, you are dead souls. If this God for whom you kill blindly made us in his image, every bullet in the body of my wife is a wound in his heart," adds the husband, who is a journalist at radio network France Bleu.
"So no, I will not give you the satisfaction of hating you. You want it, but to respond to hatred with anger would be to give in to the same ignorance that made you what you are."
The Islamic State terror group took responsibility for the attacks on Friday, which left 129 people dead, and 352 injured. Muyal, a makeup artist, was one of 89 who were killed at the concert hall, where the American rock band Eagles of Death Metal were playing.
"You would like me to be scared, for me to look at my fellow citizens with a suspicious eye, for me to sacrifice my liberty for my security. You have lost," the letter, which has been shared over 200,000 times, continued.
"Of course I am devastated with grief, I grant you this small victory, but it will be short-lived. I know she will be with us every day and we will find each other in Heaven with free souls which you will never have."
Leiris vows that he and his 17-month-old son will be strong in the wake of their loss, and tells the attackers he is not going to "waste any more time" on them.
There have been a few reported letters addressed to the attackers following the rampage, including one from a Charlie Hebdo cartoonist. The satirical publication suffered a terror attack on its Paris office earlier this year for its controversial prophet Muhammad drawings, which left 12 people dead.
Cartoonist Joann Sfar posted 12 illustrations addressing the latest attack, with one image telling the "lovers of death" that if God exists, "he hates you."
"And you have already lost, on Earth as in Heaven," Sfar added.