ISIS' New Propaganda Video Shows Killings of Christians, Crucifixions, Cubs of the Caliphate Executing Captives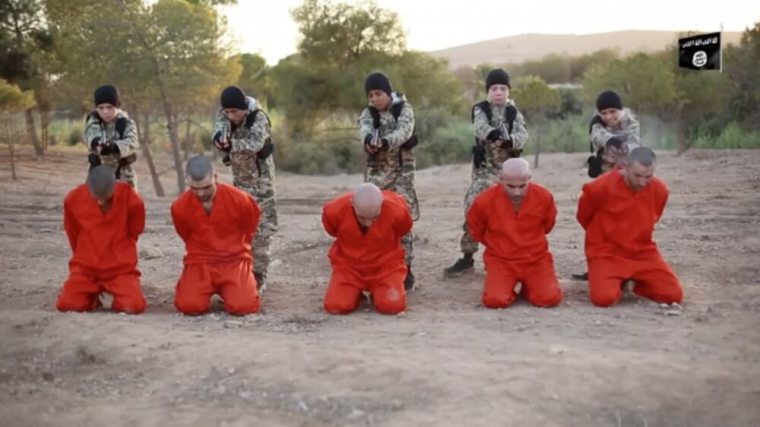 A new propaganda video released by Islamic State shows Christians being killed, children being beaten up, women being executed, men being crucified and cubs of the "caliphate" executing captives under its brand of Sharia law.
Released on terrorist channels affiliated with the Islamic State, also known as IS, ISIS, ISIL or Daesh, the nearly 40-minute video comes as the Sunni group's militants are fighting a losing battle to protect their Iraqi stronghold Mosul.
The video was apparently released from "Wilayat Raqqah," the IS base in Syria, and shows Sharia law enforcement with clips of beheadings, floggings and executions, including those of Christians and women.
Titled "Enduring Glory" and re-posted by Heavy, the extremely graphic video seemingly seeks to portray the terror group's endurance amid loss of territory. It shows its militants engaged in battles across the Middle East region.
About 30,000 troops from a broad coalition including the Kurdish peshmerga, the Iraqi army and special forces, Shia militias allied with Iran, U.S. warplanes and military advisers and Turkish forces positioned to the north of the city are involved in the battle against 6,000 ISIS fighters in and around Mosul.
The terror group uses brutal methods to torture and punish those who it considers to be its enemies, including Muslims who do not believe in its version of Islam. Christians and other minorities are among its main targets.
Earlier this month, a Syrian woman recounted horrifying details of how IS jihadis killed hundreds of children in her village and executed her son after he refused to deny his faith in Jesus Christ.
During an interview with the Southern California-based human rights group Roads of Success, Syrian mother Alice Assaf, who hails from the Damascus suburb of Adra al-Ummaliya, described how militants aligned with IS came into her town over two years ago and went on a ruthless and barbaric killing spree.
"Members of 200 different families were killed right before our eyes," Assaf said, according to an English translation provided by Roads of Success in a YouTube video. "They shot them. We witnessed the shooting of so many. So I told my children [and thought] it was better for us to die in our own home so that our other family members would know our fate. When we got home, one person said to me, ... 'ISIS is killing Christians.'"
She said the militants first massacred Christians and then went after Syrian army personnel.
In its English propaganda publication, IS last year sought to justify its barbarity, saying it is "Islamic" to capture and forcibly make "infidel" women sexual slaves.
"Before Shaytan [Satan] reveals his doubts to the weak-minded and weak hearted, one should remember that enslaving the families of the kuffar [infidels] and taking their women as concubines is a firmly established aspect of the Shari'ah that if one were to deny or mock, he would be denying or mocking the verses of the Qur'an and the narration of the prophet … and thereby apostatizing from Islam," stated the IS' propaganda magazine "Dabiq."