ISIS Increases Child Recruitment: 400 Kids Join 'Cubs of the Caliphate' in Syria; Brutal Training Camps Teach Children to Carry Out Beheadings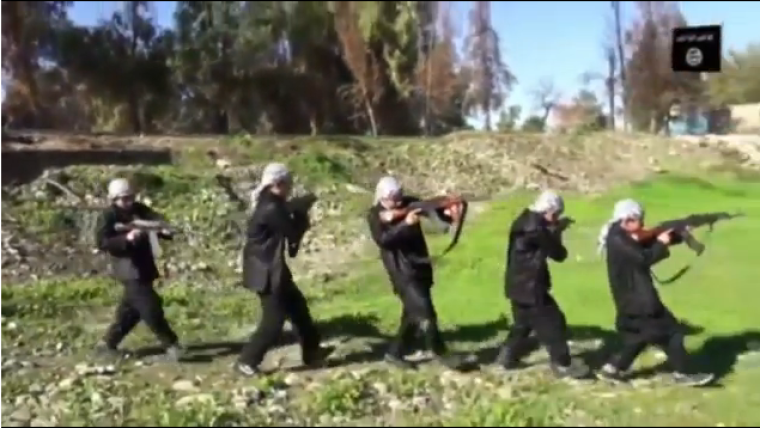 The brutal Islamic State terrorist organization in Syria has recruited at least 400 children for use in combat roles since January, a leading Syrian monitoring group reported this week.
The Syrian Observatory for Human Rights estimates that as ISIS has opened up "Cubs of the Caliphate" recruiting offices and training camps in a number of its strongholds, at least 400 minors have joined the group from Jan.1 until March 23, but not necessarily by choice.
"I think to speak of children joining ISIS is not a good way to put it," Charlie Winter, researcher at the counter-extremism think tank Quilliam, told SOHR. " Even if they have the perception of choice, it's not choice. If you're a minor and being indoctrinated from a very young age, you don't have the power to make a serious choice. I think that it's certainly worth considering more robustly that people are being groomed."
As previously reported by The Christian Post, minors as young as age 6 are separated from their family and sent to jihadi training camps, where they are indoctrinated with ISIS' barbaric and extremist mindset through the teaching of sharia courses. Once the "cubs" are indoctrinated, they take part in extensive and dangerous, military, combat and martial arts training.
"They use children because it is easy to brainwash them," head of the Syrian Observatory Rami Abdulrahman told Reuters. "They can build these children into what they want, they stop them from going to school and send them to IS schools instead."
The report indicated once the children are trained and placed on the battlefields, they'll be used in combat roles and will also be used for espionage operations and propaganda.
In the past, the group has also used children as human shields, forced them to donate blood to fighters, and tried to get the kids to kill themselves in suicide bombings.
Melanie Smith, a researcher with the the counterterrorism think tank Institute for Strategic Dialogue, also explained that children who live in ISIS-controlled regions in Iraq and Syria don't have any other option except to go to the extremist training camps.
"If you live in a territory controlled by ISIS as a child you may not have much choice but to support their values," Smith told SOHR. "We know that whole families have moved into these areas, so I wouldn't be surprised if parents are responsible for their children joining."
Although the terrorist group has recruited at least 400 children to join the ranks, the observatory finds that since the start of 2015, ISIS has had its worst adult recruiting period since the caliphate was declared last June, having recruited only 120 adults since Jan. 1.
"I think it's part of children being the next generation," Smith said. "They've invested a lot in training these minors for them to become completely immersed in the ideology. Whereas adults might be more questioning, children are a very easy target. They are thinking of these children as their legacy."
That being said, however, Turkey's parliamentary speaker Cemil Cicek claims that authorities have already apprehended 12,500 people from 93 countries who were entering the country en route to join ISIS in Syria.
As the observatory finds that fewer adults are joining the group, Winter says that children are essential to ISIS' propaganda war.
"They are central to ISIS' media strategy of trying to garner outrage and shock the world," Winter explained. "It's all a part of ISIS' attempts to show themselves as a functioning state with a proper education system."
Although ISIS wants to show that it has a "proper education system," there is no hiding the barbaric type of education that it provides to its child recruits.
According to the Syrian monitoring website Syria Deeply, an Islamic State training camp leader once gave his students a homework assignment where they had to take home a blonde-haired, blue-eyed doll and behead the doll with a knife.
One 13-year-old who was in attendance at the camp told the website that the camp manager distributed dolls and specifically told the children to decapitate the dolls while covering the dolls' faces.