ISIS Suicide Bomber Tries to Kill Priest With Axe, Blow Up Hundreds of Christians at Indonesian Church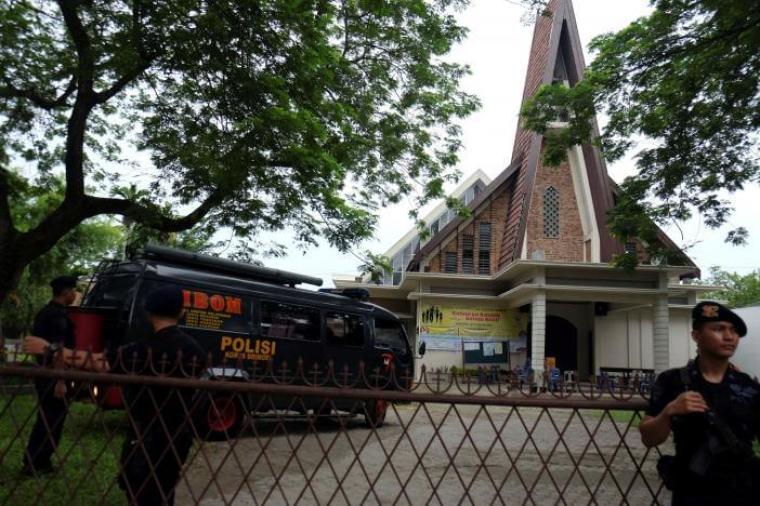 A teenage Islamic State terror group supporter attacked a Roman Catholic priest with an axe at a church in Medan, the capital of North Sumatra in Indonesia, but failed to set off explosives that could have killed hundreds of worshipers during Sunday mass.
"A terrorism act was carried out Sunday morning at the Saint Joseph Catholic Church," said Rina Sari Ginting, spokeswoman for Medan police in a statement. "Police are interrogating the perpetrator... and will search his house for any bomb-making materials."
MailOnline reported that the 18-year-old IS attacker was carrying a backpack bomb when he attacked 60-year-old priest Albert Pandiangan inside St Yoseph Church in Medan. The explosives failed to go off, however, which prompted the attacker to pull out an axe from the bag, and slash the priest's arm.
National police spokesman Major General Boy Rafli Amar told Reuters that the IS supporter was apprehended by churchgoers before he could cause serious harm. Both the attacker and the priest sustained minor injuries in the incident.
Police found a hand-drawn IS flag in the teenager's possession, though the exact motive for the attack on the Catholic church is now being investigated, reports said.
The would-be bomber apparently sat with Christians during the service before launching his attack.
"There was a small explosion like fireworks and he also took out a knife as he ran toward the priest," said Timbas Ginting, one of the witnesses.
Local chief detective Nur Fallah added: "Somebody tried to kill the priest by pretending to attend the church service and at that time tried to explode something, like a firecracker, but the firecracker didn't explode, it only fumed."
Other eyewitnesses, such as Markus Harianto Manullan, told AFP that the teenager was wearing a jacket and carrying a bag.
"He sat in the same row as I did. ... I saw him fiddling with something in his jacket, and then I heard a small explosion and he immediately ran to the podium," Manullan said.
Medan police said on Sunday that besides searching the 18-year-old attacker's house for bomb-making materials, authorities will also be looking for other individuals who were involved in planning the attack.
Indonesia, which has the largest Muslim population in the world, has been targeted by IS on a number of occasions. Eight people died in a shooting attack in the capital Jakarta back in January, with police spokesman Gen. Anton Charliyan stating at the time that the shooters were trying to imitate the mass terror attacks in Paris in November, where 130 people were killed.
The Indonesian government has tried to protect Christians and civilians from terror threats, and back in December deployed close to 1,500 officers to guard churches over the Christmas period.