ISIS Sympathizers Celebrate Deadly Terror Attacks in Egypt: 'Bless Pure Hands That Kill Christians'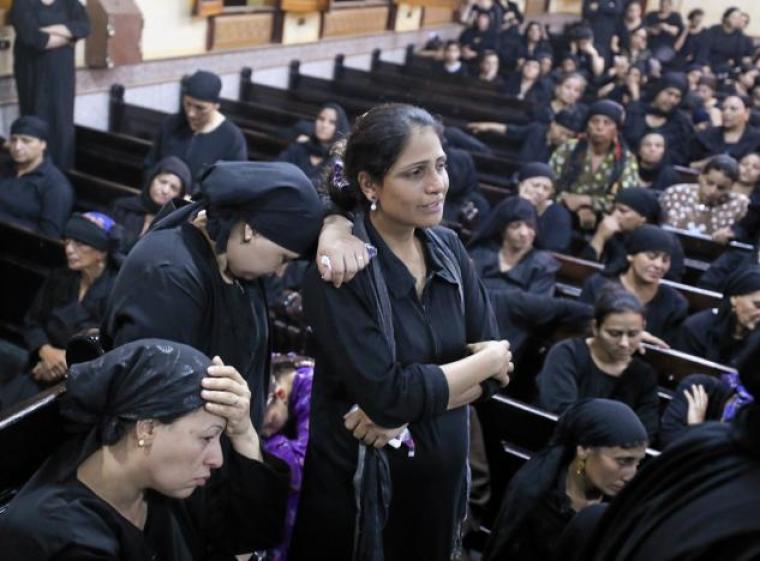 Islamic State sympathizers have written several messages in an encrypted chat room, celebrating last week's killing of 29 Coptic Christians who were on their way to a monastery in Egypt, and warning of more such attacks on the minority, according to a report.
"May your jihad be blessed; you are sons of the Islamic State. Bless the pure hands that struck the strongholds of the Christians and the infidels," wrote a user, Talha Alanssari, in a closed, encrypted chat group accessed by Breitbart Jerusalem.
The message continued, "Thank Allah who made our hearts happy with the heroic attack of the nation of Caliphs against the Christians in Egypt who should expect more attacks. The same Christians will not have the luxury of security and they will pay … the taxes of the Jizya (tax levied on non-Muslims) with the help of Allah."
Another message by Oubaida Alsinawi reads, "Thank Allah who allowed our brothers to hunt these Christians as the hunter hunts his prey. The soldiers of the Islamic State will continue in an open-ended campaign with these Christians and traitorous Muslims in the Egyptian army and the tribes that help them in Sinai. I swear to Allah that our brothers in the field are demonstrating creativity as they reach these Christians and infidels and all those who help them. The attacks that have yet to come will be much harder with the help of Allah."
Yet another chat user, identified as Hamza Alraqawi, wrote, "You warmed our hearts as our Mujahedeen brothers did who struck in England, Belgium, France, America and Russia. We say to you, continue with the blessing of Allah and increase your attacks and don't allow them to continue harming the oppressed on the Earth."
Another user, called "The Sheikh of the Caliphate," wrote, "The war against the Christians is no less important than the war against the Shi'ites and against the infidels."
Children, including a 2-year-old girl, were among the 29 killed Friday.
The Christians were traveling in two buses and a small truck in Minya, which is home to a sizeable Christian minority, when they were attacked. Masked gunmen stopped the vehicles on a road leading to the monastery. 
New reports indicate that each person was asked to deny their faith in Jesus Christ. When they all refused, they were shot dead.
Hours after Friday's attack, Egypt's air force launched six strikes over its western border, targeting jihadist training camps in the Libyan port city of Derna, which is controlled by jihadists close to al-Qaeda.
Earlier this month, Islamic State's local leader in Egypt issued a warning to Muslims, asking them to stay away from Christian gatherings and suggesting that it would launch new attacks on "legitimate targets."
On Palm Sunday, bombings at churches in Alexandria and Tanta killed 45 Christians. Islamic State, also known as IS, ISIS, ISIL or Daesh, claimed responsibility for those attacks. IS also signaled while claiming responsibility that more attacks were coming: "The Crusaders and their tails from the apostates must be aware that the bill between us and them is very large and they will be paying it like a river of blood from their sons, if God willing."
Sinai Province, the name of the local affiliate of IS in Egypt, is seeking to impose a hardline interpretation of Islam in the country.
Coptic Christians, who make up about 10 percent of Egypt's population of 92 million, have been the subject of a series of deadly attacks in recent months.