ISIS Threatens to Kill More Japanese After Kenji Goto's Death; Japan Says It Will 'Never, Never Forgive' Islamic State
ISIS Threatens to Kill More Japanese After Kenji Goto's Death; Japan Says It Will 'Never, Never Forgive' Islamic State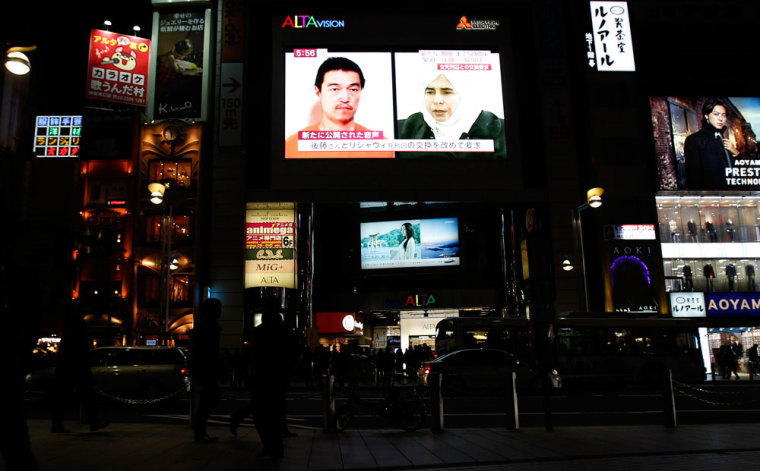 The Islamic State terror group calls Japan an ally of a "Satanic coalition" and warns that it has "an entire army thirsty for your blood" in a video showing the beheading of a second Japanese hostage, Kenji Goto.
"To the Japanese government: You, like your foolish allies in the Satanic coalition, have yet to understand that we, by Allah's grace, are an Islamic caliphate with authority and power, an entire army thirsty for your blood," says the man in English in a video released Friday, according to the SITE Intelligence group.
"Abe, because of your reckless decision to take part in an unwinnable war, this knife will not only slaughter Kenji, but will also carry on and cause carnage wherever your people are found," adds the man known as "Jihadi John" holding a knife in his hand and standing behind Goto, who can be seen kneeling and wearing an orange outfit. "So let the nightmare for Japan begin."
Tokyo strongly condemned the alleged killing and vowed not to give in to terrorists.
"We are deeply saddened by this despicable and horrendous act of terrorism and we denounce it in the strongest terms," Japanese Prime Minister Shinzo Abe said, according to CNN. "To the terrorists, we will never, never forgive them for this act."
Abe added that Japan "would not give in to terrorism" and would instead increase aid to the Middle East and work with the international community to bring the killers to justice.
"When I think of the grief of his family, I am left speechless," he said, according to The Asahi Shimbun.
Goto's mother Junko Ishido also told reporters she's "speechless."
"Kenji has died, and my heart is broken. Facing such a tragic death, I'm just speechless," she was quoted as saying.
"I was hoping Kenji might be able to come home," Goto's brother, Junichi Goto, was quoted as saying. "I was hoping he would return and thank everyone for his rescue, but that's impossible, and I'm bitterly disappointed."
Japan's efforts to free Goto, led by its deputy foreign minister and with the help of Jordan, failed late Friday. Tokyo had been negotiating with ISIS through Iraqi tribal leaders. It is believed that the deadlock could be due to Jordan's demand for the release also of its pilot Muath al-Kasasbeh, who was captured by ISIS after his plane came down near Raqqa.
ISIS had initially demanded $200 million from Japan for the release of Goto and Haruna Yukawa, the other Japanese hostage who was apparently killed last week.
However, Japan is one of the members of the Group of Seven nations that oppose paying ransom. The United States has also advised Japan not to bow to the demands of ISIS.
The terror group then asked Jordan to release Sajida al-Rishawi, an Iraqi woman held in Jordan and sentenced to death for her role in a 2005 attack on a hotel in Amman, in exchange for Goto.
Jordan then insisted that ISIS must also set Kasasbeh free. ISIS made no mention of the pilot in the video released Friday.
U.S. President Barack Obama condemned the "heinous murder."
"We stand today in solidarity with Prime Minister Abe and the Japanese people in denouncing this barbaric act," he said in a statement. "We applaud Japan's steadfast commitment to advancing peace and prosperity in the Middle East and globally, including its generous assistance for innocent people affected by the conflicts in the region."
Goto's mother had earlier said that Goto went to Syria only to rescue his friend, Yukawa, who wanted to launch a security company.
Goto, a freelance journalist, said in a video in October near the Turkish-Syrian border that he was determined to cover what was happening in the region. "It is my responsibility if something happens," he said. "Syrian people suffering three years and a half. It's enough. So I would like to get the story of what ISIS wants to do."
ISIS, an al-Qaeda offshoot which seeks to form an Islamic emirate in the Levant region through "jihad," has released videos showing the beheading of five Western hostages since August – of British hostages David Haines and Alan Henning, and U.S. citizens James Foley, Steven Sotloff and Abdul-Rahman Kassig. The Sunni group has gained control over large territories in Iraq and Syria.