ISIS Trains 10 Year Olds to Use Assault Rifles to Kill, Sends Them to Iraq and Syria Battles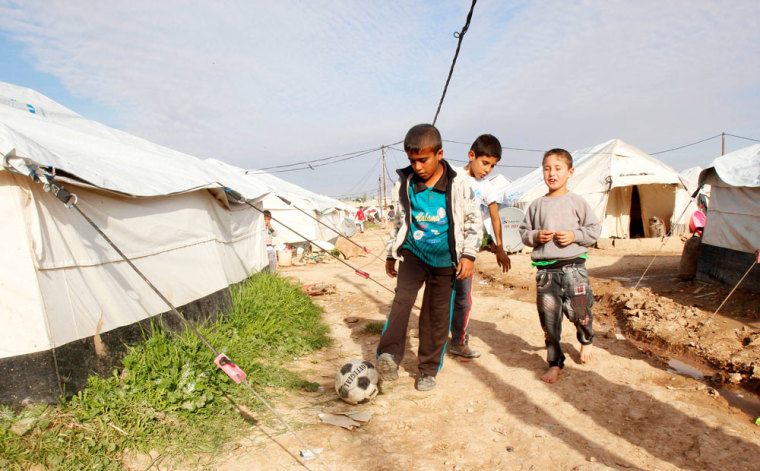 Terror group ISIS has reportedly released a series of photographs on social media showing children around 10 years of age in soldier uniforms being trained to use assault rifles and kill people. The jihadist group has been using child soldiers in its battle for territories in Iraq and Syria.
The Daily Mail published a number of the photos, where several of the children are seen using weapons such as AK47s. The photos apparently were taken at a training school near the Syrian capital of Damascus, which ISIS has set its sights on.
The children are also seen performing military drills, and marching before ISIS' black flag.
The Islamic militants have been stepping up their attacks in Syria, and have been trying to capture the country's last remaining military air base. A large battle between militants and Syrian soldiers at al-Jafra village near the military airport on Friday left at least 67 people dead.
The terror group has been accused multiple times of carrying out extreme violence against children. Earlier this month, the vicar of Baghdad revealed that four Iraqi Christian children were beheaded by the terror group for refusing to convert to Islam.
The Rev. Canon Andrew White said: "ISIS turned up and they said to the children, 'you say the words that you will follow Muhammad.' The children, all under 15, four of them, they said, 'no, we love Yasua [Jesus]. We have always loved Yasua. We have always followed Yasua. Yasua has always been with us.'" White said.
"[The Militants] said, 'say the words!' [The Children] said, 'no, we can't do that.' They chopped all their heads off."
All four children were believed to be under the age of 15.
Other reports have also detailed the indoctrination of young children carried out by ISIS at camps in Syria. A CNN report from September shared the story of a 13-year-old boy who escaped one of these camps, and said that he witnessed militants carry out beheadings, stonings and a crucifixion.
"They used to bring young [kids] to the camp to lash them," the boy said.
"When we go to the mosque, they order us to come the next day at a specific time and place to [watch] heads cut off, lashings or stonings. We saw a young man who did not fast for Ramadan, so they crucified him for three days, and we saw a woman being stoned [to death] because she committed adultery."
Chaldean-American businessman Mark Arabo added in a separate interview further details about ISIS' practices.
"They are systematically beheading children, and mothers and fathers. The world hasn't seen an evil like this for a generation. There's actually a park in Mosul that they've actually beheaded children and put their heads on a stick."
A U.S.-led multinational campaign aimed at halting ISIS' advance throughout the region using airstrikes continues.