Obama Condemns 'Barbaric Murder' of US Hostage Luke Somers in Yemen After Failed Rescue Mission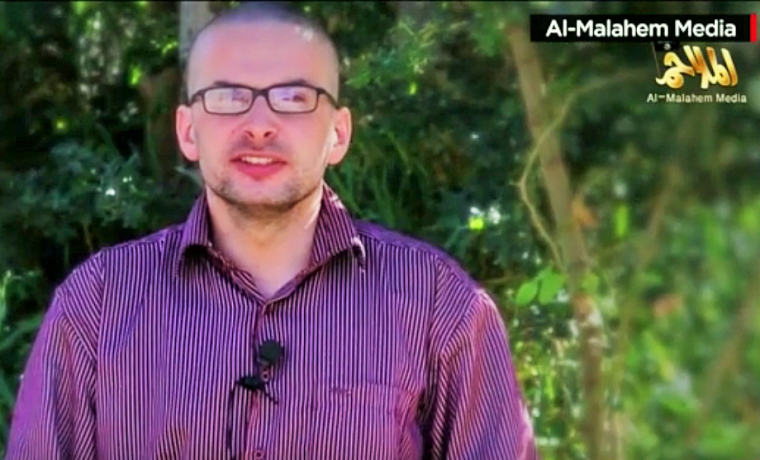 President Barack Obama has "strongly condemned the barbaric murder" of U.S. hostage Luke Somers, a photojournalist, by al Qaeda terrorists during a secret rescue operation by American commandos and the Yemeni government. A South African hostage, Pierre Korkie, was also fatally shot during the operation.
Korkie, a teacher, was to be freed Sunday, as the relief group Gift of the Givers was helping secure his release. However, the U.S. wasn't aware of the ongoing negotiations for his release, and Washington was given three days by the al Qaeda in the Arabian Peninsula to comply with unspecified demand, according to CNN.
President Obama ordered Friday's mission because "there were compelling reasons to believe Mr. Somers' life was in imminent danger," Defense Secretary Chuck Hagel was quoted as explaining.
Somers and Korkie was shot inside the compound where they were being held by the terrorists.
"Obama offered his condolences to Somers' family. I also offer my thoughts and prayers to the family of a non-U.S. citizen hostage who was also murdered by these terrorists during the rescue operation. Their despair and sorrow at this time are beyond words," Obama said in a statement Saturday, condemning the killing.
"The callous disregard for Luke's life is more proof of the depths of AQAP's depravity, and further reason why the world must never cease in seeking to defeat their evil ideology," he added.
"As soon as there was reliable intelligence and an operational plan, I authorized a rescue attempt yesterday," Obama explained. "I also authorized the rescue of any other hostages held in the same location as Luke."
The photojournalist was reportedly kidnapped in September 2013 in the Yemeni capital of Sanaa, while doing freelance work for the Yemen Times.
Korkie and his wife were abducted in May of last year. The wife was subsequently released.
The secret operation was held Friday at 5 p.m. ET, a U.S. official was quoted as saying. It was the second attempt to secure the release of the two hostages by U.S. forces in two weeks.
About three dozen U.S. Navy SEALs, mainly from SEAL Team Six, and a combat medical team near the captives' location were transported in two Osprey aircraft. No Yemeni forces were there with the U.S. commandos.
"As Commander-in-Chief, I am grateful to the U.S. forces who carried out this mission as well as the previous attempt to rescue Luke, and to the dedicated intelligence, law enforcement, and diplomatic professionals who supported their efforts," Obama said. "I also deeply appreciate the support and assistance provided by President Hadi and the Yemeni government, and reiterate our strong commitment to combating the shared threat posed by AQAP."
Obama also remembered the families of those Americans who are still being held captive overseas and those who have lost loved ones "to the brutality of these and other terrorists."
The Sunni Islamic State, or ISIS, group, an al-Qaeda offshoot, has gained control over large territories in Iraq and Syria and seeks to form an Islamic emirate in the Levant region through "jihad."
ISIS men have killed hundreds of people in Iraq and Syria, as well as beheaded two American journalists James Foley and Steven Sotloff, a U.S. aid worker Peter Kassig and two British aid workers.
In Syria, the ISIS has taken over hundreds of villages around the Kobani region in Syria, and tens of thousands of people from the region have fled to Turkey.
In Iraq, ISIS men have killed hundreds of civilians. Numerous members of the Christian and Yazidi minorities have also been killed, and tens of thousands of them have fled their homes. About 5,000 Yazidi girls and women were recently taken captive by ISIS to be sold or given to fighters as slaves.
"We remain determined to do our utmost to bring them home, and to hold those who have done them harm accountable," Obama stated.