Jordan's King Says Fight Against ISIS Is 'a Third World War, a Muslim Problem'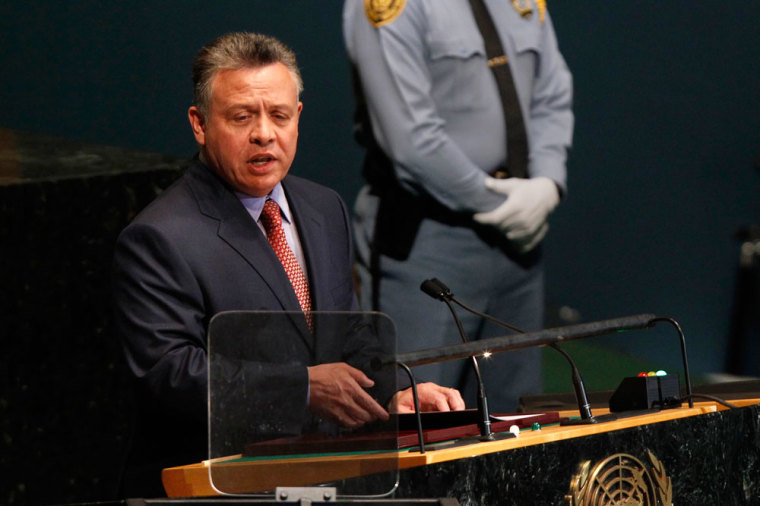 Jordan's King Abdullah II, who is in Washington to meet with President Barack Obama, described the battle against the Islamic State, or ISIS, terror group in Iraq and Syria as "a third world war" and "a Muslim problem," they need to take ownership of.
"This is a Muslim problem," Abdullah said in an interview with "CBS This Morning." "We need to take ownership of this."
The Muslim world needs to stand up and say what is right and what is wrong, he added. "This is no reflection of our religion. This is evil and all of us have got to make that decision," he said, of the Sunni ISIS group, an al-Qaeda offshoot which has gained control over large territories in Iraq and Syria and seeks to form an Islamic emirate in the Levant region through "jihad."
"This is a war inside of Islam," Abdullah stated. "So we have to own up to it. We have to take the lead. And we have to start fighting back. And all of us have to make that decision and stand up to the plate and take our responsibilities."
He went on to say that "we have to stand up and say this is the line that is drawn in the sand and those that believe in right should stand on this side and those that don't have to make a decision should stand on the other."
Abdullah described it as "a fight between good and evil. I think it's a generational fight. As I said to President Putin, I think this is our third world war by other means."
Jordan is one of five Arab nations that are part of a U.S.-led campaign to launch airstrike on ISIS positions in Iraq and Syria which began in August.
"We have to have sooner, I hope, rather than later a strategic holistic approach to being able to deal with all these organizations that actually are the same – different names, but the same beliefs," Abdullah said.
"This is an issue that we really have to combine our strategies and this is sort of one of the reasons why I'm here in Washington … I know we have to concentrate on Syria and Iraq, but we really have to have a pan-regional approach to this issue."
He explained what kind of a strategy can defeat ISIS.
"I hope the short term part of it is going to be the military, the medium term is the security aspect of it. But the long term is going to be the ideological one."
In Syria, the ISIS has taken over hundreds of villages around the Kobani region in Syria, and tens of thousands of people from the region have fled to Turkey.
In Iraq, ISIS men have killed hundreds of civilians. Numerous members of the Christian and Yazidi minorities have also been killed, and tens of thousands of them have fled their homes. About 5,000 Yazidi girls and women were recently taken captive by ISIS to be sold or given to fighters as slaves.
Abdullah said the Israeli-Palestinian conflict remains the core issue in the Middle East, despite the current focus being on the ISIS threat. "You know, whether it's true or not, that argument is still being used by the extremists. And countries around the world realize that they have to solve the problem for their benefit."