Rand Paul Forces Congress to Vote on Declaring War on ISIS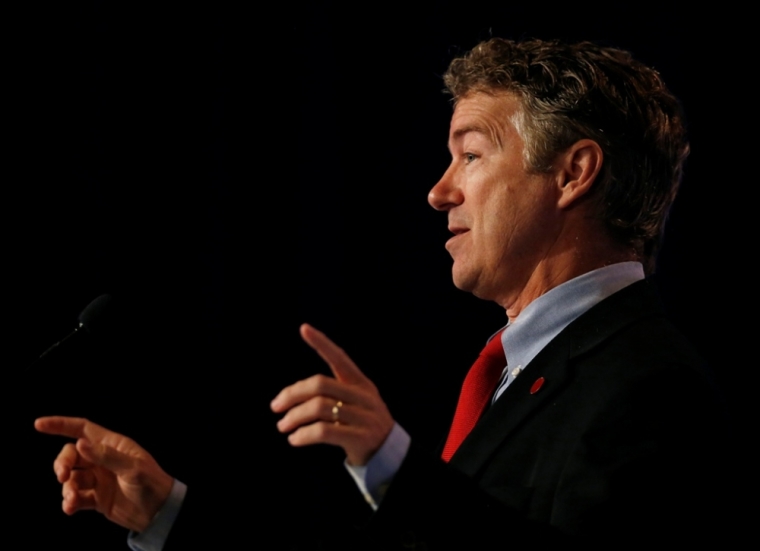 During a meeting of the Senate Foreign Relations Committee, Sen. Rand Paul made a last-minute effort to force a vote on a declaration of war against the Islamic State, or ISIS, terror group, tying his proposal to an unrelated bill concerning clean drinking water around the world. Sen. John McCain disagreed.
"I think the most important duty of a legislator is to vote yea or nay on whether or not we are sending our young men and women to war," CNN quoted Paul, a Republican, as saying. "I think we've been derelict in our duty, Congress has abdicated that duty. The President, I think, in his arrogance, has assumed that he doesn't even need to ask."
The Obama administration has not engaged with Congress on the fight against ISIS, an al-Qaeda offshoot which has gained control over large territories in Iraq and Syria and seeks to form an Islamic emirate in the Levant region through "jihad."
"Today we forced the issue and next week we've been promised a hearing on this as well as a vote on this and I am satisfied with that," added Paul, a potential 2016 presidential candidate.
However, McCain, a past Republican White House nominee, didn't like the idea.
"It was the most bizarre meeting of the Foreign Relations Committee that I have ever attended in my life or ever expected to attend," McCain was quoted as responding. "A water bill, a nice little water bill, uncontroversial. … It was ludicrous. It's a living, breathing argument against lame-duck sessions."
Sen. Robert Menendez, a Democrat and the outgoing chairman of the committee, has agreed to a Monday hearing on the Authorization of Military Force and a vote on Wednesday, by when Paul might try to move his war declaration, according to The Courier Journal.
The congressional session ends in a few days.
Paul believes the airstrikes being launched by a U.S.-led coalition against ISIS in Iraq and Syria exceed Obama's constitutional authority.
Republican Sen. Marco Rubio said an Authorization of Military Force is not necessary legally. "I think that any time we act with Congress's approval of the president's actions, it makes it stronger. But legally, I think he has the right to pursue emerging threats to the U.S., and ISIL is certainly that."
In Syria, the ISIS has taken over hundreds of villages around the Kobani region in Syria, and tens of thousands of people from the region have fled to Turkey.
In Iraq, ISIS men have killed hundreds of civilians. Numerous members of the Christian and Yazidi minorities have also been killed, and tens of thousands of them have fled their homes. About 5,000 Yazidi girls and women were recently taken captive by ISIS to be sold or given to fighters as slaves.