ISIS Beheads Sudanese Christian Man in Latest Video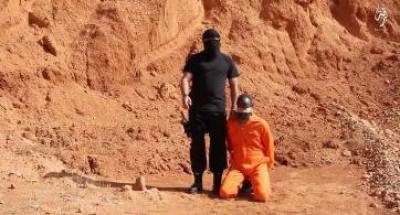 The Islamic State terror group has beheaded a Sudanese Christian man named Mohamed Al-Ghaid in Libya.
IS has claimed that Al-Ghaid was killed to avenge the deaths of Muslims at the hands of Christians in Sudan.
Al-Ghaid, who's seen in a video wearing in an orange jumpsuit, is possibly from South Sudan, according to the Libya Herald.
"This is a message to our Muslim brothers in South Sudan who are suffering injustice, uprooting and slaughter at the hands of Christian aggressors," said the IS militant who wore a black mask in the video, Christian Today reports.
"We are conveying good news to you that Allah has deployed the soldiers of the caliphate to avenge for you and defend you," he added. "We will cut every hand that hurt you. O' Christians in South Sudan know that as you kill you will be killed and as you displace our brothers we will do the same. … No safety or shelter for you except that of Islamic State. We will fight all of you as you fight us."
The video which was released by IS in Cyrenaica also shows a Libyan soldier named Faraj Al-Saiti from Zawia being shot at the same site of the beheading.
It is unclear as to when the executions took place and if the beheaded man was actually who IS claims.
IS released a similar video earlier this month showing the executions of three Assyrian Christian hostages murdered because their ransoms were not paid.
These hostages also wore orange jumpsuits and were from the towns of Tal Jazirah and Tal Shamiram in the Khabur river valley, al-Hasakeh province in northern Syria.
Christian persecution watchdog group A Demand for Action condemned the killings in an email to The Christian Post earlier this month.
"We condemn this latest act of barbarism in the strongest possible terms. The systematic ethno-religious cleansing of Assyrians/Syriacs/Chaldeans continues. They are helpless. They are children. They are women they are somebody's father and brother," said Diane Yaqco, a spokesperson for A Demand for Action.
"We plea and beg the international community to intervene immediately," she continued. "We have been driven out of our ancestral lands. We have been killed and crucified. The international community must act now to save lives of others kidnapped."
The victims were believed to be from a group of 200 hostages taken by IS last February from a series of Assyrian settlements along the Khabur river in northeast Syria.
IS militants are seen giving one of the hostages the opportunity to speak before he is shot dead.
"There are dozens of us, our destiny is the same like those men if you do not take appropriate action to release us, help us from the inevitable fate," the hostage says in the video.