'Islam Teaches Love and Peace, Not Hate and Violence,' Muslim Americans Declare in 100 Billboards Across the US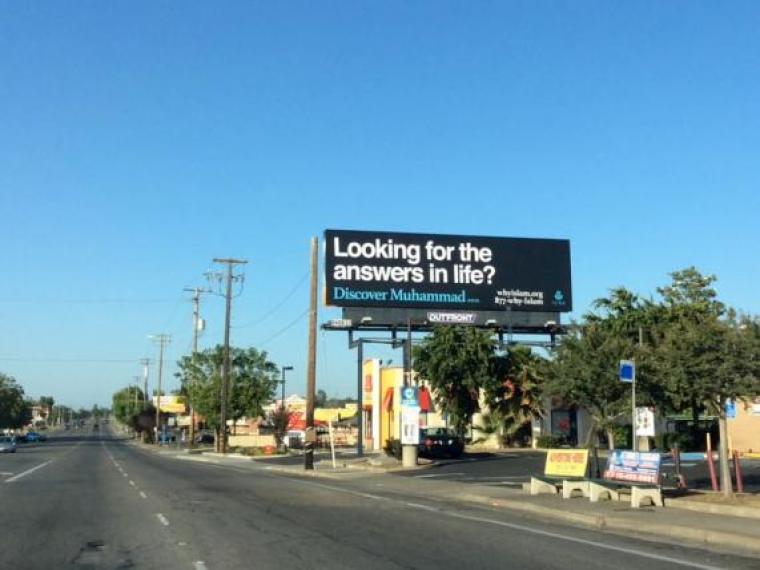 Muslim Americans have erected 100 billboards across major U.S. cities with the message that Islam and its prophet, Muhammad, taught love and peace, rather than violence and hatred.
The Associated Press reported that the billboards were erected over the summer by New York-based Islamic Circle of North America in cities such as New York, Austin, Memphis, Las Vegas, Portland, Denver, and Calgary, among others.
The billboards display different messages, including one declaring that Muhammad taught "love not hate," and "peace not violence."
Naeem Baig, the organization's president, has said that the idea behind the billboards is to counter negative perceptions of Muslims due to terrorism around the world, such as the attacks by Islamic militants on Paris in January, which left 20 people dead.
The ads are also intended to offset negative perceptions resulting from attacks in America, such as the 2013 Boston Marathon bombings carried out by Muslim brothers Tamerlan and Dzhokhar Tsarnaev.
"As a Muslim, it hurts me when I see someone abusing my faith, abusing the teachings of the prophet," Baig said. He added that those who resort to violence are "people who are lost, who have no direction in their life, people who have their own challenges in their life, who are using faith as an excuse."
The billboard campaign started back in June, Reuters reported, with ICNA Deputy Secretary General Waqas Syed explaining that "we thought a proper approach would be to actually educate the larger public about his personality, which exemplifies love and brotherhood."
The group's other billboards invite people to "discovery Mohammad," and seek to portray Islam as supporting women's rights and religious tolerance.
"Kindness is a mark of faith," reads a billboard in Elizabeth, New Jersey. Another ad in Miami states: "Muhammad believed in peace, social justice, women's rights."
Some religious commentators, such as author and scholar Reza Aslan, have suggested that "anti-Muslim fervor" in America has been rising over the past year.
"On your point about anti-Muslim fervor, that's a very real thing," Aslan told former "The Daily Show" host Jon Stewart in an interview in May.
"Two-thirds of Americans say that Islamic-American values conflict with each other. Half of Americans say that Muslims can't be loyal to America. One-third of Americans — that's 100 million of us — believe that Muslims should be forced to carry special I.D.s identifying them as Muslim."